Dr Duncan Wood
B.MedSci, PhD, Dip. Clinical Dental Technology
School of Clinical Dentistry
Senior University Teacher in Clinical Dental Technology
BDS Admissions Tutor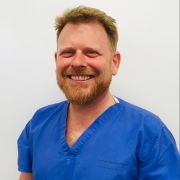 Profile

I joined the University of Sheffield in 1997 as teacher in Dental Technology. I completed my PhD in 2008 and went on to complete a Diploma in Clinical Dental Technology in 2013. I now teach both clinical and technical aspects of removable prosthodontics.

My main interests are in materials and manufacturing technologies for dental devices and in particular advanced manufacturing. I am also involved with several clinical evaluation projects for dental devices.
Research interests

High performance polymers for:

Indirect restorations
Removable prosthesis
Bi-laminate restorations

Advanced manufacturing of removable prosthesis
Publications
Research group

Saja Al-Muhsin
Omar Alsadon
Abdul Ziglam
Teaching activities

Dental Technology: Undergraduate BDS prosthetics, Indirect Restorations, CADCAM, Occlusion
Clinical Dental Technology: Undergraduate prosthetics
Dental Materials: Undergraduate
Digital Dentistry: Postgraduate
Professional activities

BDS Admissions Tutor
External Examiner for UCLAN
External consultancy and Dental Device Manufacturer

Clinical

I teach undergraduate students the provision of complete dentures and the design and provision of removable partial dentures. I am currently involved in the evaluation of advanced manufactured devices clinically.