Dr Ílida Ortega Asencio
BSc, PhD, FHEA
School of Clinical Dentistry
Senior Lecturer in Dental Materials and Manufacturing Science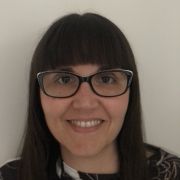 Profile

My research experience is based on the manufacturing, characterisation and in vitro testing of biomaterial devices for tissue engineering applications. I have a bachelor's degree in Chemistry from The University of Alicante, a Master´s degree in Biomaterials from The University Autónoma of Madrid and I did my PhD in The Institute of Bioengineering at the University of Elche (Spain). Following my PhD I moved to England and I worked for one year as a postdoctoral researcher at the University of Sheffield in a Wellcome Trust funded project. I then secured a competitive EPSRC E-TERM Landscape Fellowship and from the 1st of January 2014 I have been working as a Lecturer in Dental Materials and Manufacturing Science at The School of Clinical Dentistry in Sheffield.
Research interests

My current research is focused on three main areas: (a) manufacturing of biomaterial devices for hard and soft tissue engineering (e.g. bone and cornea); (b) design and fabrication of 3D synthetic microenvironments ("niches") in which to study aspects of stem cell behaviour; (c) fabrication of smart electrospun materials for drug delivery applications.
Publications

Journal articles

Chapters
Research group

Postdoctoral Researchers (PDRAs) and Research Assistants (RAs)

Current

2020-To Date: Dr. Emilia Barker, Projects: EPSRC IAA (Development of a Cerium-Containing Electrospun Floreon Antibacterial Membrane) and EPSRC IAA (Developing a sustainable route to market for a new mechanically-tailored electrospun corneal membrane).

Former

2015- 2019: Dr. Thomas Paterson, Projects: MRC CiC (Developing new fibrin-free approaches to corneal healing) and EPSRC/MeDe-Innovation (Development of Ce and Ag antimicrobial electrospun membranes).
2018: Dr. Hala S Dhowre, Project: GCRF-Sustainable Partnership Award with India (Developing mechanically modified membranes for corneal healing).
2015-2016: Dr. Martin-Eduardo Santocildes Romero, Project: EPSRC MeDe-Innovation (Developing functional materials for musculoskeletal regeneration).

Supervision of PhD Students

First Supervisor

2019-2022: Joe Woodley, Development of artificial microenvironments for studying fibroblast behaviour (EPSRC funded).
2019-2022: Ali M Alqahtani, The use of Floreon 3D-Printing Filament for applications in dentistry (Saudi Government).
2018-2021: Khalid K Alanazi, The use of PMMA 3D-Printing Filament for the manufacturing of denture bases (Saudi Government).
2016-2021: Beatriz Monteiro, PhD thesis: Glycoprotein functionalisation of artificial stem cell microenvironments, AStar Funded Studentship, UoS & Institute of Medical Biology (Singapore).
2018-2021: David H Ramos Rodriguez, Development and biological evaluation of artificial microenvironments for skin reconstruction (CONACYT Funded (Mexico)).
2016-2020: Danilo Villanueva-Navarrete, Development and biological evaluation of artificial microenvironments for corneal healing (CONICYT Funded (Chile)).
2015-2018: Selina Beal: Studying hypothalamic neurospheres behaviour in electrospun microfabricated scaffolds (Departmental Scholarship).

Second/Third Supervisor

2020-2024: Rebecca Hanson, A novel 3D osteochondral scaffold with mechano-identical     properties of the native tissue for in situ tissue regeneration (Advanced Materials CDT Manchester-Sheffield).
2020-2023: Abdullah Alghamdi, Fabrication and Evaluation of Custom Medical Devices with Antimicrobial & Regenerative Properties for the Treatment of Medication-related Osteonecrosis of the Jaw (Saudi Government).
2019-2022: Hatim Alqurashi, The use of EVs for the biofucntionalisation of electrospun mats (Saudi Government).
2018-2021: Hathal Albagami, Dental Students' Reflections on Clinical Skills Learning Environment and Attitudes Towards 3D-Printing Technology (Saudi Government).
2018-2021: Nouf H Aljamel, New electrospun scaffolds for periodontal ligament regeneration (Kuwait Government).
2016-2020: Maria Cristina Becerril Rodriguez, Development of PGS-based scaffolds for corneal healing (CONACYT Funded (Mexico)).
2016-2019: Alex Bolger, 3D printing solutions to soft tissue cleft palate defects (Faculty Scholarship).
2012-2016: Fabrication of Complex or Custom Scaffolds for Craniofacial Tissue Engineering Used in Orthognathic Surgeries (DTC Scholarship).
Grants

2021-2022: Manufacture of a new medical device for enhanced healing after titanium dental implant surgery, UoS KE Funding, 10 months, PI, £24580.
2020-2021: Developing a sustainable commercial route to market for electrospun corneal membranes, EPSRC IAA, 3 months, PI, £9950 
2020-2021: Cerium-containing electrospun floreon antibacterial membrane, EPSRC IAA, 6 months, PI, £24781 
2019-2020: Medical 3D-Printing Floreon Flilament, KE HEIF, 6 months, PI, £24969 
2018-2019: Widening access to corneal regeneration in India via the use of mechanically-tailored delivery membranes GCRF Sustainable Partnership Award, 6 months, PI, £39312 +£4000 enhancement top-up for extraordinary progress. 
2018-2019: Simplifying corneal regeneration use using new electrospun rings,MRC CiC, 10 months, PI, £57647 
2018: The use of Floreon 3D-Printing Filament Proximity to Discovery (P2D) 3 months, PI, £14971 
2017: Composite materials with enhanced osteogenic and antibacterials, MeDe Sandpit (EPSRC), 6 months, PI, £1830 
2015-2016: Development of a cerium containing antibacterial wound dressing EPSRC-SHAMROK, UoS, 3 months, PI, £27344 
2013: Bioreactor equipment for corneal research, EPSRC, 1 year, PI, £37000
2012- 2014: Development of tissue engineered stem cell microenvironments for corneal repair, EPSRC E-TERM Fellowship, 2 years, PI, £161644
Teaching activities

I have been recently appointed as 2nd year BSc Module/Theme Lead for Nutrition, Disease and Materials within the Bachelor of Bio-dental Science and Technology offered by The School of Clinical Dentistry. This role involves overseeing the development, organisation, teaching and assessment for a total of 10 sub-courses.

My undergraduate teaching focuses in the area of Dental Materials both within the Bachelor of Dental Surgery undergraduate curriculum (DEN21001- Growth, Development, Ageing and Nutrition, DEN21004- Basic Oral and Dental Care and DEN31012- Dental Surgery) and Bachelor of Bio-dental Science and Technology curriculum (DEN223-Nutrition, Disease and Materials, Dental Materials Sub-course).

In terms of postgraduate teaching, I contribute to both Dental Materials (DM) and Dental Technology (DT) programmes; I am Module Lead for DEN604 (Dental Materials) and deviser and former lead for DEN607 (Introduction to Digital Dentistry and Dental Manufacturing). I also teach in DEN616 (Tissue Engineering) and collaborate in the assessment of other modules within the Dental Materials programme including DEN605 (Selecting Dental Materials for Clinical Applications) and DEN606 (Module Dissertation).
Professional activities

University and School Administrative Roles

2nd year BSc Theme/Module Lead (Nutrition, Disease and Materials)
Academic Core-Facilities Lead for Materials and Manufacturing
BHT PGR-PDRA Coordinator
Deputy Knowledge Exchange (KE) representative for The School of Clinical Dentistry
1st year BSc Convenor
Module Lead for DEN604 (Dental Materials)
Former BDs Undergraduate Dental Materials Sub-theme Lead (2017-2021)
Former Module Lead for DEN607 (Introduction to Dental Technology and Manufacturing) (2015-2021)

External Activities and recognition

Guest Editor for the journal Bioengineering (MDPI Bioengineering (ISSN 2306-5354))
ECR Sheffield representative for MeDe Innovation
Member of the EPSRC Centre for Innovative Manufacturing in Medical Devices (MeDe Innovation)
Former Member of the Advanced Additive Manufacturing Institute (AdAM)
Associated Member of the Biomedical Research Networking Centre CIBER-BBN
Member of the EPSRC_Landscape-Fellowship Cohort
Former Member of Parents@TUOS Steering Group
Reviewer for ACS and MDPI
Outreach activities

Musculoskeletal, skin and eye-related injuries affect millions of people worldwide, e.g. the elderly are likely to suffer bone injuries, and fire and chemical accidents can cause important skin and corneal problems. New approaches to overcoming such health-related issues are of great interest for the public and I have a special personal interest in developing activities to raise awareness of progress in this field. In the past few years I have participated in different public engagement activities such as "The Sheffield Children´s Festival 2012" and "The Festival of the Mind 2012 & 2014". In 2013, I was awarded The Kroto Family Science Education Prize (awarded by Nobel Laureate Prof. Harry Kroto) in recognition of my science communication and outreach activities (images below).