Dr Laura Timms
School of Clinical Dentistry
Academic Clinical Fellow in Paediatric Dentistry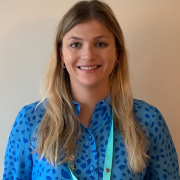 ljhtimms1@sheffield.ac.uk
19 Claremont Crescent
Full contact details
Dr Laura Timms
School of Clinical Dentistry
19 Claremont Crescent
Sheffield
S10 2TA

Profile

Dr Timms graduated from the University of Manchester in 2015. Following this, she completed dental foundation training in South Manchester, before undertaking dental core training in paediatric dentistry and oral and maxillo-facial surgery in the North West and South Yorkshire. During this time she achieved Membership of the Faculty of Dental Surgery and a post graduate certificate in Dental Public Health from the University of Manchester. 

She moved to Sheffield to undertaken joint clinical-academic training in paediatric dentistry in order to pursue her passion for clinical research. Laura is currently focussing on research involving children to reduce the need for invasive dental care due to dental caries.
Research interests

Dr Timms has a research interest in the prevention and minimally invasive management of dental caries in children. She is currently focussing on the early use of Silver Diamine Fluoride for the management of caries in the primary dentition, undertaking research with children, parents and dental professionals. She received a grant from the Research Design Service (Yorkshire) to involve children and their families in the research. She also received a pump-priming grant jointly funded by the Royal College of Surgeons of England and the British Society of Paediatric Dentistry in order to co-design with children an engagement video about SDF, and to assess acceptance of SDF treatment in the UK. 
Teaching interests

Dr Timms is currently completing a postgraduate certificate in Medical Education with the University of Sheffield, funded by the Royal College of Surgeons of Edinburgh, Faculty of Dental Trainers. She engages in teaching of dental students in paediatric dentistry through lectures, seminars and clinical supervision. She also provides teaching to multi-discipline professionals related to paediatric dentistry
Publications

Timms L, Sumner S, Deery, C, Rogers H. Everyone Else is using it, why aren't we? Silver Diamine Fluoride for Children and Young People. Community Dental Health Journal. June 2020
Timms L, Hume C, Wilson Z, McLean L, Marshman Z, Zaitoun, H. A service evaluation of an intervention to increase application of topical fluoride varnish in general dental practice in South Yorkshire. European Archives of Paediatric Dentistry. May 2020
Timms L, Deery, C, Chadwick B, Drage, N. Bitewing radiography in children: When and Why. Dental Update. Apr 2020
Timms L, Deery C: Review of Sousa FSO, et al., Fluoride Varnish and Dental Caries in Preschoolers: A Systematic Review and Meta-Analysis. Evidence Based Dentistry Journal 2020 
Rodd H, Timms L*, Noble F, Bux S, Porritt J, Marshman Z. 'Message to dentist': facilitating communication with dentally anxious children. Dentistry Journal. 2019 Jul 1;7(3). pii: E69.
Marshman Z. Timms, L, Review of: Park et al The family impact of dental general anaesthesia in children: A meta-analysis. Evidence Based Dentistry Journal. Evidence-Based Dentistry 2019 (20):48–49
Timms, LJ, May JE: Bones heal, teeth don't! The involvement of dentists in the acute and long term management of patients injured in the Manchester Arena Bomb. British Dental Journal Br Dent J. 2018 May 11;224(9):681-688. doi: 10.1038/sj.bdj.2018.353
Rodd H, Graham A, Tajmer N, Timms L, Hasmun N. Molar incisor hypomineralisation (MIH): current knowledge and practice. International Dental Journal. 2020
Timms L, Deery C, Stevens S, Rodd H. COVID-2019 − Time to Use Silver Diamine Fluoride for Caries Arrest in General Dental Practice? Dental Update. Dent Update 2020; 47: 662-668