Mark Barber
BDS (hons), MFDS RCS (Eng), PgCertEd, MPhil, FDS RCS Rest Dent (Eng)
School of Clinical Dentistry
Senior Clinical Teacher
Honorary Consultant in Restorative Dentistry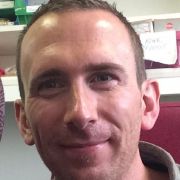 Profile

I was appointed Senior Clinical Teacher/Honorary Consultant in Restorative Dentistry at the University of Sheffield in 2014. Prior to this I was a Specialist Registrar at Sheffield Teaching Hospitals NHS Trust. I am a registered specialist in Restorative Dentistry, Endodontics, Prosthodontics and Periodontics and provide specialist services for NHS patients in these areas. I have completed an MPhil in pathophysiology of the dental pulp and have a Postgraduate Certificate in Education.
Research interests

I completed an MPhil in the pathophysiology of the dental pulp in 2014. This research involved using a novel thermal testing device to ascertain the clinical status of the dental pulp before the tooth was subsequently extracted and examined for various neuropeptides and inflammatory markers. Further work is being conducted on the samples collected during this research to gain further insight into the pathophysiological status of the dental pulp in health and disease.
Publications
Research group

Sangeeta Agrawall – DClinDent in Endodontics
Teaching interests

My main interests are in the teaching and clinical service delivery of Restorative Dentistry, particularly in the field of Endodontics. I lead the postgraduate and undergraduate endodontic courses. I am also involved in the treatment and teaching of dental implants.
Teaching activities

I am lead for both undergraduate and postgraduate endodontics.I lead the undergraduate occlusion course.

I have co-developed a 'TMD symposium' for 4th BDS that is delivered annually.

I initiated, developed and lead a weekly journal club for the postgraduate DClinDent course.

I initiated, developed and delivered a critical appraisal programme for the DClinDent course.

I am also lead for the 'annotated bibliography' sessions on endodontics.

Other postgraduate teaching responsibilities have included delivery of section 63 courses for qualified dentists and speaking at a variety of VT (DF1) days on various subjects.

I am involved in supporting student activities, such as elective tutoring, personal tutoring and staff/student committees.

I am currently developing an endodontic one-to-one course for General Dental practitioners.
Professional activities

Examiner for the Royal College of Surgeons of England MJDF exam

Audit lead for Restorative Dentistry 2016-

Editor of Mouthpiece magazine

Journal reviewer for the British Dental Journal and International Journal of Paediatric Dentistry

Clinical

I am a registered specialist in Restorative Dentistry, Endodontics, Prosthodontics and Periodontics having completed FDS RCS (Rest Dent) in 2013. Prior to undertaking specialist training I was a Staff Grade in Restorative Dentistry (endodontics) and previously undertook a wide range of junior training posts covering Restorative Dentistry, Paediatric Dentistry, Community Dentistry and Maxillofacial Surgery. This broad-based clinical training means I am able to provide treatment planning and direct treatment at a specialist level in all aspects of Restorative Dentistry including implantology, but also have a wide range of more generalist skills and knowledge allowing me to co-ordinate patient care in a holistic manner.