Digital Manufacturing Technology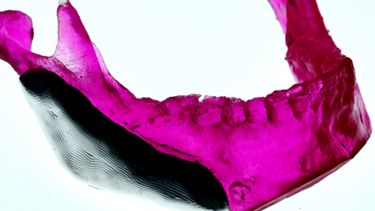 Craniofacial prosthetics
Digital technology is transforming the way in which craniofacial prostheses are created. Computer Aided Design (CAD) software has progressed along with high resolution scanning technology to design securely fitting, mechanical retained and functional prostheses in all manner of situations. Further to this, modern additive manufacturing techniques such as Selective Laser Melting (SLM) allow complex 3D geometries to be created which were, until now, impossible to be machined by destructive techniques.
Dental prosthetics
Additive manufacturing is just one of the many techniques which is transforming the way in which restorative dentistry is carried out. The hybridisation of new, stronger resin based materials with aligned, fibrous scaffolding is resulting in prostheses which last longer, are more comfortable and more affordable than current dentures. The close nature with which the group works with both industrial partners and the NHS trust allows these new prostheses to be tested in-vivo.
Custom scaffolds for facial regeneration
The human face provides a significant part of our identity as individuals, and events that alter our appearance can therefore have a dramatic impact on our confidence and self-esteem. The Bioengineering & Health Technologies Group is pioneering exciting new research directed toward the development of implantable scaffolds that will enable surgeons to recontour the bones and tissues of the face during reconstructive surgery. This is an area of significant strategic interest to our research group as well as others in the School and our clinical partners in the Sheffield Teaching Hospitals NHS Foundation Trust.
More

The musculoskeletal structures of the human head, neck and face contribute significantly to quality of life, our sense of identity, and general well-being. Indeed, significant trauma in this region may be life threatening through interference with the airway. Surgical intervention is always first concerned with preserving life, but the clinician must also seek to preserve the contours of the face to preserve aesthetics and identity. While traditionally this was achieved using alloplastic biomaterials, there is increasing interest in the use of tissue engineering and and other regenerative strategies to improve the clinical outcome.

This group of projects combines our expertise in digital acquisition and advanced manufacturing with research into scaffold biomaterials and regenerative dentistry. The Bioengineering & Health Technologies Group collaborate with academic staff in the Faculty of Engineering where we are investigating new composite biomaterials that are both suitable for use in advanced and additive manufacturing and at the same time offer significantly improved regenerative potential compared to existing medical materials. One relatively straightforward approach that has already been shown to offer potential is the incorporation of micro- and nanoscale particulate bioceramics into bioresorbable polymers.

Our goal is to fabricate custom-shaped scaffolds that promote the normal physiological healing of craniofacial bone and other tissues to provide the best functional and aesthetic outcomes possible, even in ageing or otherwise compromised patients. This result may be achieved by using live cells seeded onto porous scaffolds fabricated from existing medical materials. In the future, however, this work will allow the therapeutic potential of biologically active molecules to be be harnessed, promoting local tissue regeneration in the patient without the ex vivo culture of living cells.
Flagship institutes
The University's four flagship institutes bring together our key strengths to tackle global issues, turning interdisciplinary and translational research into real-world solutions.