BDS Dental Surgery selection process and entry requirements
We receive approximately 800 applications each year for the 71 places available on the BDS programme.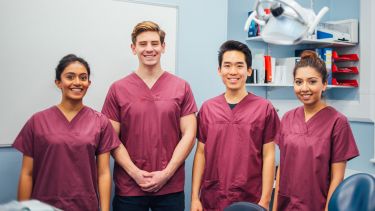 How to Apply
You should make your application through UCAS for the following academic year. All applicants should take the UCAT test prior to making an application.
We receive approximately 800 applications each year for the 71 places available on the BDS programme. Screening of applications takes place from October to December and invitations for interview (selection day) are sent in January. Offers are made at the end of March.
Screening
Your application will be assessed by experienced staff who have been trained and can exercise discretion in interpreting the range of evidence you provide. We initially assess your academic record, evidence of career exploration, personal qualities and values demonstrated in your personal statement and academic reference.
Your application must include:
A complete and accurate Academic Record
A contemporary Academic reference 
Predicted grades where appropriate 
Details of disrupted studies should be submitted at the time of application (More information)
Incomplete applications may not be considered 
Competition for places is extremely high and therefore you should consider the following criteria when making an application:
Academic Record

GCSEs: Most applicants who secure an interview have a minimum of 6 A grades or Grade 7s at GCSE which include Maths, English Language and Science subjects.

A-levels: Predictions of AAA are required including Chemistry and Biology. Your third A-level choice may be in any subject and we value each subject equally. When screening applicants, we do not give additional merit to those students choosing to study 4 A-levels or additional AS levels. Applicants who have taken more than two years to complete their A-levels or those applicants repeating, and resitting A-levels are eligible to apply.

AS grades: We use A2 grades or predicted grades where applicable. We don't use AS grades when screening applications.

UCAT: The cognitive components of this test are used to support the predicted grades when screening applicants. Typically, applicants will need to achieve a total score which is average or above in order to be successful in applying. In addition, we also prioritise applicants with a high score in the Verbal Reasoning component when applicants are equal in other selection criteria. 

The Situation Judgement Test (SJT) component of the UCAT is also used during the screening of applicants. In order to be successful, you will need to fall into Band 1, 2 or 3. Again, we will prioritise those applicants who fall into bands 1 and 2. 

Please note that test results are valid for the current admissions cycle. If you choose to re-apply to this Dental School in a following cycle, you will need to re-sit the test. Details of test dates and how to register for the test can be found on the UCAT website.

Clinical requirements

Our School also has a series of clinical requirements for clinical students. Before accepting an offer of a place, you must confirm you will comply these requirements.

Career Exploration

You should be able to demonstrate that you are making an informed choice to study dentistry. To do this you should be able to demonstrate knowledge of the dental profession and be able to explain what has attracted you to the profession. You should be clear about the possible career opportunities and how these compare to other healthcare professions. Ideally you should have experience of working in health care environments, particularly within a general dental practice.

Personal Qualities

We look for those applicants who have the qualities and values necessary to become a healthcare professional. In particular you should enjoy teamwork, be self-motivating and be aware of leadership skills. You may already demonstrate these qualities through voluntary or part time work or some other activity, hobby or interest which you should discuss in your application. You should consider your strengths and weaknesses and whether these align with a career in dentistry because dentists, like all healthcare professionals, constantly work as part of a team.

Healthcare requires people with particular values and behaviours in order to provide optimum care, working in the patient's best interest. Therefore, you should consider whether your values align with the values of the NHS Constitution. These are:

Working together for patients
Respect and dignity
Commitment to quality of care
Compassion
Improving lives
Everyone counts

More about the NHS constitiution:

Dental students and practicing dentists routinely perform small intricate tasks for long periods of time in demanding, high pressure situations. Applicants who are considering making a career in this field should be aware of the difficult manual tasks that they will be undertaking and be confident that they will enjoy this type of work.

Studying dentistry, and having a career in dentistry is demanding, requiring people who are self-motivated, committed, resilient and who have good time management skills. Applicants should be aware of these demands and be able to provide examples of self-motivation and good time management. You will be spending 5 years at our school and we want to make sure that you will make a positive contribution to our School, University and community. As such we look for applicants who have made significant contributions to their school or community.

International Applicants

We welcome applications from International students who can demonstrate a proficiency in English Language. An IELTS score of 7.5 with a minimum of 7.0 in each section is required.
Interviews for 2023 Entry
This year we will be conducting all our interviews at the Dental School. 
All applicants who have been selected for an interview will be invited to attend a panel-based structured interview during the week of 27th February - 3rd March.
Interviews will be conducted by two members of staff and one senior student and will last for approximately 15 minutes with questions that aim to assess:
Motivation for the course
Motivation for the profession and knowledge of current issues
Evidence of independent thought
Evidence of ability to apply knowledge
Relevant experience, communication, personal qualities and values.
Interviewers expect applicants to have undertaken appropriate research in advance of an interview. Applicants may be asked to apply existing knowledge to new situations or discuss scenarios to demonstrate how you think rather than what you know.
Please note that we seek to recruit students with values and behaviours which align with the attributes of the Sheffield Graduate and the values of the General Dental Council's Standards for the Dental Team and NHS Constitution. Any applicant that displays values or behaviours that seriously contravene this at any point during the application process will have their application withdrawn.
Attending the Selection Day
Selection day dates for Entry 2023

We interview approximately 300 applicants each year. For entry 2023 cycle, we will interview during the week commencing 27th February. Applicants will be notified by invitation to interview towards the end of January and will be able to pick from a range of dates.

Interview

Your interview will be conducted using a semi-structured format and last up to 15 minutes. The interview panels comprise two members of academic staff and a senior dental student who are trained to assess you in the following three areas:

Career Exploration Values
Personal Qualities and Communication Skills
Commitment to Sheffield

You will be assessed in these areas with reference to the information you have provided in your personal statement. Interviewers expect you to be able to demonstrate that you are well informed about your decision to study dentistry and your decision to study at Sheffield.

Interpersonal Skills Test

As part of the selection procedure, we make an assessment of your interpersonal skills. This will take place as a separate assessment from your interview and will be a group task aiming to assess:

Communication Skills
Empathy
Compassion

Receiving an offer to study Dentistry
We aim to inform applicants about the outcome of their interview by the end of March. We make offers to more applicants than there are places available in order to compensate for those applicants who do not select Sheffield as their first choice, or who do not meet the conditions of their offer. Each successful applicant will receive a comparable offer, and this is AAA at A-level or equivalent.
BDS Admissions Reserve List Policy

The number of places available to study dentistry is regulated by the Government and controlled through intake targets. Each year we make significantly more offers to applicants than we have places available. The BDS Admissions Reserve List Policy document sets out how our reserve list is constructed. 

Applications for Deferred Entry

We welcome applications from applicants who wish to defer entry to the following year. Applications for deferred entry will be assessed in competition with all other applicants using the same selection process.

Feedback

For enquiries regarding your UCAS application please refer to AskUS.

The information desk will provide information to those who have applied to the University, offering:

Information on the application process
Confirmation of the status of applications
Information regarding offers
Confirmation of receipt of supporting documents
Referral of enquiries to Admissions Teams, Academic Departments and other services.

We provide feedback to all applicants upon request. Requests should be sent to dental.admissions@sheffield.ac.uk
Admissions data
Further information on BDS applicant admissions data since 2018 can be found at the link below.