Cert HE in Combined Studies with a Foundation Year
The CertHE Combined Studies with Foundation Year is a part-time course designed for adult learners who do not have the standard entry qualifications required for most Higher Education courses.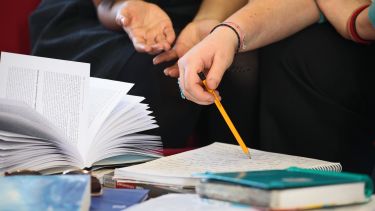 How to apply
To study this course you will need to apply through our online application form.
Programme code: ACEU85H
Foundation year
Students initially study our foundation programme, part-time, over two years. Successful completion of the foundation year guarantees progression onto our CertHE in Combined Studies, although many students use this course as preparation for further degree level study, either at the University of Sheffield or another institution.
The reasons for studying the part-time programme vary. You may want to:
build your confidence and update your study skills before starting on full degree course.
get a taste of more than one subject area before deciding which particular academic route to follow. 
gain subject area knowledge in order to support an application to a specific degree programme.
continue onto our part-time CertHE programme.
This course can also be studied without a foundation year. Applicants interested in this option should first contact us to discuss your eligibility for direct entry to our CertHE in Combined Studies.
---
Programme length 
It will take you two years to complete the part-time foundation level of the programme. At this point, you can either progress to level one of the Cert HE, which takes a further two years to complete part-time, or you can apply to transfer to other degree level studies.
---
What happens after the foundation year?
Successful completion of the foundation level of this programme guarantees direct progression through to Level 1 of our part-time CertHE Combined Studies.
Alternatively some students decide to apply for a place on a full-time or part-time degree at the University of Sheffield (or elsewhere). Anyone applying to a degree at the University of Sheffield, who is predicted an overall grade of 60 or more at the foundation level of this course, is guaranteed an interview with the department concerned in order to assess whether they are suited to their chosen course. We offer you advice and assistance when considering your options for higher level study and offer guidance on the application process.
Mature Student Open Evening
We are hosting our annual mature student open evening on the 21st of November 2023. 
Come and join us to find out more about our foundation year programmes and routes for mature learners.