Approval received to take down the vacant building at 5 Favell Road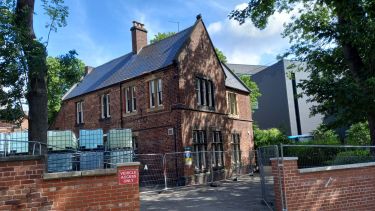 A recent condition survey has identified extensive defects both internally and externally for the building which was previously used for administrative offices.  Due to its poor condition however, it has been vacant for some time.  The configuration of building does not lend itself to be turned into student teaching space, particularly due to the rooms being too small.  
The villa style building is surrounded by other University buildings so any long term redevelopment plans for the site will align with the University's campus masterplan.  
In the short term the site will be a compound for nearby building works being carried out by the University scheduled to start within the next year.  
Once these building works are completed the site will become a pocket park - providing open green space within a built-up area.  The park is in addition to the recently developed pocket park next door at 66 Leavygreave Road - as well as the green spaces our landscape management team have created on Hounsfield Road (next to Security Services offices and the Hicks Building).
The site's mature and healthy trees will be retained, and incorporated into, the new pocket park.  Furthermore certain elements of the building are being salvaged, such as the chimney pots, with the intention of being able to incorporate these as planting features.