The DiCE Project was borne from the Royal Academy of Engineering's new Diversity Impact Programme that awarded grants to engineering departments that address the unequal outcomes experienced by students from diverse and underrepresented groups.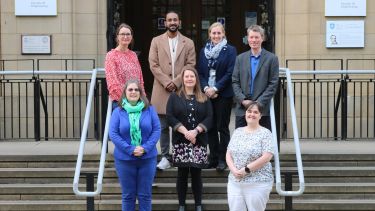 The DiCE core project team at Sheffield successfully held their first external engagement workshop on 23 May where we invited a selection of external participants to contribute personal and career based insights to help us shape our approach to developing diversity confident graduates committed to public good in their engineering careers. The workshop allowed the DiCE team to outline the aims of the project and collect important feedback on three particular areas:
Engineering for Good Charter for graduating students
Our students will go on to have key roles in leadership and shaping the future world - so educating for diversity confidence will ensure that EDI is embedded in their attitudes and behaviours after they graduate. We tested the appetite for the development of a Charter for public good for Graduate Engineers that encompasses a commitment to making decisions for the good of society and the natural environment.
Effective group work in the workplace 
Effective teams require team members with diverse backgrounds and characteristics, and are respectful and appreciative of the perspectives that arise from these differences. We explored ideas around optimising group membership, and developing a clearer framework to support teams to work well together. Feedback highlighted the importance of students self-reflecting on their role and the impacts of their own actions on their team members and on the ultimate success of group projects.
Effective approaches to ED&I training
Our starting assumption recognises that the development of a more inclusive culture requires change on the part of those in the majority, and so the interventions and expectations proposed as part of the DiCE project support majority group students who promote diversity, support inclusion will take these values into their professional life. We explored how to develop the necessary skills, language and confidence for staff and students to become a more inclusive, diversity-confident academic community.
 
Intro Week Activity 
One of the outputs of the DiCE project is to introduce group work activity from intro week covering self-exploration; EDI; group dynamics; basic academic skills and to get to know peers on the course.  
We hope to develop some wrap-around activity that will complement the existing ice breaker activities that already form part of the intro week. Once the idea has been developed further, (in relation to Bioengineering 'Build a Finger' icebreaker and the Mechanical Engineering 'Marble Run') we will be exploring with other departments how they can adopt the same approach.
"We feel that in intro week the students learn what the university expects of them and values most. By including discussions on EDI, and EDI considerations into our intro week activities, we set a clear standard for their whole degree." 
(Dr Artur Gower, Department of Mechanical Engineering, UoS)
 
More Information 
Learn more about the DiCE project: DiCE Project.