A Taste of...Engineering Imagination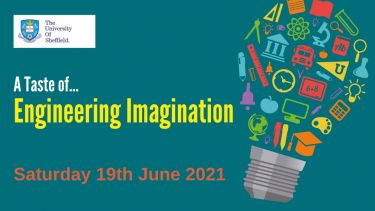 Off
Every year, in celebration of International Women in Engineering Day, we bring engineering to the streets of Sheffield through our Engineering Imagination event.
It would have been our 8th year sharing what we do with Primary School children in 2021 but we decided that it was safer to bring the event online as 'A Taste of...Engineering Imagination'!
The celebration is aimed at 4-11 year olds but anyone can join in!
Please visit our facebook page: https://www.facebook.com/sheffunieng and see our events page for further information
Watch this space for full details of our 'A Taste of Engineering Imagination' 2022 event!
As part of A Taste of...Engineering Imagination 2020 our Women in Engineering student society released their second Suzie & Ricky book and you can download the pdf below.
Download your free copy of Suzie & Ricky: The Ripple Effect here.
Download the first Suzie and Ricky: The Crash Landing here.
Watch our Engineering Imagination video from 2018.
*If you would like a hard copy of either book, please get in touch with us at engineering.edi@sheffield.ac.uk