Industry partnership in railway engineering
The University of Sheffield is part of the UK Railway Research and Innovation Network (UKRRIN), and initiative that is bringing academic research and industry together to revolutionise rail innovation and accelerate the introduction of new technologies.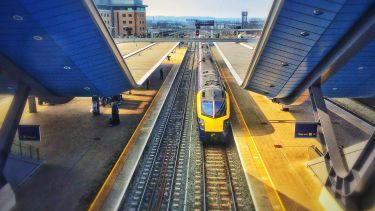 Launched in 2018, UKRRIN has been established in response to the Rail Technical Strategy - a 30-year vision for the future of railways in the UK - and will offer industry the opportunity to collaborate with leading researchers and facilities to support innovation. With a 10-year funding commitment from both UK Government and leading industrial partners, the collaborative research will include working with British Steel to design and test new rail metallurgies.
The ultimate aim of the Network is to help contribute towards ambitious targets for the sustainability of rail including reducing costs, improving customer experience, halving the carbon footprint of the railway, and doubling the capacity of the UK network.
As rails are exposed to extreme load, especially on curves, they are generally considered a consumable by the industry – something that needs to be regularly replaced, similar to tyres on a car. Led by Professor David Fletcher (Mechanical Engineering), University of Sheffield research will help develop more durable rails, supporting their installation through developing design guidance with Network Rail to optimise their application in the network.
This will not only help to manage the cost of replacing steel, but will also help to offset additional impact in terms of energy required to create new rails and the time the track is out of action – all contributing towards a more sustainable railway infrastructure and ultimately, a better experience for passengers.
These goals are also addressed in other Sheffield railway research projects. Students and researchers are working with industry partners to extend the life of overhead power lines, in rail application of energy storage technologies, and in optimisation techniques to design future trains and stations for better passenger experience.