Using artificial intelligence to reduce urban flooding
Researchers in the Department of Civil & Structural Engineeringhave collaborated with Environmental Monitoring Solutions, a Sheffield SME, to develop a new, award-winning technology that utilises artificial intelligence to prevent flooding in urban areas.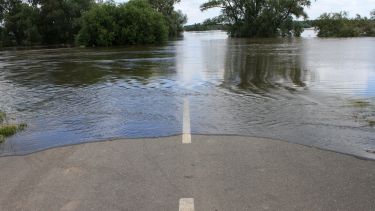 CENTAUR™ is an intelligent autonomous system for local urban flood risk reduction, which is installed in combined sewer systems in flood-prone areas. Combined sewer systems not only collect waste, but are designed to drain excess rainwater. Urban flooding occurs when the sewer overflows during short periods of intense rainfall, because the capacity in that area is full. 
CENTAUR™  is a simple network of smart sensors, connected wirelessly, that uses untapped network capacity. It does this through the operation of a moveable gate to control flow based on an intelligent algorithm which analyses local water level data.
This real-time control of sewer flow has many benefits. Not only does it reduce flood risk, but it can prevent sewage overflow, make the flow of our sewer systems to treatment works more efficient (and therefore reduce energy consumption), and installing the system does not require building major new infrastructure. Sensors are easily and cheaply installed and maintained, and its multiple fail-safes ensure the system reduces risk and increases resilience.
CENTAUR™ was born out of the need to reduce local flooding (or create extra network capacity) in increasingly crowded urban spaces. It was also in response to the compounding effects of climate change and more peaked storms, which causes local flooding. A system in beta format is operational in Coimbra in Portugal, contributing to local flood protection. Further implementations are planned in France in parallel to a full market launch. EMS are currently talking to UK-based water companies with the intention of trialing systems in the UK.
The technology has just won a prestigious 'Most Innovative New Technology' prize at 2018's Water Industry Awards. This award recognises CENTAUR™ as a truly disruptive technology amongst the best the water industry has to offer. Its development through a consortium of universities, water companies and SMEs indicates the breadth of expertise and world-leading research facilities behind this finished product.
CENTAUR™ was developed by a consortium of universities, water companies and technology SMEs . Partners include the University of Sheffield, the University of Coimbra, EAWAG, EMS, Steinhardt GmbH, Veolia and Águas de Coimbra.