Sheffield is a fantastic working environment, where I'm surrounded by experts in related fields, with whom I can exchange ideas and join forces to solve much bigger challenges
Professor Aline Villavicencio is Chair in Natural Language Processing & Deputy Director of Equality, Diversity and Inclusivity in the Department of Computer Science and here she tells us why engineering was for her and what brought her to Sheffield.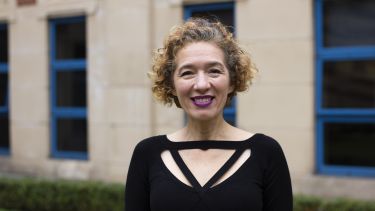 Read: our interview with Aline.
---
Why did you want to be an engineer?
My brother was into computers and was implementing these cool systems, so when I had to decide on a career, Computer Science seemed like an empowering profession, that would give me the skills to work on many different problems, opening up a lot of possibilities for the future. It took me a while to find the precise area that I wanted to work on, but once I found it, it turned out to be something that would allow me to combine my personal interests in languages and literature into a professional career of research on Natural Language Processing and Artificial Intelligence.
What brought you to the University of Sheffield?
Apart from being one of the top universities in the UK, Sheffield has one of the largest research groups in my area (Natural Language Processing) in Europe. It's a fantastic working environment, where I'm surrounded by experts in related fields, with whom I can exchange ideas and join forces to solve much bigger challenges that I could do on my own.
Apart from the excellent technical side, the Computer Science department holds a Silver Award from Athena Swan, and for me that was a clear indication that I would be in a place that values diversity, equality and inclusion.

Professor Aline Villavicencio
Plus Sheffield has this wonderful combination of exciting urban environment, and cultural options with beautiful scenery everywhere. I really enjoy discovering new neighbourhoods around the city.
Can you tell us a little bit about Cambridge and your experience there?
I met my future supervisor when I attended a conference during my Masters, and from that meeting came the chance to do a PhD in Cambridge. The years I spent in Cambridge were of intense hard work but I was very privileged to be learning from researchers who were changing the field. Being in an academic environment was also great on a personal level, as it gave me the opportunity to meet more easily people with shared interests and some of them are still my colleagues and friends to this day.
What's the best thing about being an engineer?
What I love about working with research is that it allows you to investigate extremely interesting questions using state-of-the-art techniques that can help advance our understanding about a subject. I am fortunate to be able to work in something that I enjoy with people I like. Doing research means that plans need to be flexible as they may change, when some crucial development happens in the field. But I like this unpredictability, and it's great facing new challenges and joining forces with different people to be able to deal with a particular problem. My big goal is to be always surrounded by a group of students and researchers who also enjoy what they do and for us to make contributions together to our area, working on big research questions that challenge us to keep moving forward.
Read more about Professor Aline on her departmental profile.
We interviewed Aline in March 2021.