The course can be quite challenging, especially in 1st year but my advice is to stick with it, try your best because the course is very rewarding

Elaine Galloway
Electronic & Electrical Engineering Student
Inclusions Officer for the Electronic & Electrical Engineering society
2025
This is Elaine and she is an undergraduate student studying for an MEng degree in Electrical & Electronic Engineering. Here she tells us what inspired her to study the field, the projects she's worked on so far and her role as Inclusions Officer for the Electrical & Electronic Engineering Society.
Watch: Our interview with Elaine
I'm doing a placement at Collins Aerospace with UKESF, and they are also partnered with the University of Sheffield and run many events promoting inclusivity. For example, the Girls Into Electronics Event, which is held for 6th Form female and gender minority students, encouraging them to get into electronics.

Elaine Galloway

Electronic & Electrical Engineering Student
We interviewed Elaine in June 2023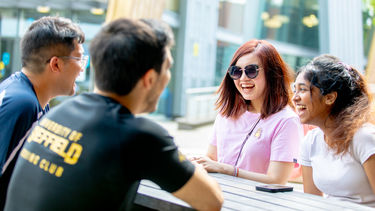 International Merit Scholarships
We offer a generous package of financial support for international students including 75 undergraduate scholarships worth £10,000 towards the annual tuition fee and 125 postgraduate taught scholarships worth £5,000 towards the tuition fee. Applications are now open for existing offer holders.