Health and Safety in the Lab
By their nature, conducting exercises in laboratories and workshops will involve work that is potentially a risk to personal health and safety but is vital to equip engineers with the knowledge they need to practise.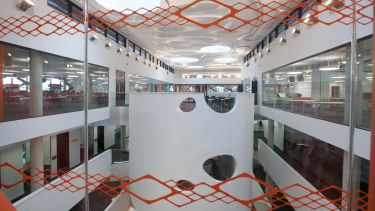 Off
The aim of the Diamond is to deliver world class practical education to students in the Faculty of Engineering at the University of Sheffield. 
Understanding, managing and practising good health and safety processes allows potentially dangerous activities to be performed with the likelihood of serious incidents occurring being virtually eliminated.
The staff in the Diamond take care to ensure that all of your laboratory and workshop classes are as safe as practically achievable and all activities have been fully risk assessed. But as educators, our ethos is to ensure that it isn't only the staff involved in health and safety, but that everyone working in the building, from students to visiting professors, has the opportunity to be trained in the processes that allow practical engineering to happen safely.
It is in your interest to take this aspect of practical work seriously, for three reasons:

Any serious incident occurring in a lab or workshop could have life changing consequences.
Becoming aware and proficient in the principles of health and safety will make you a more competent, and ultimately more employable engineer.
We all have a responsibility (by law) to ourselves and each other to uphold high standards of health and safety.
Health and safety is everyone's responsibility and it is up to staff in the building to ensure the activities prepared for you are as safe as possible.
It is up to you to prepare yourself:

For the activities by reading/watching and fully understanding all the material available on these pages and any additional material specific for each activity.
If you are asked to perform a task and are unsure about any health and safety aspect of what you have been asked to do, stop work and consult a member of staff.
If you see someone breaking the rules and putting people at risk, regardless of if they are a student sticking their pen into a power socket or an eminent professor walking around a lab in shorts and sandals, drinking a cup of tea, it is your responsibility to do something about it. 
Being prepared, being sensible and being vigilant will prevent the majority of potentially serious incidents from occurring.
A world-class university – a unique student experience
Sheffield is a research university with a global reputation for excellence. We're a member of the Russell Group: one of the 24 leading UK universities for research and teaching.