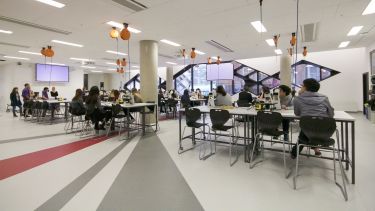 Off
Lab teaching staff
In your labs you will be taught by our academic engineering teachers and our expert lab technicians. There will be post graduate student helpers also who we call GTAs (Graduate Teaching Assistants) so there should always be someone to help you with queries in the lab.
Our staff tend to wear purple shirts. To find out which staff will be working with you in each lab, visit Our Staff Hub.
Lab sheets:
At each lab you will be provided with lab sheets that contain the lab information and the instructions for the lab activity that you will be doing.
For face to face labs:

Lab sheets for face to face labs will be available in the lab.  The cover page of each lab sheet contains:

The title of the experience
The name of the academic leading the activity
The module code
Assessment information
Learning outcomes with keywords to identify what experimental skill the learning outcome relates to

At the beginning of each year you will be given a Laboratory Notebook to record your findings during the practical sessions. Please bring this with you to every session.
During face to face labs you will be asked to write your findings down in your laboratory notebook.  

For online labs:

The lab sheet and all background information will be attached on the Module Blackboard page for that lab.
A world-class university – a unique student experience
Sheffield is a research university with a global reputation for excellence. We're a member of the Russell Group: one of the 24 leading UK universities for research and teaching.