Insigneo Institute hosts BioMedEng21 conference at the University of Sheffield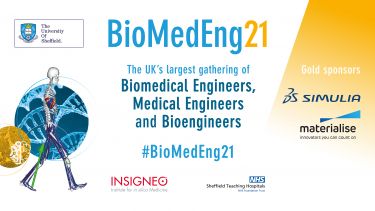 The hybrid conference, chaired by Professor Gwendolen Reilly, brought together over 300 attendees, with 175 delegates travelling to Sheffield to meet in person and 135 joining the conference online. The in-person event witnessed a joyful but cautious return to face-to-face networking, sharing and discussing research, and sparking new ideas.  Meanwhile, the hybrid format allowed international speakers from the USA, Uganda, and France, who were not able to travel to the UK, to livestream their talks into the Diamond Building for online and in person delegates.
The programme provided an eclectic mixture of bioengineering topics reflecting the diversity of biomedical engineering in the UK – from cell to whole body, molecular imaging to medical imaging, microfluidics to cardiovascular fluidics. There was also a focus on Early Career Researchers with special sessions to provide support for their blossoming careers in UK biomedical engineering.
Professor Jim Litster, Interim Vice-President and Head of Engineering, welcomed delegates to the conference and to Sheffield. He highlighted the University's strength in interdisciplinary research which is key to the fields of bioengineering and biomedical engineering. He also acknowledged early pioneer Emeritus Professor Shelia MacNeil's ground-breaking work in skin tissue engineering which established strong links with health sciences, medicine and dentistry.
The University of Sheffield is one of the UK's biggest and best engineering universities and the Faculty of Engineering is a major driver of research and innovation. Engineering for Life is a key research theme for the faculty demonstrated through its interdisciplinary research centres such as the Insigneo Institute and the Advanced Biomanufacturing Centre.
Professor Litster introduced the first plenary speaker Professor Andrew Taylor - Professor of Cardiovascular Imaging at UCL and Director of Innovation at Great Ormond Street Hospital.
The prestigious line up of plenary speakers also included:
Professor Nancy L. Allbritton

- Frank & Julie Jungers Dean of Engineering and Professor of Bioengineering, University of Washington

Thierry Marchal

- ANSYS Program Director for Healthcare Solutions and Secretary General Avicenna Alliance

Professor Philip Conaghan

- Director of The Leeds Institute of Rheumatic and Musculoskeletal Medicine, University of Leeds
The Insigneo Institute was pleased to host a special session on AI led by Dr Andrew Narracott, Insigneo Director of Operations and Senior Lecturer at the University of Sheffield's Department of Infection, Immunity and Cardiovascular Disease. The session included key notes talks from Dr Susheel Varma, Director of Engineering from HDR UK Central Team, Dr Jan Wolber from GE Healthcare and Dr Andy Swift from the University of Sheffield's Department of Infection, Immunity and Cardiovascular Disease.
The Insigneo Institute and the University of Sheffield hosted the conference on behalf of the newly created BioMedEng Association, an organisation they are supporting and helping to shape, through the appointment to their board of Trustees of Professor Claudia Mazzà from the Department of Mechanical Engineering.
Find out more about the BioMedEng Association here: https://biomedeng.org/