UK space industry lands in Sheffield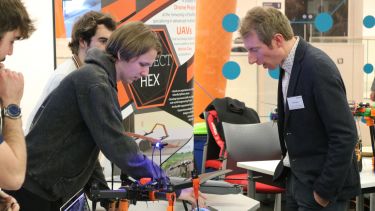 The Faculty of Engineering hosted the UK Space Propulsion Working Group on Wednesday 9 February 2022, to discuss how it can work with the UK space industry to invest in education for the space and propulsion sector.
The UK Space Propulsion Working Group involves engineers and space experts from the organisations including European Space Agency, Airbus, Rolls Royce and the UK Space Agency.
The working group was invited by Henry Saunders and Dana Arabiyat, who lead SunrIde (Sheffield University Nova Rocket Innovative Design Engineering). SunrIde is a student-led project, between the University of Sheffield and Sheffield Hallam University, that works on launching custom built rockets into the Earth's atmosphere.
This year it is supervised by Dr Alistair John, the students have started project SunFire, aiming to become the first student team in the UK to test-fire a liquid rocket engine.
The UK Space Propulsion Working Group took a tour of the world-leading engineering facilities in the University's Diamond building, including the iForge student makerspace, where previous SunrIde rockets have been constructed, and the Royce Discovery Centre, where state-of-the-art additive manufacturing techniques are developed and tested.
Following the tour, they received a presentation by Henry on how industry support for student-led projects such as SunFire will benefit universities and the UK space sector.
Sheffield is also leading on the development of a proposed new national rocket engine competition, to be submitted to the UK Space Agency. This competition will start next academic year, with universities from around the UK (with support from industry) working to design, build and test liquid rocket engines. 
Dana Arabiyat, MEng Aerospace Engineering with Private Pilot Instruction student, said: "It would be phenomenal to have proper industrial support for our projects where companies can provide consultancy from experts, manufacturing and testing facilities. It will help integrate students in the space industry to achieve a high level of professionalism in their projects, but also to network with these companies and understand the skill level they require from graduates."
Dr Alistair John, University Teacher said supervisor for SunrIde, said: "Student-led extra-curricular projects such as SunrIde have enormous educational benefit. They enable students to apply the theory learnt in their course to tackle open-ended, real world, practical problems."
"This gives students freedom to design and innovate while experiencing the practicalities of leading and managing teams and projects. Working closely with industry (as the SunFire team has) allows the students to graduate with a level of professionalism and direct industrial experience they otherwise wouldn't have."
Explore the University
Discover why Sheffield is the right choice for you at one of our open days or events.