Revolutionising titanium production
Titanium alloys are well established in the aerospace and automotive industries: high strength and low density means that the inclusion of titanium components helps to reduce vehicle weights, increase fuel efficiency and reduce environmental impact.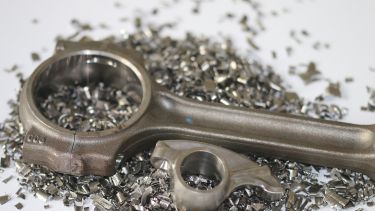 While titanium alloys have similar mechanical properties to steels traditionally used in aerospace and automotive applications, and weigh around half as much, processing of these materials is often resource intensive and inefficient.
Research led by Dr Nick Weston and Dr Martin Jackson (Department of Materials Science and Engineering) has led to the development of a new hybrid manufacturing processing technology, which is set to turn the world of titanium processing on its head.
FAST-forge consolidates titanium powder, including machined swarf, which would otherwise be sent for reprocessing, into a bulk material in two solid-state steps, rather than to 40 steps found in conventional processing. It uses field-assisted sintering technology (FAST) and a one-step forging process to produce a component close in shape to the finished part, thereby foregoing numerous expensive and process-limiting thermomechanical steps.
The research, some of which has been part-funded by Innovate UK, has involved UK industry partners Metalysis, the UK's Defence Science and Technology Laboratory (DSTL), Advanced Forming Research Centre (AFRC) and Safran Landing Systems.
Flagship institutes
The University's four flagship institutes bring together our key strengths to tackle global issues, turning interdisciplinary and translational research into real-world solutions.