What it's like to study Engineering MEng/BEng at Sheffield.
The future of engineering education
If you're passionate about engineering and want to succeed in an increasingly interdisciplinary industry, Engineering MEng/BEng will equip you with a broad-based engineering education, as well as the professional and technical agility needed to excel.
Why study a General Engineering course?
The interdisciplinary nature of the degree means that you will be taught a range of transferable technical and professional skills. By purposefully delaying your specialism to the latter part of your degree (years 3 & 4), you will have had time and creative space to learn about your key interests.
Our student profiles show how much students have enjoyed this approach to study. By the time you specialise, you will be confident in knowing that you have an understanding of how the different engineering disciplines work together.
---
We produce graduates who create and inspire. As well as expert knowledge and skills, our interdisciplinary courses equip students with the intellectual agility and cultural adaptability that comes from working across subject boundaries.

Dr Rob Howell

Head of Interdisciplinary Programmes in Engineering
---
This course prepares you for a career where you will apply your creative problem-solving skills and your understanding of engineering principles to the real world while working in multidisciplinary teams and understanding other professionals. These transferable skills can be applied to many sectors, from engineering to project management.
About: Interdisciplinary Engineering
Aerospace Engineering, Bioengineering, General Engineering, and the Science and Engineering Foundation Year (SEFY) are all delivered by an academic teaching unit – Interdisciplinary Engineering.
Like our name suggests, we value interdisciplinary learning. We are different to other departments within the Faculty of Engineering. This difference is also our strength; delivering an expert roster of teaching academics from across the Faculty from departments including Mechanical Engineering, Electronic and Electrical Engineering and Automatic Controls and Systems Engineering.
If you have a query about the course, or anything else, please contact Interdisciplinary Programmes in Engineering – we'd be very happy to assist you.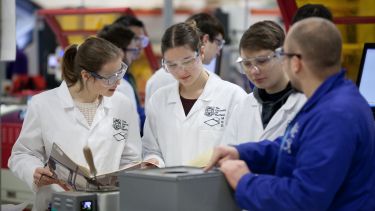 A world-class university – a unique student experience
Sheffield is an engineering research university with a global reputation for excellence. We're a member of the Russell Group: one of the 24 leading UK universities for research and teaching.
Explore the University
Discover why Sheffield is the right choice for you at one of our open days or events.