Julia Dobson is taking on the Big Walk in memory of her Dad who sadly died from Motor Neurone Disease in March 2020.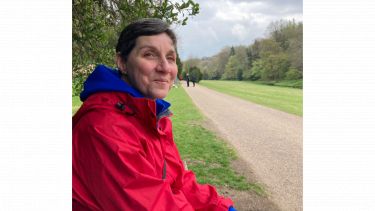 Julia, a Professor in the School of Languages and Cultures at the University of Sheffield, is hoping to raise money to help develop treatments for MND and other conditions.
Due to the pandemic, I've been able to do very little to mark my father's passing and celebrate his life. The Big Walk gives me the chance to do something personal and practical through helping to raise funds for Genetic Disease Research. I have done the Big Walk before and it was a really enjoyable and positive experience. I relished the opportunity to spend all day in the beautiful countryside with great people for a good cause. My motivation is clearly very personal and will be more than enough for every step of the walk. I enjoyed setting a good pace last time I did this, but this June I will make sure to take time for conversation and company along the way."

Professor Julia Dobson

Big Walk participant 2022
---
You can help rewrite the future for thousands of people. With your kindness today, you'll help develop gene therapy treatments. And you'll bring hope to families who are coping with MND and other inherited conditions.
Motor Neurone Disease, hearing-loss and dementia are just some of the genetic conditions that could one day be treated using gene therapy. 
For patients living with rare genetic conditions, this can't come soon enough. Although individually uncommon, collectively it's estimated rare diseases affect up to 10% of the world's population. Most affect children and many are fatal or severely disabling. The impact of your help today could be huge.
The University of Sheffield community aims to raise £200,000 by 31 July to fund a state-of-the-art Bioreactor. This will help a leading team of scientists to produce gene therapy treatments for a number of genetic diseases. 
With your help, Sheffield's researchers will be able to engineer bespoke genes to replace or silence faulty ones, in the form of a safe 'viral vector'. The new Bioreactor will help accelerate their research into clinical trials with patients.
The team behind this pioneering technique has already shown it works. Professor Mimoun Azzouz has helped to turn his research into a successful treatment for babies with another genetic condition: Spinal Muscular Atrophy. Gene therapy really is saving lives and has the potential to do so much more.
Join an unstoppable community of donors
United in your passion for Sheffield and how it can shape the world, together you'll help bright minds thrive.