Insigneo Institute celebrates 10-year anniversary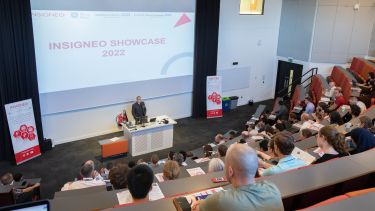 The event opened with a welcome from Professor Jim Wild, Executive Director of the Insigneo Institute, and Professor Sue Hartley, Vice-President for Research at The University of Sheffield.
This was followed by a keynote talk by Paul Dimitri, Professor of Child Health and Consultant in Paediatric Endocrinology at the Sheffield Children's Hospital on 'Transforming Child Health through Technology'.
Talks for the day were structured around the institute's five new research themes with morning sessions from the following themes:
Healthcare data / AI,
Smart devices and sensors,
Biomaterials / Biomechanics / Cell engineering.
Over lunch it was fantastic to see so many faces, old and new, for lively discussion and exchange of ideas around our poster presentations and we hope to see many new collaborations develop from these conversations.
In the afternoon, Professor Chris Newman, Interim Vice-President and Head of the Faculty of Medicine, Dentistry & Health at the University of Sheffield introduced our plenary speaker Andy Parker, Professor of High Energy Physics at the University of Cambridge who gave a talk on 'Collaborating at scale: for decades with a cast of thousands'.  Professor Parker described how CERN is structured to enhance scientific collaboration involving thousands of people working from anywhere in the globe which provided us with inspiration for greater collaboration within Insigneo.
This was followed sessions from our computational modelling in medicine and biomedical imaging themes.
The event concluded with closing remarks from Professor Damien Lacroix, Insigneo Deputy Director, and Professor Dave Petley, Vice-President for Innovation at The University of Sheffield.
View the agenda for a full list of speakers and posters from the day: Insigneo Showcase 2022 Agenda (PDF, 128KB)
We would like to say a big thank you to all those who attended, particularly our fantastic speakers, our researchers and students who presented posters, and our exhibitors: Sheffield Tomography Centre, Skeletal Laboratory, Jeff McBride CQ, and 3D Lab from the Sheffield Teaching Hospital, supported by Materialise.
A reflection on the past 10 years by Jim Wild and Damien Lacroix: 
"Having been members of Insigneo since its inception we have seen the institute grow and evolve to meet the cross-disciplinary research challenges that medical technology and basic science can help address in a modern healthcare setting. Ten years ago, the focus of the institute was very much driven by the excellent work of the founders establishing the field of research of the virtual physiological human (VPH) in collaboration with modellers, experimentalists and clinicians, and where patient-specific modelling was developed to understand disease processes and predict outcomes. In the last ten years, the institute has actively worked with the VPH Institute and the Avicenna Alliance to see the concept of in silico clinical trials being adopted by regulatory bodies as a means of faster introduction and more effective validation of devices and interventions; we are proud to say that Insigneo has been at the forefront of this endeavour.
"The complementary medical technology research and basic science underpinning these in silico approaches have always been strong in Sheffield. Following a review and reflection of the last 10-years of achievements and progress by Insigneo, we now emphasise Sheffield's excellence and the clinical translational impact of these interlocking themes that are scientifically strong in their own right and underpin the future solutions for healthcare in the 2020s and beyond.
"For example, ten years ago AI and deep learning approaches were being tested and developed by many of our researchers (we used to call them neural networks!), now they have firmly arrived in a healthcare setting with a significant push from industry. We are combining our patient-specific physics-based modelling approach with data-based modelling techniques to improve the diagnosis, monitoring, treatment and prognosis of major ageing-related diseases.
"The national challenge now is making sure that the healthcare data is available in a secure and reliable way to be explored with these approaches for digital data driven research questions to benefit patients and the population – Insigneo is leading on this at the University of Sheffield in partnership with our two Sheffield NHS Trusts.
"Industrial partnership is an essential way to expedite and expand clinical translational uptake of medical technologies and we are pleased to further develop our strategic partnerships with industrial collaborators. At a local level our Commercialisation Manager, Alex Wilkinson, has been actively engaging with members to help define pathways to commercial translational impact.
"Building on the theme of multi-scale computational modelling, Insigneo is bringing together researchers working on cutting-edge biomedical imaging and smart sensing technologies for the understanding of living systems from the molecule through to the patient. Integrating these images and signals with modelling and simulation gives an augmented understanding of the basic biology and disease pathophysiology at the cell, organ, patient and population level. We are particularly pleased with the interest in Insigneo from colleagues working in the faculty of science at this interface of physical and biomedical science.
"With our new research theme structure, we have assembled a collection of dynamic researchers across the University of Sheffield, the University of Sheffield's Advanced Manufacturing Research Centre (AMRC), the Sheffield Teaching Hospital and the Sheffield Children's Hospital directing these interlocking themes in our new, expanded research director structure which features early career scientists and clinical pioneers of Insigneo technologies. Thanks to the efforts of all the members and the continued support of our stakeholders over these last ten years the future for Insigneo and in silico medicine is bright."
The Insigneo Institute for in silico Medicine is a collaboration between the University of Sheffield, Sheffield Teaching Hospitals NHS Foundation Trust and Sheffield Children's NHS Foundation Trust.  
Established in 2012, the institute has built a strong multidisciplinary network of over 260 academics and clinicians who bring together expertise in biomedical imaging, healthcare data, computational modelling, and digital healthcare technologies.
See our 2022 brochure for more on Insigneo's recent activities.
More photographs from the Insigneo Showcase 2022
Events at the University
Browse upcoming public lectures, exhibitions, family events, concerts, shows and festivals across the University.