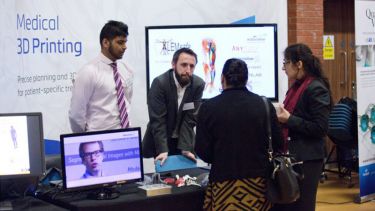 This year's showcase was attended by a record 217 delegates from academia, industry and funding bodies.
Insigneo is the largest EU research institute entirely dedicated to patient-specific computer modelling technologies to support medical decisions. This showcase was a chance to reflect on its original aim of delivering high-quality research as well as reflecting on the success of the previous five years.
---
Sheffield has become the largest centre in Europe to study in silico medicine and we can already see how our developed technologies can find applications in clinics and benefit patients. We are at the start of a revolution where technology and engineering principles are being used to guide clinical decisions.

Professor Damien Lacroix

Director of Research at Insigneo
---
Among the research being presented was VIRTUheart: a non-invasive technology that uses images from a coronary angiogram to compute a 'virtual' blood flow map. Those working on the project aim to deliver accurate, reliable, robust information that will help cardiologists make better informed decisions about how to treat their patients by supplying a more personalised solution to their treatment.
---
We are moving ever closer to translating our basic science to the clinic. Over the next two years, we will develop a working prototype that takes us beyond the investigational stage to a real workflow that clinicians and radiographers will be able to use quickly and efficiently to plan therapy for the patient.

Professor Julian Gunn

VIRTUheart researcher
---
Looking to the future Insigneo aims to make a clinical impact with its already developed technologies.
Professor Lacroix added: "In the next five years we want to show that personalised medicine can be used in clinics, to improves people's lives and be cost effective in the long term."
As well as presentations from Insigneo members the day also had engaging displays of high-quality research; an Industrial Village showcasing in silico medicine's latest commercial applications; networking opportunities and one-to-one discussions with funders, academics and clinicians.
Also showcased was the new MSC course in Computational Medicine – the first cohort of students being admitted to the University in September.
Events at the University
Browse upcoming public lectures, exhibitions, family events, concerts, shows and festivals across the University.