Insigneo Seminar: Mechanical and rheological properties of self-organized cellular assemblies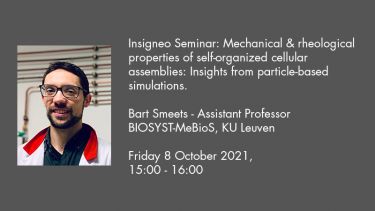 ---
Description
We are delighted to announce our next Insigneo Seminar will be from Bart Smeets, Assistant Professor at BIOSYST-MeBioS, KU Leuven, on 'Mechanical and rheological properties of self-organized cellular assemblies: Insights from particle-based simulations.' on Friday 8 October 2021. This event will take place online and in person (Insigneo Members please check your calendar invitations for joining details) to request an invitation please contact info@insigneo.org. In Person: Alfred Denny Conference Room, Alfred Denny Building.
Bio:
Bart Smeets started his research at the lab of Prof. Ramon at KU Leuven, developing particle-based simulations of multicellular assemblies. In 2014, he went to the lab of Prof. Trepat at IBEC, Barcelona. There, he got intrigued by the formation of complex tissue patterns as a result of active force generation. Back in Leuven, he applied these concepts to help understand the mechanical and rheological properties of self-assembling micro-tissues used for bone tissue engineering. After a research stay in the groups of Prof. P. Silberzan and J-F. Joanny at Institut Curie in Paris stuying active nematic properties of 2d tissues, he became assistant professor at KU Leuven in 2020. At the head of the Particulate Dynamics lab, his current research focuses on the mechanical and rheological characterization of self-organized multicellular assemblies, such as micro-tissue, cell cultures, organoids but also bacterial biofilms and yeast flocs.
Events at the University
Browse upcoming public lectures, exhibitions, family events, concerts, shows and festivals across the University.