Insigneo Seminar: Microfluidics and multiscale modeling in mechanobiology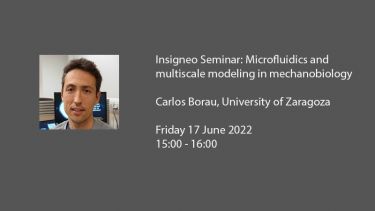 Insigneo Members please check your calendar invitations for joining details.
---
Description
We are delighted to announce Carlos Borau from the University of Zaragoza will give a seminar on 'Microfluidics and multiscale modeling in mechanobiology', on Friday 17 June 2022 at 3pm. Insigneo Members please check your calendar invitations for joining details. To request an invitation please contact info@insigneo.org.
Abstract:
Biological systems are comprised of mechanical components across multiple scales, from molecules to organisms. Mechanical signals are generated, propagated, and transduced at each scale leading to complex behavior and functions that are often challenging to fully understand or predict. Computational models are critical in providing a framework to assess the principles of mechanobiology and connect multiscale phenomena, especially when supported by empirical data, and can bestow conceptual and quantitative insights to the role of mechanics in biology. Acquisition of experimental data was greatly enhanced with the advent of microfluidics, when many limitations of classical in vitro testing were eliminated or reduced through greater control of the conditions and the improvement of imaging capabilities. In the first part of the talk I will briefly present different topics in which the M2BE group is working on, involving microfluidics and simulations. In the last part, I will go into details of a bone remodelling computational model.
Short bio:  
Carlos is a member of the Multiscale Modeling in Biological Engineering (M2BE) group since 2012, where he is developing his research career in the fields of mechanics, computational modeling and the development of algorithms for biomedical image analysis. In recognition to his effort, in 2013 he was awarded the prize for the best European Thesis in Biomechanics by the European Society of Biomechanics. He has participated in major research projects on different topics including modelling and quantification of cell migration, image processing and characterization of hydrogels and printed scaffolds. Currently, he is the M2BE leading post-doc within the PRIMAGE project, in close collaboration with several members of the Insigneo Institute. In recent years, he has combined his research with teaching in different knowledge areas (e.g. statistics, structure and solid mechanics, materials, quality engineering) and has also worked as an app developer. As a result, he presents a strong multidisciplinary background including: mechanics, statistics, image processing, data analysis and modelling.
---
Location
53.380893762403, -1.4785693738841
Events at the University
Browse upcoming public lectures, exhibitions, family events, concerts, shows and festivals across the University.