Sano PhD Training 2023 - Activities for Insigneo members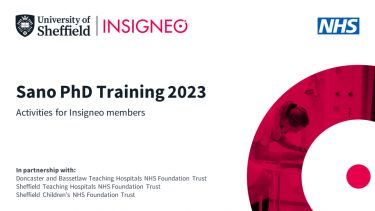 Insigneo members please check your inbox for further information and sign-up details.
---
Description
From 4 - 9 September, the Insigneo Institute will host 1st and 2nd year PhD students from the Sano Centre for Computational Medicine (Krakow, Poland). The students will attend seminars and workshops on various aspects of computational medicine.
During this time the following information sessions will be made open to Insigneo members:
Introduction to VR (Dr John Fenner, USFD)
This seminar will cover the history of VR, its implications and future developments, and some technical aspects.
Exascale computing (Dr Jon McCullough, UCL)
This seminar will cover the motivations and challenges associated with the development of exascale machines for biomedical research.
Uncertainty quantification (Prof Richard Clayton, USFD)
This seminar will introduce the basic concepts behind uncertainty quantification with particular emphasis on cardiac electrophysiology.
Commercialisation and IP workshop (Mr Alex Wilkinson, USFD)
Through a mix of teaching and interactive learning, this session will provide an overview of how the commercialisation process works for medical technologies within the University of Sheffield.
Governance and ethical use of data (Dr Andrew Narracott, USFD)
This session will introduce concepts associated with research governance and ethical use of data in the healthcare domain.
Surrogate modelling and sensitivity analysis workshop (Dr Ivan Benemerito, USFD)
This session will introduce methodologies for surrogate modelling, present the concept of statistical emulator and showcase an application in the cardiovascular domain.
Using medical data: challenges and opportunities (Dr Mari-Cruz Villa-Uriol, USFD)
This seminar will provide an overview of the use of complex datasets in healthcare, discussing challenges and opportunities through examples with real world datasets.
Model personalisation workshop (Prof Ian Halliday, USFD)
This session will present methodologies for using results from sensitivity analysis for the personalisation of cardiac models
Regulatory aspects (Dr Pinaki Bhattacharya, USFD)
This session will cover the regulation of software as a medical device, clinical decision support systems and in silico clinical trials.
Model verification, validation and ASME VV40 (Dr Enrico Dall'Ara, Dr Ivan Benemerito, USFD)
This session will cover the basic principles associated with model verification and validation, and the ASME VV40 standard for biomedical applications.
Events at the University
Browse upcoming public lectures, exhibitions, family events, concerts, shows and festivals across the University.