The University provides information for prospective home and EU undergraduates including details on tuition fees, scholarships, student loans and available sources of financial assistance throughout your studies.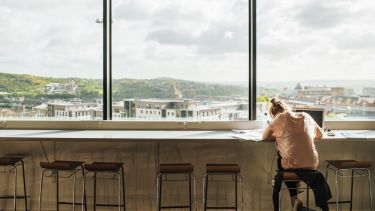 Stephen Gale Scholarship Fund
The Stephen Gale Scholarships support Sheffield Law students who want to study abroad as part of their undergraduate degree programme, initially at Chinese University Hong Kong (one of the Law School's 75 international exchange partners).
The scholarships will be awarded on academic merit – but with particular consideration given to students from under-represented backgrounds.
Applications for these study abroad programmes are extremely competitive, and students from less well-resourced backgrounds are often deterred from applying because of the significant additional costs they need to find.
The Stephen Gale Scholarships will provide a vital source of funding to talented Law students who might otherwise be unable to afford this opportunity, and achieve their full potential - equipping them with crucial international experience and skills to stand shoulder-to-shoulder with their peers in the global employment market.
Each Stephen Gale Scholarship will be worth £5,000. And thanks to the generosity of Herbert Smith Freehills, scholarship recipients will also receive an internship with their Hong Kong office during their study abroad year.
---
Experience Sheffield Scholarships
The University offer over 150 Experience Sheffield Scholarships worth £3,600 each for home and EU students starting their studies in September 2020.
---
International Undergraduate Merit Scholarships 2020
The scholarships are competitive awards worth 50% of the tuition fee for an undergraduate degree programme starting in September 2020. The scholarship is available for new international (non-EU) students who meet the eligibility criteria. 
You must hold an offer to study at the University of Sheffield before you apply for this scholarship.
---
Stephen Lawrence Trust Scholarships
Undergraduate applicants to the University of Sheffield can apply for an Experience Sheffield Scholarship worth £1,200 each year of their degree. In addition, there are 3 Stephen Lawrence Trust Scholarships available for BAME students in the disciplines of Law, Architecture & Journalism. The scholarship will cover the full cost of tuition for the successful candidates undergraduate course.
BAME students who meet the eligibility criteria for an Experience Sheffield Scholarship, and who have an offer to study a course in Law, Architecture or Journalism should complete the standard Experience Sheffield Scholarship application process to be considered for the Stephen Lawrence Trust Scholarships. The deadline for students starting their degree in 2020 is 12pm (midday) Monday 30 March 2020.