Mass Spec Course 2021: Same course, different style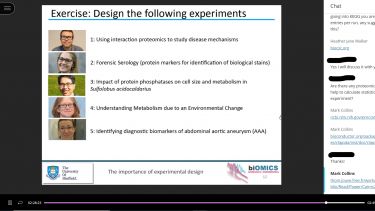 The University campus without our students has felt awfully quiet and deserted. Across the Facility we have missed seeing and conversing with students and being part of their University experience.  
At the beginning of January 2021, it was great to be able to still deliver our annual Mass Spectrometry course. This was a change from normal as we had to deliver our lectures online but since we used Blackboard, a good degree of personal interaction with our participants was still possible. There were a lot of adjustments and changes to be made for the set-up of the course in the weeks leading up to it, to be able to move from an all in-person delivered course to an entirely virtual experience. The course leader Dr Mark Collins (BMS), together with Dr Adelina E Acosta Martin (BMS) and Dr Heather Walker (APS), worked hard to ensure the suitability of the course for virtual delivery without losing important and essential aspects of the content. Since for the past year our social interactions with other people have mostly been taking place over Zoom, Skype and GoogleMeet, it was hard to say how yet another online course would be received. However, the number of registrations kept climbing up until, on the first day of the course, we had reached a record-high of 103 participants. Around 60% were PhD students and the other 40% were made up of other postgrads and staff. It was wonderful to see that our programme had appealed to students and staff across three of our UoS faculties, namely the Faculty of Science, the Faculty of Engineering and the Faculty of Medicine, Dentistry and Health.
The aim of the course is to outline the relevant principles and techniques, and to explore these technologies with the students. In general, since our participants come from different faculties across the UoS, they also have different levels of scientific knowledge, which is taken into account. The course is listed as a Doctoral Development Programme module (BMS6007) and comprises lectures on protein-protein interactions, post-translational modifications, and metabolomic and proteomic profiling, as well as three interactive sessions (IS) that intend to reinforce certain concepts, such as spectral interpretation, experimental workflows and a practical demonstration with a portable mass spectrometer. For the IS on experimental workflows, the participants were split into 5 groups, which were then each led by one of the session leaders or Dr Trong Khoa Pham and me (Ms Lydia Kiesel). Unfortunately, due to the course being restricted to online teaching, the third IS had to be omitted this year. 
However, just like last year, the first IS came with a little exercise to do at home and an incentive. I am pleased to announce that this year's winner is Maria Luna Perciato, a PhD student from the Clinical Dentistry Department. She finished the challenging exercise in spectral interpretation with success and was handed her prize by Adelina a week later. Congratulations!
When accepting the prize, she said what motivated her to really engage with the exercise was to see whether she could apply what she had learned during the week or not. "Being able to decipher the spectra is the confirmation that yes, the message was delivered during the course but, at the same time, I got its meaning. It was also a nice way to dig into mass-spec details", she said further.
Since the Kahoot quizzes were such a success last year, they served as a wonderful tool for our participants again this year to check their own learning process and identify any misunderstandings at the end of the day. When giving feedback at the end of the course, over 90% of participants stated that they found those quizzes really helpful. We'll make sure to bring them back next year, don't you worry.
---
Being able to decipher the spectra is the confirmation that yes, the message was delivered during the course but, at the same time, I got its meaning. It was also a nice way to dig into mass-spec details.

Maria Luna Perciato

PhD student, Clinical Dentistry
---
The feedback further highlights that the course has contributed a good deal to the participants' skills and knowledge, since most of them had rated their level of knowledge as "poor" at the start of the course. Even the winner of this year's challenge, Maria Luna Perciato, told us that "the course was really helpful especially for those, [...] who are planning some proteomics based experiments […] I found the interactive sessions a clever idea and [it] was a good way to break the ice too. I would recommend the course". Another student revealed that "the fact that [the sessions were recorded and are] uploaded online to re-watch" is another aspect this year, which is significantly useful.
We are especially grateful to everyone who took the time to fill out our feedback form. We will take the time and review certain elements of the course with regards to your suggestions for potential improvements. We very much liked to hear that this year's ISs were greatly appreciated and a few have commented they would potentially introduce a couple more next year. We will take all constructive feedback on board and put our heads together for next year. It is possible we can run the next course in person again, but we will be prepared and ready for another virtual one. 
So long, and thanks for all your interest and participation.
---
by Lydia Kiesel