What can we do for your research?
All matter is made of atoms and molecules. We us state-of-the-art mass spectrometers to accurately measure the mass of a large range of atoms and molecules. This technology is applied in many fields; Agriculture, Archaeology, Cosmetics, Counterfeiting, Health, Forensics, Engineering and Nutrition.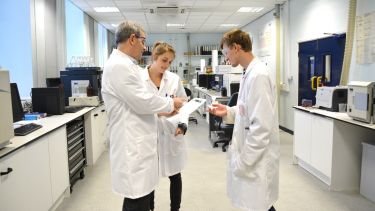 Working with us
Our facilities enhance our research within the University of Sheffield and are also available to external partners, whether this be the wider academic scientific community, or the industrial and commercial sectors.
As a specialist service, we believe that the more we know about your project and your sample, the better the service we can provide. We strongly advise to get in touch with us at the earliest stage possible.
The success of collaborations with the Mass Spectrometry Centre comes from in-depth discussion of projects from the onset; covering advice in experimental strategy, training from sample preparation to data processing, data analysis and interpretation of the data.
First, contact us to explain your project ideas and discuss which might be the best approach to answer your needs.
One of our group specialists, depending on the area in which you are interested, will advise on how to proceed.
New exciting PhD opportunity available!
Excited about chemical ecology?
Have a look at these two PhD projects that are fully funded and will employ mass spectrometry based metabolomics among other multi-disciplinary approaches.
A world top-100 university
We're a world top-100 university renowned for the excellence, impact and distinctiveness of our research-led learning and teaching.