ScHARR community engagement
Research into the health benefits of community engagement is key to more frequent and widespread programmes. Here at the University of Sheffield the School of Health and Related Research (ScHARR) have been working hard at this. Here are a few examples of their work.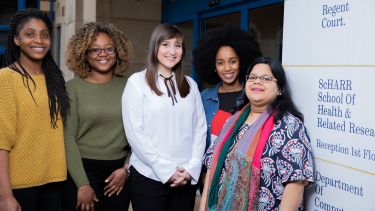 Creating a community evidence base for Sheffield
Partnering with several community organisations this research uses two local initiatives to co-produce evaluation that defines how, why and when local services should work for people in different communities across Sheffield.
This will give us an opportunity to overview what works across community organisations; providing a kit of tools for workers and clients to use in assessing wellbeing in community settings. It also aims to create an agreed list of outcomes for the routine evaluation of community programmes.
---
Sheffield Addiction Recovery Research Group (SARRG)
A group of researchers from the University of Sheffield and Hallam University formed SARRG in 2014. It builds on two existing strands of research within Hallam University; pathways to addiction recovery and desistance from offending.
Their mission statement is to support recovery focussed groups in their efforts to promote recovery-oriented activities. SARRG's vision is that the city of Sheffield becomes known as the recovery capital of the UK, providing a model of advanced recovery research and action for others to follow.
---
Life Story of People with Dementia
The project aims to evaluate the effects of Life Story work and enhanced Life Story work which includes specific stimulation of personal vocabulary relating to people, places and events for the person with dementia. It also aims to investigate the impact on language, communication and well-being.
Participants are local people with dementia and their significant others. People attend individual sessions with a researcher where they build their Life Storybook. They then use this at home to stimulate and support conversation with family. The overarching aim is to develop a method that people can easily adopt at home with limited support, to ensure that meaningful conversation continues well into the disease process.
---
Evaluating social movement in cancer prevention
The project aims to create a social movement across South Yorkshire communities to foster a new relationship between public service and citizens, communities and businesses that enables shared decision making, co-production and joint delivery of services. They intend to find out whether local people feel they receive relevant support that allows for them to be in control of managing risk for cancer and self-managing their condition.
To do this they will use an asset-based approach that recognises and builds on the strength of individuals and families with the intention of enabling change in our communities and support residents to be in control.
---
Co-produced evaluation of the TimeBuilders time banking project
The aim of this research project is to co-produce an evaluation of the TimeBuilders credit-sharing scheme, involving academic staff working alongside TimeBuilders staff and volunteers with the intention of building the capacity of TimeBuilders staff to embed evaluation in all programme activities. It is a qualitative study using participatory timeline interviews by community evaluators. In order to meet the learning aims, evaluation objectives have been identified. These include:
Developing a detailed description of the processes through which TimeBuilders is expected to influence change for participants

Measure changes in social capital, social isolation and loneliness of participants

Describe any differential experiences and outcomes of the programme by age, gender, socioeconomic and ethnic group

Identify the strengths and weaknesses of the current TimeBuilders programme in Sheffield
---
Evaluation of the city council housing programme
Housing is a new model for delivering an integrated and enhanced housing service to council house customers to Sheffield. The aim of this programme is to explore whether, and how, the Housing service may achieve improvements in the health and wellbeing of tenants, in comparison to the current service, and identify the associated direct and indirect costs.
The project objectives are to:
Describe the intervention elements
Decide on, collect and analyse quantitative data
Conduct qualitative process evaluation
To collect and analyse resource use data
This evaluation provides an opportunity to explore the extent to which changing the organisation and delivery of services to council tenants can have a cost-effective impact on the health and wellbeing of tenants. If the findings are positive, there will be findings that will be useful to other housing providers to develop similar services.
The main outputs will be a report for the council as well as a paper for public health and a guide for commissioners and providers describing how similar programmes can be delivered effectively.
A world top-100 university
We're a world top-100 university renowned for the excellence, impact and distinctiveness of our research-led learning and teaching.