2022 start
September
Finance and Accounting
Management School, Faculty of Social Sciences

This programme takes you inside the world of accounts and financial markets. Working on real-world problems, you will soon start to think and act like the best in the business.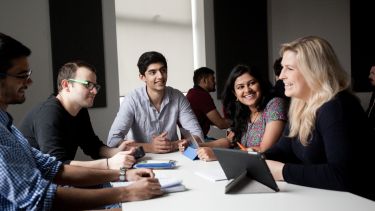 Course description
This programme is designed to enhance your professional career, develop your knowledge and understanding of the challenges involved in keeping a business liquid, competitive and profitable, and introduce you to issues around ethical and sustainable financial models. You'll develop the theoretical and applied expertise to meet the challenges of working in financial environments.
Learn the tools of the trade in our Financial Markets Trading Room, which gives real-time pricing and news feeds on shares, bonds, global indexes and interest rates. You will learn the principles, strategies and techniques used by the world's biggest players. You'll learn how to interpret reports. We'll show you how to use research to gain insight, evaluate ideas and make decisions. You will learn how to interpret accounting reports and the key skills essential for financial competence.
Whatever career you choose to pursue, these skills will equip you for the future; entrepreneurs need financial insight to evaluate opportunities effectively and deal with banks and for a successful career in either an SME or multi-national, you will need to ground your decisions within a sound financial framework.
The techniques you acquire on our MSc Finance and Accounting programme will give you a set of practical skills, as well as the academic know-how.
You can apply to base your dissertation on project work with an external organisation. Recent projects include group nominal structure for a multinational engineering firm, and developing a funding strategy for a Sheffield-based capital investment programme.
Modules
Core modules:
Quantitative Methods for Finance and Accounting

This module provides an understanding of the main mathematical, statistical and econometric techniques that underpin Finance and Accounting research and their application in practice. Students will develop numerical and problem solving skills, including the ability to use standard econometrics computing packages, e.g. STATA or EVIEWS.

15 credits

Corporate Finance

The purpose of the course is to give a solid foundation in principles of corporate finance and asset pricing to understand and analyse the major issues affecting the financial policies of corporations. More specifically, the following topics will be dealt with: the time value of money, valuation of bond and equity, risk/return tradeoffs, portfolio theory, initial public offerings, capital structure, payout policy, and market efficiency.

15 credits

Comparative Finance and Financial Services

This module introduces students to major features and origins of financial services, the different forms of banking arrangements that exist and the available alternative financing tools for corporations, small- and medium-sized enterprises and major infrastructure projects. It provides students with an analytical framework for understanding the different types of banks that exist and the financing tools that are available. It will also provide insights into the ways in which banks and providers of finance are regulated and the limitations to those forms of regulations.

15 credits

Research Methods for Finance and Accounting

This module provides a general understanding of finance and accounting research methods. The module will equip students with the practical skills necessary to successfully complete a research project leading to the preparation of a dissertation. The module will consider how to develop appropriate research aims, objectives and questions. The module will address the available sources of data, data collection and analysis methods (quantitative and qualitative), and the philosophical underpinning of the principal research traditions. The module will also cover how to develop a critique of current literature, draw conclusions and form arguments as part of writing up a dissertation.

15 credits

Project Dissertation

This unit requires the student to research a topic appropriate to the field of management. The topic chosen by the student must receive approval from a supervisor. A dissertation written by the student should be delivered to the School at the conclusion of the study. The study, and the resulting dissertation, may take the form of an academic research or of a managerial problem-solving exercise. In either case, it requires the student to apply critical analysis and to set the issues within the context of appropriate management literature.

45 credits
Optional modules - two from:
Corporate Governance

This module introduces students to the study of corporate governance. The module covers the subject both from a theoretical and practical perspective. The early part of the module discusses the theories underlying the study of governance, recent governance failures, and policy initiatives designed to improve governance quality and accountability. The module proceeds to explore the main mechanisms of the governance environment for shareholder-owned companies, specifically investigating whether governance characteristics influence corporate performance. The module also includes a detailed discussion of governance in an international context as well as a discussion of governance in non-profit organisations.

15 credits

Management Accounting

This unit aims to introduce students to the importance of management accounting's contribution to control and management of organizations. The module will ensure students are familiar with essential internal budgetary and investment appraisal techniques as well as with important contemporary developments - including activity-based management and costing, the balanced scorecard, just-in-time and throughput accounting and target costing - and the applicability of such ideas, techniques and systems to a range of different contexts. The unit will use both academic empirical studies and corporate materials to ensure students develop a critical appreciation of how management accounting knowledge is employed in practice.

15 credits

Financial Accounting and Financial Statement Analysis

This module is designed to equip students to analyse and interpret the published financial statements of listed companies. Students will gain an understanding of the important components of financial statements and of the impact of different economic, institutional and regulatory bodies on the forms of accounts. Students will develop analytical and numerical skills, including the ability to calculate, critique and use accounting ratios and to prepare company and share valuations utilising published financial information. Students will also learn how to supplement financial data from the contextual and forward-looking narrative in published financial reports.

15 credits

Sustainability Accounting and Accountability

Drawing inspirations from the Sheffield School of Accounting and finance and the research work of CRAFIC, this research led unit will introduce students to key concepts that can enhance and develop an alternative their understanding of the roles of accounting and finance in organisations and society. Challenging the mainstream view of accounting as a mere technical and neutral tool to help organisations achieve their economic objectives students are encouraged to think about the wider role of accounting in addressing grand societal challenges such as sustainable development goals in general and climate change in particular. In addition, the unit will enhance students' critical reasoning capabilities, and improve their employability by developing this new skill set related to alternative accounting and finance. In this way, students will develop a critical appreciation of key philosophical issues related to both research and practice in alternative accounting and finance.

15 credits
Optional modules - three from:
Issues in Finance

This module develops student understanding of significant and contemporary issues in the fields of finance and accounting and their capability to independently research theory, alternative perspectives and/or practice to form a critical evaluation of a topic

15 credits

Sustainable Finance

Sustainable Finance scrutinises climate related critical risks as well as integrates environmental, social and governance (ESG) criteria in financing and the investment decisions.

15 credits

International Finance

This module is designed to provide students with an in-depth understanding of specific issues in international finance. Exposure to advanced finance concepts, knowledge and skills are provided, which are academically challenging and can also be applied practically in the workplace. Students will develop an understanding of international context within which large modern corporations operate and the opportunities and risks that multinational corporation's face. The practical use of various financial instruments and strategies to manage risk will be highlighted.

15 credits

Risk and Uncertainty

Organisations continually face uncertainty regarding various aspects of the environment in which they operate and a myriad of risks associated with various aspects of their businesses. This module discusses the behavioural aspects of economic agents that shape their attitude towards risk and the weaknesses of risk management processes within corporations. It also discusses the process of managing uncertainty through the creation and management of a portfolio of (real) options. The module will be delivered through lectures that will be supplemented with tutorials, and students will be assessed through an essay/coursework and a final examination which covers both theoretical and practical developments.

15 credits

Financial Management

This module aims to provide knowledge about the ways in which organizations raise finance and how they make decisions under a variety of conditions of how best to use that finance once it has been raised. As such the module will introduce the students to different types of markets, the regulation of those markets and the different types of finance that are available in those markets. Students will also be introduced to the different uses that organisations may make of finance and a range of decision-making tools that are used to select between different uses of available finance.

15 credits

Portfolio management and investment

This module will introduce students to the different investment instruments in global financial markets and how these are traded. It will address new developments, such as exchange traded funds, retail bonds and traditional asset classes such as equities, gilts, corporate bonds and how these assets can be analysed and combined to form an efficient investment portfolio. Students will learn how to identify, measure and manage the risks associated with individual assets and how to combine them into an efficient investment portfolio. Lab sessions will be based in a computer lab enabling students to utilise a wide range of data sources and trading platforms, such as Bloomberg.

15 credits
The content of our courses is reviewed annually to make sure it's up-to-date and relevant. Individual modules are occasionally updated or withdrawn. This is in response to discoveries through our world-leading research; funding changes; professional accreditation requirements; student or employer feedback; outcomes of reviews; and variations in staff or student numbers. In the event of any change we'll consult and inform students in good time and take reasonable steps to minimise disruption. We are no longer offering unrestricted module choice. If your course included unrestricted modules, your department will provide a list of modules from their own and other subject areas that you can choose from.
An open day gives you the best opportunity to hear first-hand from our current students and staff about our courses. You'll find out what makes us special.
Duration
1 year full-time
Teaching
Lectures
Seminars
Case studies
Group work for collaborative learning
Web-based discussion groups
Assessment
Individual assignments
Group projects
End-of-semester examinations
Dissertation
Entry requirements
Minimum 2:1 honours degree or an approved professional qualification.
Overall IELTS score of 6.5 with 6.0 in each other component, or equivalent.
We use a staged admissions process to assess applications for this course. You'll still apply for this course in the usual way, using our Postgraduate Online Application Form.
Any supervisors and research areas listed are indicative and may change before the start of the course.
Recognition of professional qualifications: from 1 January 2021, in order to have any UK professional qualifications recognised for work in an EU country across a number of regulated and other professions you need to apply to the host country for recognition. Read information from the UK government and the EU Regulated Professions Database.