2022 start
September
International Management and Marketing
Management School, Faculty of Social Sciences

Our MSc will give you the critical knowledge and skills you need to succeed in an increasingly competitive jobs market. You'll develop a global view of management and marketing. Accredited by the Chartered Institute of Marketing.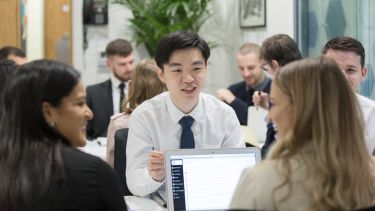 Course description
Designed for graduates from any disciplinary background wishing to gain knowledge and a critical appreciation of international management and marketing. This programme will equip you with the critical knowledge and skills necessary to be considered for international roles in these competitive fields.
You can apply to do a company-based dissertation, working with an external organisation. Recent dissertation projects include a feasibility study and business plan for a Sheffield-based product management organisation and a marketing project for a company in the care sector.
Accreditation
Modules
Core modules
Contemporary Chinese Business and Management

This module will examine changing cultures and practices of business and management in China in the context of recent economic and political changes, notably rising marketisation and globalisation. 

15 credits

Strategic Management

This unit introduces key theories of Stategic Management of business organisations; those concerned with strategy design and development, techniques and frameworks for crafting strategic options, competitive challenges of a global market environment, implementation of strategy and change. This theoretical understanding will then be illustrated and examined by reference to the way particular companies in contrasting industries have designed and executed their strategies.Particular attention will be devoted to expose students to many facets of strategy formulation/analysis and strategy implementation issues.

15 credits

Global Marketing

This module provides students with an understanding of international marketing issues. It will prepare students for the challenge of global marketing and enable them to have sufficient knowledge to undertake international related work duties if needed in their careers.

15 credits

International Business

This module introduces students to the important subject of international business, exploring how and why companies operate internationally. The module examines the international environment Multinational Enterprises (MNEs) operate in, exploring how that environment affects the activities of MNEs. Students will study how MNE managers seek to maximize value and minimize costs by locating different activities in different countries around the world. The module not only builds theoretical understanding of international expansion, but also seeks to apply this understanding to explain how organizations perform in host countries and how organizations can adapt to the dynamic international business environment. Key issues that are explored in this module include internationalisation, cross-cultural management and sustainability.

15 credits

Marketing Management

This unit aims to introduce the discipline of marketing to Marketing MSc students. This unit covers the theory and practice of marketing in organisations - which functions embrace developing, planning and coordinating marketing decisions to achieve marketing goals and objectives and build competitive advantage.

15 credits

Contemporary Marketing Practices

Various marketing concepts and practices could be applied in different business contexts. This module will evaluate a range of issues relating to contemporary marketing practices and their relevance to business. In addition, the module will explore how marketing theories vary in different contexts and evaluate their impacts on the practices of marketing.

15 credits

International Consumer Behaviour

This unit is designed to provide students with the knowledge and awareness of the theory and practice of consumer behaviour. It explores various dimensions of consumer behaviour and investigates the implications of consumer behaviour for developing marketing strategy in changing environments.

15 credits

International Human Resource Studies

This module investigates labour market trends and human resource practices within diverse political, economic, social and regulatory contexts. In addition to analysing the impacts of globalisation, international institutions and national governments on employment policy and regulation, it also examines the human resource practices of particular foreign direct investors, multinational corporations, and public sector organisations in the majority and minority world (Global South/ODA recipients and Global North). Particular attention is accorded to trends in the deployment of people across the world of work, and to how HR can be utilised within different cultural contexts.

15 credits

Marketing Research

This module enables students to gain an understanding on how to conduct research in the marketing environment. The module will evaluate the process and practices of marketing research through the use of different research designs and methods. In addition, the module will examine various types of analytical methods. This module will require students to develop skills in working as groups as the assessments will be based on group presentation and report.

15 credits

Project Dissertation

This unit requires the student to research a topic appropriate to the field of management. The topic chosen by the student must receive approval from a supervisor. A dissertation written by the student should be delivered to the School at the conclusion of the study. The study, and the resulting dissertation, may take the form of an academic research or of a managerial problem-solving exercise. In either case, it requires the student to apply critical analysis and to set the issues within the context of appropriate management literature.

45 credits
The content of our courses is reviewed annually to make sure it's up-to-date and relevant. Individual modules are occasionally updated or withdrawn. This is in response to discoveries through our world-leading research; funding changes; professional accreditation requirements; student or employer feedback; outcomes of reviews; and variations in staff or student numbers. In the event of any change we'll consult and inform students in good time and take reasonable steps to minimise disruption. We are no longer offering unrestricted module choice. If your course included unrestricted modules, your department will provide a list of modules from their own and other subject areas that you can choose from.
An open day gives you the best opportunity to hear first-hand from our current students and staff about our courses. You'll find out what makes us special.
Duration
1 year full-time
Teaching
Lectures
Seminars
Case studies
Group work for collaborative learning
Web-based discussion groups
Assessment
Individual assignments
Group projects
End-of-semester examinations
Dissertation
Entry requirements
Minimum 2:1 honours degree or an approved professional qualification.
Overall IELTS score of 6.5 with a minimum of 6.0 in each component, or equivalent.
This course is now closed to new applications for 2022 entry.
Any supervisors and research areas listed are indicative and may change before the start of the course.
Recognition of professional qualifications: from 1 January 2021, in order to have any UK professional qualifications recognised for work in an EU country across a number of regulated and other professions you need to apply to the host country for recognition. Read information from the UK government and the EU Regulated Professions Database.