The demands for a masters degree are of course higher but because of the different help that is provided my semester was quite easy
International Management and Marketing MSc
International Management and Marketing MSc student Nicholas, chose to continue his studies in Sheffield because of the universities' reputation and his desire to keep enjoying the city.
The highlight of my course has been that up until now it was very creative. Creative in a way that I had the opportunity to make my own critical thinking, discuss and work with my peers given tasks and present projects to my professors

Course highlight

Nicholas Pashardis
Why did you choose your particular course at Sheffield?
There are several reasons that I chose my course in Sheffield. Firstly I did my undergraduate degree in Sheffield and did not get enough of Sheffield. So I wanted to stay one more year in order to make more memories here. Also the University of Sheffield is considered one of the top Universities in the world so it would be a bit foolish of me not to stay here in Sheffield. Lastly, since I was a student here before, the University gave me the opportunity to pay less in tuition fees.
Why Sheffield University Management School?
Since I did my BA in Sheffield and my course was Accounting and Financial Management, I already knew that the Management School has helped me during some issues that I had in previous years. The staff is very helpful and can give you any assistance with what you need. Especially during exam periods.
Staying in Sheffield
One of the many reasons that I stayed in Sheffield was because I had the opportunity to meet new people. More particularly, students that join the University of Sheffield are from around the world so I had the chance to meet a lot of people from different backgrounds. Since I knew from before that I would get to meet a lot of people, I decided to stay one more year here and complete my masters. Also the University of Sheffield is considered one of the best in the world so it was the right decision to stay here and to have two degrees from the University of Sheffield.
Adapting to studying a Masters degree
Yes, The Management School and the university gave me different kinds of support during my studies here. Both my BA and MSc the staff were very helpful. For instance, I receive multiple emails from the university in order to help me during my stay and my studies. Also I have a personal tutor who has helped me for future career opportunities. The demands for a masters degree are of course higher but because of the different help that is provided my semester was quite easy. Also my professors from all modules are excellent at their job and help me with any issues that I have, especially when coursework is due.
Favourite thing about Sheffield
As I am an athletic person and I like to walk, I enjoy the green side of Sheffield. There are different parks where you can walk and enjoy the weather. So I can say my favourite thing to do is walk around Sheffield finding new places to see. My favourite place up until now was the Peak District.
Skills developed
So far I believe that I enhanced my communications skills, problem solving and critical thinking via different projects that I had during semester 1.
Plans after Graduation
I hope I am able to be hired by an audit firm and to be able to obtain the Associate Chartered Accountant qualification.
How do you think studying this Masters will help you in your career?
My masters in International Management and Marketing will help to design my own product that I am interested in. I have a goal in the future to build my own business and the modules that I did so far helped me understand various factors in order to design and promote the product that I am interested in.
Advice for students considering your course?
I suggest that students that will apply for my course should feel confident that they will do well in all the coursework that they will be assigned to. However they need to consider that they need to be organised, have a healthy and balanced routine. Also not be afraid to talk during class because one of the main things of my course are the presentations in the tutorial classes.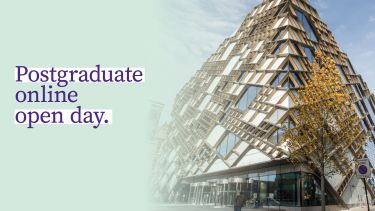 Postgraduate online open day
Book your place at our online open day on Wednesday 26 April to find out more about postgraduate taught study at the University of Sheffield.