2023 start
September
Molecular Biology and Biotechnology
School of Biosciences, Faculty of Science

This course uses research-focused training to give you a unique perspective on the underpinning theory and latest research spanning the extent of molecular biology.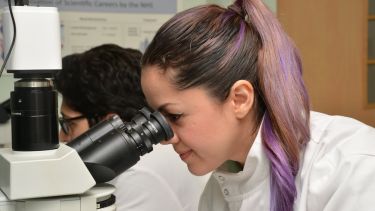 Course description
This 12-month course is designed to develop your confidence and independence to become a reliable researcher or investigator in the fast-moving biotechnology industry.
Throughout your studies you'll be exposed to the diverse areas of biology and engineering, blending molecular science with chemical and biological engineering modules to develop your understanding of the interdependencies between these fields.
Through research-focused training, you'll develop your skills in planning and carrying out your own experiments, approaching scientific problems experimentally across molecular biology and biotechnology, and using revolutionary laboratory techniques, including CRISPR genome editing technology, Western analysis, and BLAST DNA sequence analysis, to solve these problems.
Through lectures and seminars delivered by visiting experts from leading universities across the globe, you'll gain a unique perspective on the underpinning theory and latest research spanning the breadth of molecular biology.
Once you've mastered the latest molecular bioscience techniques, you'll be ready to apply these skills to your Research Project. Here you'll spend up to six months researching an area of molecular biology or biotechnology that matches your future career aspirations under the supervision of an expert in the field.
Example research projects include:
Protein/enzyme engineering
Plant genetic engineering
Molecular cell biology and imaging Structural biology (eg X-Ray crystallography)
Synthetic biology/industrial biotechnology (production of useful products from microorganisms)
Biotechnology via genetic engineering techniques
Intelligent protein optimisation / bioinformatics
Protein expression, enzyme assays
Molecular biology (biomedical/disease related project)
Modules
Core modules:
Research Project

This unit provides a period of laboratory work, with training in experimental techniques, record keeping and writing up. Projects are supervised by a member of staff within the School of Biosciences or another suitable department, and are related to on-going research projects within the Department or in other suitable research laboratories. This unit is designed to provide students with experience of undertaking investigations independently on a specific research topic, so that they can develop a research oriented approach, and gain experience of laboratory work in preparation for a future career in science. 

60 credits

Laboratory Techniques in Molecular Biology

This module will provide background knowledge, technical training and practical laboratory experience in key techniques in molecular biology and biotechnology. In particular, the module is designed to develop a student's understanding and technical training in molecular biology techniques. These may include the use of information from nucleic acid and protein sequence analyses for to design experiments, gene engineering techniques (for instance, enzymatic digest, DNA cloning, plasmid construction and production, DNA electrophoresis), protein and nucleic acid quantitative and qualitative analysis techniques (for instance, PCR and western blot) and cutting-edge techniques of genome editing (Crispr-Cas9). Students will become technically competent and prepared for a research project and career in the field of molecular biology and biotechnology. 

15 credits

Cellular Systems Engineering for Biotechnology

Biotechnology uses biological systems (cells) to produce valuable and novel products. The cells are often unicellular organisms such as bacteria or yeast, but could also for example be eukaryotic cells (such as CHO cells) or complete organisms such as plants. Where possible, industry is moving towards a "plug and play" approach, often described under the general heading of Synthetic Biology. The aim of this module is to explore the complexities underlying biotechnology, including the interactions of different gene products and reactions, often grouped together under the term systems biology, and look to see how such problems are solved. Students will learn to appreciate the complexity of biological systems, the associated difficulties of predicting biological behaviour in areas such as industrial biotechnology and drug development, and emerging approaches to overcome these challenges. Students will work both individually and in small groups, to develop presentation skills and the critical skills required for the evaluation of primary literature. 

15 credits

Advanced Scientific Skills

This module builds on existing, and further develops, generic scientific skills to equip postgraduate taught students with strong competences in presenting and reporting their research work using written and oral formats, in analysing data and the scientific literature, and in acquiring and extending their critical analysis skills. Teaching will be delivered using a blended approach with a combination of lectures, workshops, tutorials and seminars together with independent study and on-line teaching.

Taught throughout the academic year, the module will be articulated around three units addressing: 

Unit 1) Scientific presentation skills. In this unit, students will explore how to develop their academic (writing and oral) presentation skills. Some of the topics taught may include how to formulate a research question and hypothesis, how to find information, and how to structure a scientific essay or report. Students will learn how to communicate effectively their research to a scientific, as well as lay, audience. Emphasis will be placed on short oral communications and poster preparation and presentation.  The learning objectives will be acquired through lectures, workshops, tutorials and independent study.

Unit 2) Critical analysis skills. This unit prepares students to develop their ability to analyse and appraise the scientific value of the published and unpublished literature. Workshops and lectures will introduce students to the process of critical appraisal of scientific work. 

Unit 3) Statistics and data analysis skills. In this unit, students will learn methods to gather and analyse large datasets. In particular, workshops and lectures will teach students the basics of R coding and statistics for application in biosciences. The unit may also deliver other forms of data analysis relevant to the programme of study. Teaching within this unit will be delivered mainly through on-line material, lectures and workshops. Independent study will be essential to complete the acquisition of skills.

15 credits

Advanced Research Topics

This unit will develop the ability of students to acquire information through the medium of research seminars and published scientific papers. Students will attend Departmental research seminars and monitor the publication of new scientific papers relevant to their research area. They will also attend a journal club, in which they will present a recently published research paper and summarise the presentations of other students. Assessment of the unit will be on the basis of the journal club presentation and a series of short reports on research seminars, journal club presentations and newly published scientific papers.

15 credits

Literature Review

This unit involves an in-depth survey of the current literature on a topic relevant to molecular biology and biotechnology, agreed with an appropriate supervisor allocated by the module coordinator. The exact nature and scope of the literature review will be determined by discussion between the student and the supervisor. Students will build upon the skills in literature searching and interpretation they have developed in their undergraduate studies, making use of a variety of databases and literature-searching tools. The unit involves primarily private study by the student who will meet their supervisor at regular intervals to discuss progress.

15 credits
Optional modules* - three from:
Advanced Bioprocess Design Project

This module will cover the design of whole biomanufacturing processes for the manufacture of biotherapeutic proteins. This will include a taught component, where process design principles and practice will be learnt; plus assistance during the design process, where you will produce a process design and accompanying report. The course will also cover part of modern quality by design, specifically the attainment of product critical quality attributes through the control of process parameters and its ramifications on process design will be discussed.

15 credits

Advanced Biochemical Engineering

This module will extend the use of classical chemical engineering principles of mass balance, energy balance and mass transfer to unit operations used in the manufacture of biopharmaceuticals. This will include fermentation, cell culture reactors, homogenisation, centrifugation, filtration and chromatography. Unit operation specific models will also be applied to predict these operations effectiveness.

15 credits

The Microbiology of Extreme Environments

The overall aim of this module is to provide a detailed account of how microorganisms survive in extreme environments on Earth. The first part of the course examines a range of extreme environments including salt lakes, hot springs, polar regions, mining areas, soda lakes, deserts, hydrothermal vents and sea ice and explains the metabolic processes used to grow optimally under these extreme conditions. The growing industrial applications of extremophilic microorganisms will also be covered. The second part of the course looks at how proteins are adapted to remain stable and active under extreme conditions, since proteins readily denature under moderate heat, increased levels of salinity or changes in pH.

15 credits

Plant Biotechnology

This module considers the application of biotechnology to plants, for both agricultural and research uses. It covers the production of transgenic plants and how this technology has resulted in genetically engineered crop plants that show novel traits or produce novel products. It also covers traditional methods of plant breeding for the development of novel crops without the use of genetic engineering. The release of genetically engineered crops has and is having a major impact on society, raising issues of ethical, economic and ecological importance. An appreciation of these issues will be developed.

15 credits

The World of RNA

This module will analyse the vital roles that RNA plays in the life of a cell and how RNA is increasingly used as a tool to understand biology. The module will cover the following 'cutting edge' research topics: RNA interference, CRISPR Genome Editing, non-coding RNAs, together with the latest work on well known RNA based activities. These include transcription, RNA splicing, RNA stability, RNA export and translation and how all these processes are coupled in the cell to ensure efficient, quality-controlled gene expression. The module aims to present the latest innovations and discoveries in the RNA world and their application.

15 credits
*Please note, students that take the Advance Bioprocess Design Project module must also take Advance Biochemical Engineering, as the content of these two modules is interlinked.
The content of our courses is reviewed annually to make sure it's up-to-date and relevant. Individual modules are occasionally updated or withdrawn. This is in response to discoveries through our world-leading research; funding changes; professional accreditation requirements; student or employer feedback; outcomes of reviews; and variations in staff or student numbers. In the event of any change we'll consult and inform students in good time and take reasonable steps to minimise disruption. We are no longer offering unrestricted module choice. If your course included unrestricted modules, your department will provide a list of modules from their own and other subject areas that you can choose from.
An open day gives you the best opportunity to hear first-hand from our current students and staff about our courses. You'll find out what makes us special.
Duration
1 year full-time
Teaching
This masters course give you a solid grounding in experimental science, with personal supervision and tutorials by experienced scientists, based in modern, well-equipped labs, leading to a project in which you design and conduct your own research. You will learn cutting edge science from research leaders, and gain practice in reading scientific literature and writing reports.
Assessment
Assessment is based on a combination of coursework, project work, formal examinations and a dissertation.
Your career
Biotechnology is a rapidly developing area that is heavily dependent upon molecular approaches, creating significant demand for graduates with strong experimental skills and knowledge of molecular bioscience and biochemical engineering. The applications are vast, from pharmaceutical biotechnology, to tissue engineering and regenerative medicine, and bioinformatics and system biology.
This course is designed to train you for a wide range of exciting careers within biotechnology, or further study to PhD level.
Graduates will be equipped with the specialist knowledge and transferable skills to pursue careers within:
The pharmaceutical industry
Food, manufacturing and brewing
DNA sequencing and diagnostic laboratories
Inspiring the next generation as a university teacher.
If you choose to continue your research training, you'll be ready to pursue PhDs in molecular biology or biotechnology and beyond.
Department
The School of Biosciences brings together more than 100 years of teaching and research expertise across the breadth of biology.
It's home to over 120 lecturers who are actively involved in research at the cutting edge of their field, sharing their knowledge with more than 1,500 undergraduate and 300 postgraduate students. 
Our expertise spans the breadth and depth of bioscience, including molecular and cell biology, genetics, development, human physiology and pharmacology through to evolution, ecology, biodiversity conservation and sustainability. This makes us one of the broadest and largest groupings of the discipline and allows us to train the next generation of biologists in the latest research techniques and discoveries.
Entry requirements
Minimum 2:1 undergraduate honours degree in molecular biology or a related subject (e.g. biochemistry, genetics, biotechnology, microbiology).
We also accept medical students who wish to intercalate their studies.
We may also consider your application if you do not meet the standard academic requirements but you have relevant professional experience. An interview will be required in this case.
Overall IELTS score of 6.5 with a minimum of 6.0 in each component, or equivalent.
You can apply for postgraduate study using our Postgraduate Online Application Form. It's a quick and easy process.
Any supervisors and research areas listed are indicative and may change before the start of the course.
Recognition of professional qualifications: from 1 January 2021, in order to have any UK professional qualifications recognised for work in an EU country across a number of regulated and other professions you need to apply to the host country for recognition. Read information from the UK government and the EU Regulated Professions Database.