My year studying Molecular Biology and Biotechnology MSc
My time studying at Sheffield
Molecular Biology and Biotechnology MSc
Linshu was looking for a hands-on masters course to build on her undergraduate studies in biotechnology. This course gave Linshu technical skills training including how to use industry-standard lab equipment, ready to pursue a PhD.
What made you want to study your course?
I am interested in the basic techniques and principles of molecular biology, and very much hope to learn new knowledge in practical experimental operations. My undergraduate major is biotechnology, which can support me to better understand the courseware and thesis in the masters programme.
What made you decide to study at the University of Sheffield?
The University of Sheffield has advanced biological-related technical equipment and teachers and classmates with excellent educational backgrounds. Living here is cheaper than London, and the city scenery is very beautiful.
What have you enjoyed most about your course so far?
My course schedule is not particularly stressful, and I can fully arrange my study and living time. I like hands-on lab-related courses, so the first-semester molecular biotechnology lab class and the third-semester research project are my favourites.
What skills have you developed during your course?
I learned the technical principles and applications related to Crispr Cas9, and fully understood how the gene recombination technology operates. In addition, I learned to clean and disinfect plant seeds and phenotype analysis, and fully exercised the ability of bioinformatics retrieval.
What would you say to a student thinking about studying your course at Sheffield?
Here you can learn a lot of knowledge and experimental techniques, and can fully enjoy the full life of this year. I hope you can find like-minded research partners here and discover your true research interests.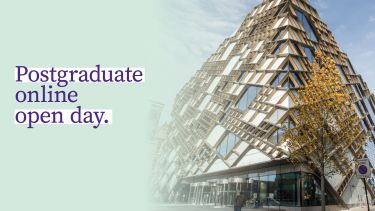 Postgraduate online open day
Book your place at our online open day on Wednesday 26 April to find out more about postgraduate taught study at the University of Sheffield.