Whether it's the whole year, the summer or a few weeks between semesters, placements are a great way to gain experience and show employers that you're ready for the world of work.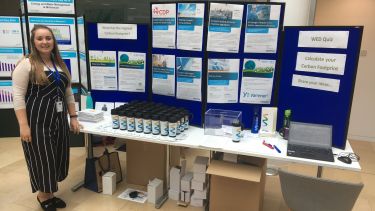 During my placement year, I was given multiple responsibilities that encompassed a variety of projects such as modelling customer carbon emission savings through products and innovative schemes, organising local events and environmental awareness sessions, environmental communications as well as financial and headcount planning for the function.

Charlotte Baker

BSc Biology with Placement Year at Centrica
---
You can choose to spend a year on placement and gain valuable work experience as a recognised part of any of our bioscience degrees. You can test out a career path that you're considering - whether that's in the lab or applying your scientific knowledge and transferable skills in industry, and earn a salary while you're doing it.
Our students have previously completed their placements with large pharmaceutical companies like GSK and AstraZeneca, developed new chocolate products for Mondelez International, the people behind Cadburys, and worked in conservation for organisations including Kew Gardens and Newquay Zoo. Placement students often end up securing permanent jobs with their employer after graduation.
Placements aren't guaranteed – it's your responsibility to secure one but we'll do everything we can to help. We have dedicated tutors to provide advice and the university's Careers Service runs workshops on CV and application writing, job hunting and preparing for interviews. In your first and second year at Sheffield you'll also have opportunities to meet with a range of employers, chat to recent bioscience graduates about how they're applying their degrees to the workplace, and hear from current placement students about their experiences.
If you don't apply for one of our placement year programmes, but decide that you'd like to spend a year on placement as part of your bioscience degree, you can join the programme once you embark on your placement hunt. 
---
Interested in studying biosciences at Sheffield?
---
The main skills that I gained during my placement year were interpersonal skills, organisational skills, and cross-functional engagement. I was also able to build up a greater understanding of a variety of areas in the business, such as medical and regulatory affairs, sales and logistics.

Chris Turner

BSc Biomedical Science with a Year in Industry as a Junior Brand Manager at Pfizer
---
Our students have completed their placements at organisations that include:
Abcam (biotechnology)
ADAS (environmental services)
ApconiX (pharmaceutical development)
Aptus (clinical research)
Atkins Environmental Consulting
AstraZeneca (pharmaceutical development)
Cadbury (Mondelēz International)
Centre for Integrated Research, Conservation and Learning (Flamingo Land and the University of York)
Croda
EMEC Ecology
Eli Lilly
Field Studies Council
Food and Environment Research Agency
GSK
Hammersmith Medicines Research
Illumina (biotechnology)
Kew Gardens
LGC Group (laboratory services)
MSD
Newquay Zoo
Proctor and Gamble
Pfizer
RB
Renault Cars
Renishaw (medical technology)
STFC (Rutherford Appleton Laboratory)
Takeda Pharmaceuticals
Transport for London
West Yorkshire Police (Forensics)
Wildfowl and Wetland Trust
---
If you don't want to spend a full year on placement, summer or other vacation placements are a great way to gain valuable work experience between semesters.
Throughout the academic year, the Careers Service advertises a number of short placements, giving you even more opportunities to apply science or gain experience in an industry that you're keen to explore.
Sheffield Undergraduate Research Experience (SURE) scheme
Each year undergraduates can apply to join the Sheffield Undergraduate Research Experience (SURE) scheme. This gives you a bursary to spend around six weeks working with one of our research groups over the summer break. You'll be able to get first-hand experience of major research projects and it can even lead to your name appearing in an academic journal. 
Example past projects:
Making air pollution visible with green spaces
The dark side of stomatal development
Investigating antibiotic resistance mechanisms of the bacterium S. pneumoniae using forward genetic approaches
Does global UV radiation levels drive prevalence of UV reflection in bird plumage?
Multi-parametric functional analysis of stem cell markers identified in testicular cancer
Beer yeast community - brewer's myth or hard fact?
---
Despite being nervous at first, I quickly gained confidence in the friendly work environment, collaborating with others and learning from their expertise. I developed many transferable skills, including the initial interview process, grant applications and final presentations, which should give me a competitive edge in future job applications.

Sarah Stevenson

BSc Biochemistry and Genetics
---
Explore the University
Discover why Sheffield is the right choice for you at one of our open days or events.