Our research is working to solve some of the most pressing global challenges, from climate change and cancer, to sustainability and healthy ageing.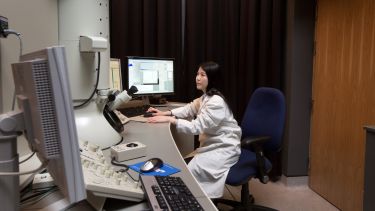 It's this research expertise that feeds directly into what we teach, ensuring that we're training the bioscientists of tomorrow in the latest cutting-edge discoveries.
---
Whole-organism biology
Our research expertise in this area extends from the biology of organisms, covering microbes, plants and animals, to humans and their ecosystems, and our research projects are being carried out in locations from the polar regions to the tropics, at scales from within cells up to entire ecosystems.
Through this research we aim both to understand the fundamental processes that drive biological systems and to solve pressing environmental problems.
Research themes:
Ecology and environment
Evolution, behaviour and genetics
Plant and microbial biology
---
Understanding the human body in health and disease
Our world-leading scientists are working to understand the mechanisms underpinning the development and functioning of cells, organs and whole organisms in both health and disease.
Our interactions with clinical colleagues at the Sheffield hospitals ensure that the fundamental science being undertaken at Sheffield is effectively disseminated into the medical arena.
Research themes:
Cell biology and cancer
Development and disease
Neuroscience
Stem cell and regenerative medicine
---
Life at the molecular level
Our researchers are making major contributions to global challenges including antimicrobial resistance, food sustainability and genetic approaches to disease therapy.
By working in collaboration with the biotechnology, pharmaceutical and agrochemical industries we're helping to develop new products, processes and services in the public and private sector.
Research themes:
Microbiology
Plants and photosynthesis
Eukaryotic cell biology
Genomics and nucleic acids
Biochemistry and biotechnology
Structural biology
You can explore the full breadth of research taking place across our three specialist bioscience departments on their research webpages: