Throughout your degree you'll get hands-on research experience, learning from and working alongside our expert academics, putting the skills and knowledge you've mastered in lectures into practice.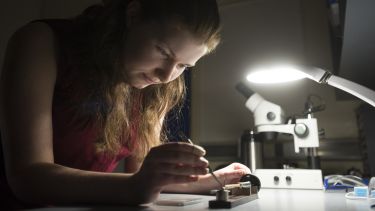 Our lecturers are experts in a remarkable range of subjects, from genetics, physiology and antimicrobial resistance, to neuroscience, biodiversity, and sustainable agriculture. Throughout your degree, they'll introduce you to key concepts and the latest research findings - but you won't just learn through lectures. In small group tutorials, you'll work through scientific problems and increase your analytical abilities with supportive academic staff.
98% of research and impact from the School of Biosciences is rated as world-leading or internationally excellent.
Research Excellence Framework, 2021
You'll also learn by doing. We put a big emphasis on developing your practical skills in our state-of-the-art labs and in the field. A big chunk of your week is devoted to practical sessions and research projects, designed to challenge you once you've mastered the essentials.
---
How we teach
Lectures, tutorials and workshops
Lectures are a big part of university life – a chance to learn the fundamentals from recognised experts and get insights into the latest research. You'll also have tutorials and workshops to build on the topics you've covered in lectures and show you how to apply concepts to solving real problems. These small group teaching sessions are led by your personal tutor who is there to guide and support you through your studies and help you to start planning your next steps, during and after your degree.
Our lecture recording system means you can watch your lectures again later to reinforce your knowledge and understanding of certain topics. These recordings are a great resource for revisiting content between lectures, during exam revision, or catching up if you were absent.
Practical teaching
In your first and second year you'll spend between three and six hours every week in our dedicated teaching labs, developing the practical science skills that every bioscientist needs, including how to handle equipment, design experiments and interpret data, ready to put your new skills into practice in third year with a semester long research project.
If you choose to study one of our Biology, Ecology and Conservation Biology, Plant Sciences or Zoology courses, you'll also be out in local green spaces applying your new skills.
Research projects
Project work is built into our degrees from the beginning, allowing you to start developing your research skills.
In the third year of your BSc, you'll tie your scientific skills together with an in-depth research project and dissertation. Working in a team, you'll go from a concept, through all the research and analytical stages, to produce a written report of your findings. If you do one of our research-intensive integrated masters degrees, you'll get to do an even bigger project in fourth year.
---
Spotlights
You'll have lots of opportunities throughout your degree to be creative, think independently, and express your ideas. No matter which programme you choose, you'll get the chance to put your new knowledge into practice in a variety of ways, gaining new skills and experience to put on your CV throughout your course. Here are some highlights:
Human anatomy
We're one of only a few universities in the UK to offer undergraduate biomedical science students the opportunity to perform cadaveric dissection. Later in your degree, you can apply this knowledge to forensic science, covering topics including facial reconstruction, forensic anthropology, DNA fingerprinting and weapons analysis.
Learn more about human anatomy
Field courses
All of our Biology, Ecology and Conservation Biology, Plant Sciences and Zoology students have the opportunity to do a field course between second and third year. We give you a choice of fascinating habitats to explore, from dramatic landscapes in remote corners of the globe, to complex ecosystems operating right under our noses.
But you won't have to wait until then to get out in the field - there's also lots of field work built into the rest of your degree. These students spend time in the first week of first year on a field trip exploring Sheffield's green spaces, and there are regular visits to zoos, aquariums and nature reserves.
Talking the Talk: Getting Science on Film
Many of our students are inspired to study biology by seeing the natural world captured on screen. Our Talking the Talk: Getting Science on Film module gives Biology, Ecology and Conservation Biology, Plant Sciences and Zoology students the chance to make your own factual science documentaries, with support and advice from professional filmmakers.
Science communication is a popular career route for many of our graduates and this is just one way that you'll be able to gain experience in this area.
The genetics of brewing
Each year a number of our Biochemistry, Genetics, Microbiology and Molecular Biology students choose to explore the genetics of brewing for their third year research project.
Students begin their project in the pub - strictly for scientific purposes - in order to collect small samples of beer to be used in their experiments. The group also visit Welbeck Abbey Brewery in Worksop where former Biochemistry student and Head Brewer, Claire Monk introduces the brewing techniques that are used in industry.
Back in the lab, students have the opportunity to isolate and grow the yeasts from the local pub's beers to test whether the yeast prefer to hang out at the top or the bottom of the brew, an important trait for modern craft breweries.
Excellence in teaching
All of our staff are committed to great teaching. Several have been given awards from the University of Sheffield, or have earned professional recognition for the innovative and engaging ways they have helped students learn across the biosciences.
University of Sheffield Senate Awards for Excellence in Learning and Teaching
Dr Lauren Buck
Dr Louise Robson
Professor Katherine Linehan
Dr Emma Jones
Dr Rebecca Barnes
Professor Roger Anderson
Professor Tim Birkhead
Professor Phil Warren
Dr Nicola Hemmings
Dr Millie Mockford
Dr Nicola Nadeau
We timetable teaching across the whole of our campus, the details of which can be found on our campus map. Teaching may take place in a student's home department, but may also be timetabled to take place within other departments or central teaching space.
Explore the University
Discover what sets Sheffield apart at our next on-campus open day.