Whether you want to enter academia or industry, progress onto further study, or you're just not sure, as a bioscience student we'll give you lots of support to help you work out what you want to do after graduation, and the steps you need to take to get there.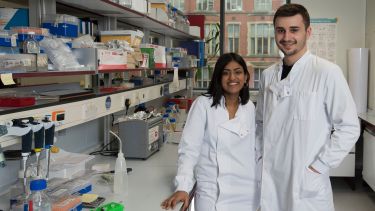 Your achievements and experiences, as well as your course, help you to discover more about yourself and can prepare you for a successful career anywhere in the world. You'll gain a strong set of transferable skills that employers are looking for, including:
analytical and problem-solving skills
time management, planning and organisation
research and report writing
team working and communication skills
leadership skills and project management
---
When it comes to showcasing the skills and experience you've gained during your time at Sheffield, there's plenty of support available both within the school and from the University's Careers Service who run workshops on CV and application writing, job hunting and preparing for interviews. The Careers Service will continue to support you for as long as you need them.
---
Whether you want to pursue a career in science, apply your skills in industry, or continue your studies, bioscience graduates are highly sought after due to their ability to handle data, work under pressure, and communicate complex ideas to a range of audiences.
Some of our graduates choose to progress onto a PhD or other postgraduate training in areas such as medicine, neuroscience, genetic counselling or teaching. Others enter a vast range of industries:
Research
A number of our students enter academic research, working in higher education or research institutions across the globe. Many students choose to pursue a career in industrial research, often in the pharmaceutical or biotechnology industries, for employers such as GSK, Pfizer, AstraZeneca and Reckitt.
Applying bioscience
Working in healthcare, across the NHS, private healthcare providers or charities is another way that our graduates use their transferable skills and knowledge. Many organisations demand graduates who understand science to work in roles such as communication, market research and business development too.
Science communication is another popular career route for our graduates who are often inspired to study the biosciences by seeing the natural world on screen and getting involved in outreach work throughout university.
If conservation or ecological consultancy is something that you're passionate about, each year a number of our graduates secure roles working at zoos, botanical gardens, nature reserves and conservation and wildlife organisations.
Beyond science
Sheffield is a World Top 100 University, and a good degree from a great university can take you far, whatever you want to do. We have graduates using their scientific minds in everything from law, human resources and marketing, to IT and accountancy.
---
Environmental Economist, Wolfs Company
Technology Risk Analyst, KPMG
Clinical Scientist (Genomics), Sheffield Children's Hospital NHS Foundation Trust
Merchandising Manager, Aldi UK
Analytical Scientist, Allergan Biologics
Science and Engineering Fast Stream, Civil Service
Innovative Medicines and Early Development, AstraZeneca
Science and Conservation Communications Officer, Chester Zoo
Head of Incident Response, Department of Health and Social Care
People Consultant, Google
Regulatory CMC Analyst, AstraZeneca
Teacher, Teach First
Senior Ecologist, Atkins
R&D Manager, Unilever
Senior Epidemiology Scientist, Public Health England
Marine Biology PhD student, Tasmania University, Australia
Explore the University
Discover why Sheffield is the right choice for you at one of our open days or events.