If you're considering a research career, our integrated masters degrees add an extra year of research training to your programme, allowing you to spend the bulk of your fourth year developing advanced research skills whilst completing a major research project in one of our labs.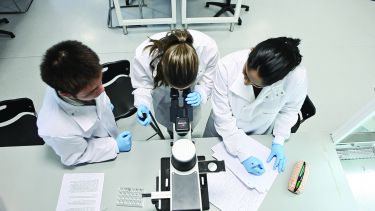 What is an integrated masters?
An integrated masters programme combines a masters with a BSc. Instead of studying two separate degrees, you study one single extended programme instead.
Our four-year integrated masters courses (MBiolSci or MBiomedSci) are designed for students who want to pursue a career in industrial or academic research, with the majority of the fourth year devoted to a major research project. All of our courses are available as a three-year BSc degree, or a four-year MBiolSci or MBiomedSci degree depending on your chosen subject. The first three years of your course will have the same structure as the BSc, with the fourth year designed to equip you with the advanced laboratory skills you'll need for a successful and rewarding career in science.
If you choose to study one of our Biochemistry, Genetics, Microbiology or Molecular Biology courses, you'll have the opportunity to complete your project in industry at an organisation such as AstraZeneca, GSK, Eli Lilly or Unilever. 
At Erba Molecular, I worked as part of the viral team to optimise the company's viral diagnostic assays with a particular focus on developing a quantitative isothermal amplification based HIV viral load assay, as part of my masters project. Working at the company has given me the opportunity to apply the theoretical and practical knowledge gained at university to a real-life application.

Harindi Jayakody

Harindi completed her 4th year project in industry, working as a Junior Scientist at molecular diagnostics company, Erba Molecular.
---
Progression
MBiolSci and MBiomedSci students must achieve the following scores in order to continue on the programme:
Biomedical Science students: 60% in second year
Biology, Ecology and Conservation Biology, Plant Sciences and Zoology students: 60% in first and second year, and 65% in third year dissertation
Biochemistry, Genetics, Microbiology and Molecular Biology students: 65% in second year
BSc students who wish to transfer onto the MBiolSci or MBiomedSci programme will need to achieve these same scores in order to progress.
Explore the University
Discover why Sheffield is the right choice for you at one of our open days or events.