We're committed to training the next generation of leading scientists. Whether you study with us for a Masters or a PhD, you'll have access to state-of-the-art facilities and get specialist training from world-class academics.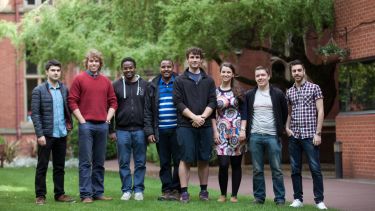 A masters degree is a great way to build up your CV with extra skills to help you stand out in a competitive job market. There is growing demand for skilled, multi-disciplinary bioscientists and our graduates work all over the world, with a great track record of finding jobs in areas ranging from conservation and science policy in government and NGOs, to PhD programmes worldwide, the NHS, and infection controls roles for biotechnology or pharmaceutical giants.
Our graduates secure exciting roles with high-profile employers, including:
GSK
KPMG
Lonza
AstraZeneca
Pfizer
NHS Scientist Training Programme
Russell Group universities
Covance
Max Planck Institute
Wellcome Sanger Institute
Stemcell Technologies
Mouchel
Keystone Environmental
BresMed
Almac Group
Hansen Wade
---
Whether you are studying for a masters programme or PhD, you can visit the Careers Service to help you to explore your options through their online, one to one and group support.
---
The Careers Service has expert teams working with employers all over the world to find out what skills they are looking for in graduates along with the Labour Market Information to support our graduates looking to work overseas or return to their home countries to further their careers. Our subscription to Going Global (accessible once you start your course) for registered students, provides you with useful information on over 120 locations worldwide, including useful country-specific information on recruitment practices, insider tips from local experts and global job search resources.
---
At Sheffield, you'll learn from scientists who are helping to solve some of the biggest global challenges, from understanding the impact of the coronavirus pandemic on our food systems, to repairing breaks in DNA, associated with cancer and Motor Neurone Disease.
We work with organisations all over the world, putting our students at the forefront of crucial research to meet pressing global challenges, including combating infectious diseases like COVID-19 and antibiotic resistance in MRSA.
Find a postgraduate course
A masters from Sheffield means in-depth knowledge, advanced skills and the confidence to achieve your ambitions.