Our leading courses in bioscience cover the full breadth of biology: from genes and cells right up to human anatomy and global ecosystems, with our research working to solve some of the most pressing global challenges, from climate change and cancer, to sustainability and healthy ageing.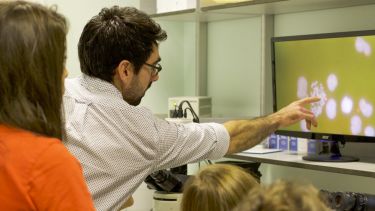 All of our degrees give you cutting-edge training in the theory and practice of biology, based on world-leading advances in science. We offer an exceptional range of modules covering the breadth and depth of biological science, and our students agree, voting the University of Sheffield 2nd in the Russell Group for overall satisfaction in the National Student Survey 2019.
Our nine main programmes all come with lots of options. You might add an extra year of research experience with an integrated masters, spend a year abroad, or gain valuable work experience as a recognised part of your degree by spending a year on placement.
Our courses
You may also be interested in:
Alternative routes
Biosciences with Foundation Year
We offer a foundation year for students who want to study biosciences, but don't meet the entry requirements to go straight into first year. So if you've studied the right subjects but haven't achieved high enough grades, or you've achieved good grades in unrelated subjects, this could be the route for you. After successfully completing the one year programme, you'll progress onto the first year of your chosen degree.
---
International students
We welcome applications from international students. If you don't meet our entry requirements, our International College offers an International Foundation Year in Science and Engineering. The programme is designed to develop your academic level in your chosen subject, introduce you to the study skills that will be vital to success and help with language if you need it.
Course search
Explore. Challenge. Influence. Find the right course for you.