Biological Sciences at Sheffield gives you a unique level of flexibility, letting you tailor your degree to your interests and career goals. You'll be able to study the full extent of biological sciences, from organisms and the environment, to biomedicine to biochemistry, genetics and microbiology.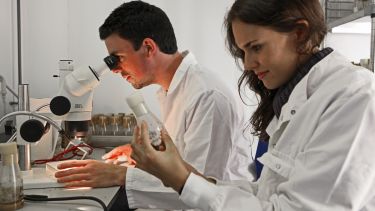 On
Our Biological Sciences courses offer you the flexibility to discover what kind of biologist you want to be by giving you the freedom to choose the topics you want to study.
From year one, you'll choose which topics to study and which you avoid, so that from the get go, you're defining your degree and putting your skills and knowledge into place for a vibrant future. You'll have access to modules across all scales of biological systems from biotechology, cell biology, genetics, microbiology and biochemistry, to biomedicine, neuroscience, human health and disease, to biodiversity, evolution, sustainability and climate change. More than half of our Biological Science students are taking modules across this full spectrum of the biological sciences.
You'll have the chance to carry out your own research projects in the lab or the field.  You might do research in the lab using the latest, cutting-edge equipment to study proteins and enzymes, analyse stem cells, sequence DNA or image cells; alternatively, you might work in the lab or the field on how organisms and populations grow and how biodiversity is managed. No matter what you'll choose, it'll give you invaluable hands-on experience in your chosen area.
You might choose to do field research projects in the Peak District National Park, or to embark on a once-in a lifetime field course in the UK or abroad. You can make the most of our links with the NHS, completing research on cancer and ageing in conjunction with the Sheffield Teaching Hospitals. You can even choose to combine these areas.
Tailor your degree
Biological Sciences at Sheffield is all about enabling you to study what you're passionate about, from genes and molecules, to organ systems and from behaviour to biodiversity and ecosystems, and everything in between. You could follow an existing theme that would help you select complementary modules, or you could select individual modules that appeal to you. Your personal tutor and dedicated support staff will help to tailor your degree to your interests and career goals.
---
Our courses all come with options to gain additional experience beyond the three-year BSc. You can add an extra year of research experience with an integrated masters, or gain valuable work experience with a top employer as a recognised part of your degree by spending a year on a work placement. You can even apply to spend a year studying abroad in a fantastic location, after you've joined the university.
2023-24 entry
Courses with a placement year 
2023-24 entry
---
Our courses are taught in a wide range of methods. Of course we include traditional lectures and small group tutorials, (where our world-leading academics will share their latest research findings with you). We also include research projects and practical lab sessions (where you'll be working with the latest technology for DNA and protein analysis) as well as field trips to zoos, aquaria and wildlife reserves.
We encourage our students to be fully engaged throughout their courses, so you'll have lots of opportunities to be creative, think independently, and express your ideas. You'll spend a lot of time working in the lab or field, working with amazing technology and learning skills like microscopy, DNA analysis or mathematical modelling for biodiversity conservation.  We also embed employability skills into all of our degrees. This array of teaching and learning approaches gives you plenty of chances to gain the skills and experience you need to build a strong and adaptable CV.
Find out more about our teaching
---
You'll undertake research projects throughout your degree, getting practical hands-on experience in the laboratory or the field that will lead to an in-depth research project and dissertation in your third year. Most students focus their interests as they progress and specialise in a particular area. The flexibility of the Biological Sciences degree means that you can take your degree in any direction you wish within the Biosciences. That might mean settling on a theme that resembles one of our other named degrees or pursuing an interest that isn't covered elsewhere. Common themes include:
Microbiology, antimicrobial resistance and immunology - research the constant battle between bacteria, antibiotics and mammalian biology
Ecology and Conservation - tackle global challenges such as climate change or the biodiversity crisis
Biomedicine - connect the breadth of biological science to clinical impact in areas such as neuroscience and cancer
Plant Science - understand the science that is the cause of the sustainability crisis and find solutions to how we provide the world with food, resources and medicines
Molecular Genetics - focus on how DNA directs all biological processes and what happens when things go wrong
There are several types of capstone projects to choose from depending on your interests and career goals, each of them giving you plenty of chances to gain new transferrable skills and experience to put on your CV. Current projects include:
Lab-based: Investigate a scientific problem, using state-of-the-art facilities and working alongside our leading research scientists
Field-based: Gather data or  insect, plant, or mineral samples samples in the field and analyse them on location or back in the lab
Clinical diagnostics: Learn how to use the analytical software used by clinical diagnostics staff in NHS laboratories to diagnose leukaemia in collaboration with the Sheffield Children's Hospital
Molecular systems and computing: Analyse and evaluate complex data to investigate fundamental biological processes, with opportunities to learn computer programming
Science communication: Build up a portfolio of writing on a scientific topic of your choice and evaluate the effectiveness of different communication strategies
Education and outreach: Organise events to get school children better engaged with science – students generally work in primary schools or university technical colleges (UTC) to gain teaching experience communicating science to school children
And if this really excites you, our integrated Masters courses (MBiolSci) allow you to work for a fourth year to complete a further, in-depth research project whilst embedded in one of our specialist research groups.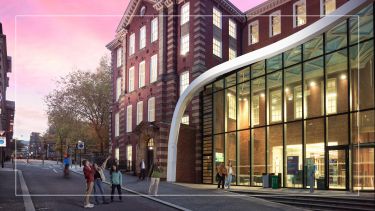 Visit us
Discover what sets Sheffield apart at our undergraduate open days on the Saturday 21 October or Saturday 18 November.