Equality, diversity and inclusion
In the School of Biosciences, we're proud to be an inclusive and diverse community. We aim to create a culture where all staff and students, regardless of their background or identity, are treated fairly, feel welcome, and can flourish professionally or academically.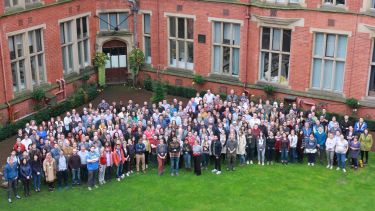 An inclusive culture enables our staff and students to thrive personally and professionally, and ultimately leads to better outcomes across learning, teaching and research.
If you have any ideas for ED&I, or concerns, we want to hear from you so please get in touch with our ED&I Director, Dr Andrew Lin or complete our Google Form.
Importantly, if you or a member of staff, student, or visitor, experience any form of discrimination, harassment, sexual violence or any other form of unfair treatment, you can report this through the Report and Support scheme, or to your line manager or Interim Head of School.
---
We have an active Equality and Diversity Committee in the school and are committed to working together to foster excellence in a research and learning environment that truly provides equal opportunity for all members.
Andrew Lin - Director of ED&I (Development, Regeneration and Neurophysiology)
Ian Sudbery - Deputy Director of ED&I (Race Equality, Mental Health and Disability),  (Molecular and Cell Biology)
Andrew Fenton - Deputy Director of ED&I (Gender Equality and LGBT+), (Molecular Microbiology)

Becky Barnes (Teaching Committee)
Kate Barnett (Professional Services)
Natalia Bulgakova
Laura Carrilero (Research staff)
Kai Erdmann (PGR Committee)
Mary Eliza (PGR representative)
Melanie Hannah (Technical Manager)
Ellie Harrison (Plants, Photosynthesis and Soil)
Zoe Hewitt (Professional Services)
Stu Johnson (Development, Regeneration & Neurophysiology)
Jon Slate
Alison Wright (Ecology and Evolutionary Biology)
---
The Biosciences #Inspire lecture series champions excellent scientists from minority or marginalised groups in the biosciences. Its goal is to promote discussions about the issues that impact these groups, so that we might create a more inclusive working and learning environment, where everyone feels represented.
Some quotes from attendees of our recent events include:
This is the first talk focusing on these issues that I've had access to in over 10 years at the university. It is crucial that we have more of this, and perhaps more importantly, that university leaders are listening to and acting upon the recommendations highlighted.
It's excellent to hear these issues being raised and it's wonderful to hear the voices of people who have been marginalised in science for a long time.
You can find out more about our recent seminars and listen to these events again, here.
---
We're proud to hold an Athena Swan Silver Award, showcasing the excellent practice that we have been able to bring into the school from the former three bioscience departments that we continue to build on.
Activities
The annual Margaret Savigear lectures. These events recognise the achievements of inspirational women by inviting one senior and one junior academic to give a research lecture open to all undergraduates, postgraduates and staff.  Supported by an alumna donation from the only female student who studied zoology in the 1950s, speakers are invited to speak frankly about their experiences as women in academia and to join a careers Q&A session afterwards with Early Career Researchers.
Providing role models and highlighting female excellence. We've put together a set of equality guidelines to help organisers choose a diverse range of speakers. In doing so, we commit to having a balanced seminar series where 50% of external seminar speakers are female.
Student assessments. Negatively marked multiple choice questions penalise risk-averse behaviour and reward risk-taking. Research shows that these behaviours may be gender-biased, leading to unequal impact of negative marking of questions. To avoid potential gender bias in our undergraduate assessments, negative marking is being removed from all our assessments.
Student evaluation of instructors. Student evaluation of instructors is infamously biased by social stereotypes, leading to women teachers receiving more negative evaluations from students than their male colleagues. However, research shows that a simple intervention may help to reduce this bias. When invited to provide feedback, students are reminded that stereotypes can unintentionally influence evaluations, and to focus their responses on the quality of teaching and learning, rather than their opinions of the teachers. The school trialled this in 2019, and the intervention is now used across the University.
Eliminating the Gender Pay Gap. The Faculty of Science has made a commitment to work towards eliminating this and we're embarking on a programme of work to deliver a target for Gender Pay Gap reduction of 3.5 percentage points by 2025.
---
We proactively support the University's Race Equality Strategy and Action plan. We're committed to supporting our staff and students and ensuring that we engender an inclusive working and learning community.
Activities
Decolonising our teaching and research. Members of our staff have developed a guide to help others look at what decolonising the curriculum means, and how we can use this approach to improve our teaching and research. The response has been extremely positive and many members of staff have actively revised their teaching content.
Reducing barriers to PhD student recruitment in the ACCE DTP. ACCE is one of our primary Doctoral Training Programs. In 2020/21 a team at ACCE overhauled our recruitment program to reduce the barriers facing applicants from a wide range of backgrounds poorly represented in science, including those from minority ethnic backgrounds. The new application process is based around the principle that access to opportunities and support, as well as barriers like prejudice and discrimination varies hugely, but that great PhD students come from all types of backgrounds. Our changes involved providing clear guidance on every stage of the application process, and redesigning our selection criteria to reflect a far broader way in which creativity, curiosity and potential can be demonstrated. 
---
Our goal is to reduce the stigma of disability and mental ill-health and improve access to the advice and support mechanisms available to staff and PGR students.
Activities
We have a team of Wellbeing Advocates across the School of Biosciences, representing a range of career stages and job roles, who are here as resources for anyone needing information or support on any issue affecting their wellbeing. 
Meet your Wellbeing Advocates (university log-in required)
---
Our goal is to create a fully inclusive working environment that encourages a culture of respect and equality for everyone, regardless of their sexual orientation and gender identity. 
Activities
Having visible LGBT+ role models can help others to develop a stronger sense of self and show that there should be no limits on who our LGBT+ staff and students can be and what they can achieve. Visibility can break down barriers and challenge misconceptions. The University has a number of LGBT+ Role Models. In the school, this includes Professor Duncan Cameron.
Frank and open discussion sessions. To promote discussions about how to create a more inclusive working and learning environment we organised a discussion session for Pride Month 2021 as part of the #Inspire Lecture series. This involved external speaker Dr Yoder and students and staff from across the Biosciences. You can find out more about this event here.
---
Here we share the personal experiences of our staff on the theme of ED&I.
Professor Kathryn Ayscough on gender equality

Kathryn joined the University of Sheffield in 2003, as a senior MRC Research Fellow in Molecular Biology and Biotechnology and has navigated a successful career, becoming a professor in 2008. In conversation, Kathryn talks about her successes and the challenges she has faced throughout her career and her thoughts on gender equality progress.

Dr Robert Fagan on shared parental leave

Rob is a molecular microbiologist with a long-term interest in studying the mechanisms by which pathogenic bacteria cause human disease. He's had two periods of shared parental leave, in 2018 and another in 2021.

I moved to Sheffield with my partner in 2013 to take up my first academic post. In the 8 years since our family has gradually grown – adding our dog Toby in 2013, our daughter Caitlin in 2017 and son Jack in 2021. My wife also works at the University and when we were expecting our first child, we attended a Parents@TUOS coffee morning and met a few dads who had taken advantage of the shared parental leave offering. We had been mulling the idea and hearing the incredibly positive stories from those who had done it previously really cemented our decision. After talking through our options, we decided that I would take over as primary carer at home when my wife returned to work after 6 months of maternity leave. By combining my shared parental leave with some annual leave, I had three fantastic months at home with Caitlin. I definitely drew the long straw as my three months coincided with a particularly nice Sheffield summer! We had always envisaged taking a collaborative approach to parenting and shared leave helped us to establish the practices and patterns we've followed ever since. After that success we were keen to repeat shared leave with Jack. This time we decided that I would split my portion of the leave, I have recently returned from an initial 6 weeks and I will take over for another 6 weeks in April 2022. I'm already looking forward to long walks, playgrounds and well-earned coffee and cake!

Shared parental leave has been an incredibly rewarding experience for me. When I was organising my first leave the whole process seemed to be a mystery to most people I spoke to, so it has been heartening to see both awareness and uptake increasing in the years since. I hope we can quickly reach a point where this is considered the norm for new parents.

Dr Zoe Hewitt on the importance of mentors

Dr Zoe Hewitt has a background in human Pluripotent Stem Cell (hPSC) Biology which started in 2001 with a PhD from the Roslin Institute/University of Edinburgh. In 2006, she started a postdoc at the University of Sheffield, where she took on the responsibility of developing and managing a clean room facility which saw the derivation of the UK's first clinically available human Embryonic Stem Cells and first clinical trial with an hESC-derived therapy. After a period of maternity leave in 2014/15, Zoe transitioned to a Project Manager role in 2015 for the UK Regenerative Medicine Platform, firstly for the Pluripotent Stem Cell Platform and now for the Pluripotent Stem Cell and Engineered Cell Hub, where she forms part of a team tackling the key translational bottlenecks to progressing hPSC derived therapies to clinic.

"I had always been too busy for a mentor, but suddenly found myself questioning where I was going with my career. The GROW scheme offers Professional Service staff the opportunity to be a mentor or to be mentored. Taking part for the first time I did both, and this really enabled me to get perspective on my circumstances as well as to find out about other parts of the University. Independent support was really helpful, with some guidance and simple suggestions I opened so many doors. Good mentors drive YOU to make changes. Without GROW I would not have considered the opportunity to become part of the department's senior management team, as Director for ED&I. I learnt new transferrable skills and have been able to influence in areas that I never would have considered before". 

Dr Natalia Bulgakova on maternity leave

I joined the University of Sheffield in 2015 as a Lecturer, combining teaching with research in my lab. Until my maternity leave in 2020, I was often doing experiments for my research – generating preliminary results for grant applications or completing projects for publication after a lab member left. However, combining bench work with other academic duties and parental care responsibilities is challenging, as all require time commitments which are often incompatible. The Women Academic Returners' Programme (WARP) allowed me to hire a research technician for seven months after my return from maternity leave. After a short training period, this technician provides me indispensable support by helping with ongoing experiments. This help allows me to focus on writing scientific manuscripts and grant applications, thus minimising the potentially deleterious impact of maternity leave on my research progress.
A world top-100 university
We're a world top-100 university renowned for the excellence, impact and distinctiveness of our research-led learning and teaching.