Biochemistry is the investigation of living systems at a molecular level and lies at the core of all modern biosciences, from biochemical studies on cell membranes and photosynthesis, to how our immune systems function.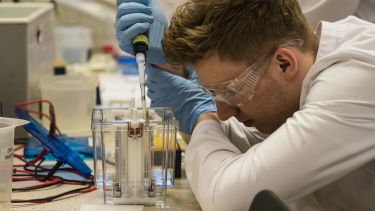 Our Biochemistry courses lie at the core of modern bioscience, allowing you to investigate the structure and function of biological systems at the molecular level. 
You'll study proteins, enzymes, hormones and receptors and learn about the various ways that biochemistry can be applied to major challenges affecting humanity today, from how we sustainably feed a global population, to healthy ageing and how new drugs are designed.
---
All of our undergraduate degrees in Biochemistry, Genetics, Microbiology and Molecular Biology are accredited by the Royal Society of Biology, with advanced accreditation for our MBiolSci undergraduate masters programmes.
Accreditation by the Royal Society of Biology shows employers that you've developed the practical skills and scientific knowledge that they're looking for.
---
Our courses all come with options to gain additional experience beyond the three-year BSc. You can add an extra year of research experience with an integrated masters, or gain valuable work experience with a top employer as a recognised part of your degree by spending a year on a work placement. You can even apply to spend a year studying abroad in a fantastic location, after you've joined the university.
Dual courses 
Courses with a foundation year 
2023-24 entry
---
---
As a biochemistry student you'll learn in lots of different ways, from lectures and small group tutorials to learning by doing during practical lab sessions and research projects.
From your first year you'll study modules that span the molecular biosciences covering biochemistry, genetics, microbiology and molecular biology. Alongside these modules you'll have the freedom to explore complementary topics across the breadth of bioscience, such as biomedicine, plant science, evolution and conservation. 
Our staff are committed to great teaching and you'll have lots of opportunities throughout your degree to be creative, think independently, and express your ideas. You'll be in the lab completing in-depth practicals across molecular genetics, DNA manipulation and protein structure analysis, and you'll get the chance to use cutting-edge equipment to run your own in-depth research projects in an area such as clinical diagnostics or brewing biotechnology, giving you plenty of chances to gain new transferrable skills and experience to put on your CV.
Find out more about our teaching
---
You'll undertake research projects throughout your degree, getting practical hands-on experience in the laboratory. In your third year, you'll complete an extended research project in an area of molecular bioscience that interests you either inside or outside the lab.
There are several types of projects to choose from depending on your interests and career goals, from experimental science to computing, teaching, clinical diagnostics or science communication. Current projects span:
Experimental science: Investigate a scientific problem, using state-of-the-art facilities and working alongside research scientists.
Clinical diagnostics: Learn how to use the analytical software used by clinical diagnostics staff in NHS laboratories to diagnose leukaemia in collaboration with the Sheffield Children's Hospital.
Industrial biotechnology: Understand brewing techniques and isolate and grow yeasts in collaboration with local breweries to understand how mutations in yeast genes affect the flavour of beer.
Molecular systems and computing: Analyse and evaluate complex data to investigate fundamental biological processes, with opportunities to learn computer programming.
Science communication: Build up a portfolio of writing on a scientific topic of your choice, and evaluate the effectiveness of different communication strategies.
Education and outreach: Organise events to get school children better engaged with science – students generally work in primary schools or university technical colleges (UTC) to gain teaching experience communicating science to school children.
Our integrated masters courses allow you to complete a further in-depth research project whilst embedded in one of our specialist research groups.
---
Did you know?
Sir Hans Krebs was the first Professor of Biochemistry in Sheffield, and in 1953 won the Nobel Prize in Physiology or Medicine for discovering the citric acid cycle (also known as the Krebs cycle), while working at the University of Sheffield.
The cycle explains one of the most fundamental processes of life: the conversion of biological molecules into energy within a cell.
Explore the University
Discover why Sheffield is the right choice for you at one of our open days or events.