Biomedical Science is devoted to understanding the human body and our ability to control it during health and disease.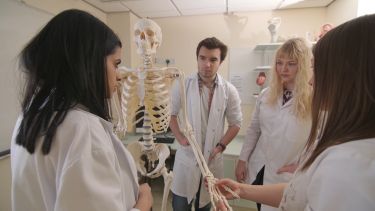 Teaching and learning changes for 2020-21
Due to the coronavirus pandemic we have made some changes to teaching and learning for some courses in the 2020-21 academic year.
Find out about teaching and learning changes
These pages will be updated regularly, so please check back for the latest information about your course.
---
Our Biomedical Science courses cover everything from the gene to whole body systems including cell and molecular biology, genetics, physiology, pharmacology, anatomy, developmental biology, neuroscience and systems biology.
We're proud to be one of only a few universities in the UK to offer undergraduate students the opportunity to perform full body cadaveric dissection, providing you with an excellent foundation for understanding human physiology and developmental biology.
---
As a biomedical science student you'll learn in lots of different ways, from lectures and group tutorials to learning by doing during practical lab sessions and research projects.
Explore the course structure and content
Our staff are committed to great teaching and you'll have lots of opportunities throughout your degree to be creative, think independently, and express your ideas.
From learning about the human body through cadaveric dissection, to sharing your own knowledge and benefiting from others' expertise through peer assisted study sessions, you'll get the chance to put your new knowledge into practice in a variety of ways, gaining new skills and experience to put on your CV throughout your course.
1st in the UK for medical research
Latest Research Excellence Framework (2014)
Find out more about our teaching
---
In your third year, you'll get the opportunity to complete an extended research project either inside or outside the lab. Students who choose to be lab-based will be embedded in one of our specialist research groups, working within a team to conduct and report research findings in one of four areas:
Physiology and Pharmacology - explore from the level of cell and organ to the whole body;
Neuroscience - specialise in the development and function of the human nervous system;
Developmental and Cellular Biology - from genetic control of cell function to the organisation of the entire human body;
Stem Cells and Cancer - exploring the potency of stem cells in health and disease.
If you choose to complete your project outside the lab, you could enhance your scientific and presentation skills with an extended library project, gain experience of teaching in local schools, or even join the "Patients as Educators" scheme to interact with and discuss clinical conditions with volunteer patients.
---
PASS (Peer Assisted Study Sessions) is a university programme that provides support for students from different levels on the same degree programme.
Weekly revision sessions are designed to help students to better understand course content and develop essential study skills.
The sessions are run by higher-level students known as PASS Leaders who have studied the same modules previously and use their knowledge and experience to support your transition to university.
The sessions are fun, collaborative and interactive and research has shown that regular attendance at PASS sessions has a correlation with improved academic performance.
As a PASS leader, I aimed to provide an inclusive learning experience to every student, challenging and supporting them as they developed a love of learning, and became independent learners.

Reem Abouward

BSc Biomedical Science PASS Leader
Course search
Explore. Challenge. Influence. Find the right course for you.