Biomedical Science is devoted to understanding the human body and our ability to control it during health and disease.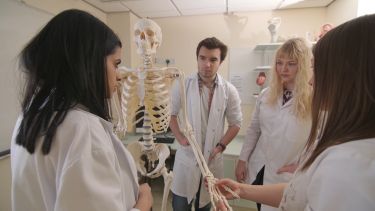 About Biomedical Science at Sheffield
Our Biomedical Science courses cover everything from the gene to whole body systems including cell and molecular biology, genetics, physiology, pharmacology, anatomy, developmental biology, neuroscience and systems biology. We're proud to be one of only a few universities in the UK to offer undergraduate students the opportunity to perform full body cadaveric dissection, providing you with an excellent foundation for understanding human physiology and developmental biology.
All of our students take compulsory modules designed to give you specialist knowledge of biomedical science and the essential skills that every professional scientist needs. As you progress through your degree, optional modules will allow you to specialise in the areas that interest you the most, from physiology, pharmacology and neuroscience, to developmental and cell biology, stem cells and cancer. You can even choose to add an extra year of research experience as part of your studies, spend a year abroad, or gain valuable work experience with a placement year. 
Our courses are research-led which means that you'll be exposed to the latest cutting-edge discoveries and techniques in biomedicine from day one. Our world-class scientists, your teachers, are conducting research that's helping to solve deafness, muscular dystrophy and dementia and it's this research that you'll be getting involved in throughout your studies.
Teaching
As a biomedical science student you'll learn in lots of different ways, from lectures and group tutorials to learning by doing during practical lab sessions and research projects.
Explore the course structure and content
Our staff are committed to great teaching and you'll have lots of opportunities throughout your degree to be creative, think independently, and express your ideas. From learning about the human body through cadaveric dissection, to sharing your own knowledge and benefitting from others' expertise through peer assisted study sessions, you'll get the chance to put your new knowledge into practice in a variety of ways, gaining new skills and experience to put on your CV throughout your course.
1st in the UK for medical research
Latest Research Excellence Framework (2014)
Find out more about our teaching
---
Human anatomy
We're one of the only universities in the UK to offer undergraduate biomedical science students the opportunity to perform cadaveric dissection. Later in your degree, you can apply this knowledge to forensic science, covering topics including facial reconstruction, forensic anthropology, DNA fingerprinting and weapons analysis.
---
Research projects
In your third year, you'll get the opportunity to complete an extended research project either inside or outside the lab. Students who choose to be lab-based will be embedded in one of our specialist research groups, working within a team to conduct and report research findings in one of four areas:
Physiology and Pharmacology - explore from the level of cell and organ to the whole body;
Neuroscience - specialise in the development and function of the human nervous system;
Developmental and Cellular Biology - from genetic control of cell function to the organisation of the entire human body;
Stem Cells and Cancer - exploring the potency of stem cells in health and disease.
If you choose to complete your project outside the lab, you could enhance your scientific and presentation skills with an extended library project, gain experience of teaching in local schools, or even join the "Patients as Educators" scheme to interact with and discuss clinical conditions with volunteer patients.
---
Peer Assisted Study Sessions (PASS)
PASS (Peer Assisted Study Sessions) is a university programme that provides support for students from different levels on the same degree programme. Weekly revision sessions are designed to help students to better understand course content and develop essential study skills.
The sessions are run by higher-level students known as PASS Leaders who have studied the same modules previously and use their knowledge and experience to support your transition to university. The sessions are fun, collaborative and interactive and research has shown that regular attendance at PASS sessions has a correlation with improved academic performance.
As a PASS leader, I aimed to provide an inclusive learning experience to every student, challenging and supporting them as they developed a love of learning, and became independent learners.

Reem Abouward

BSc Biomedical Science PASS Leader
---
Spend a year on a work placement
Our BSc and MBiomedSci Biomedical Science with a Year in Industry degrees allow you to do a year long, paid work placement between your second and third year. You'll pay reduced fees for the year you're on placement and you'll still have access to your tutor and the support you need from the university. Most students earn salaries during their placements too.
Our students have done their placements at organisations that include:
Placements aren't guaranteed – it's your responsibility to secure one but we'll do everything we can to help.
---
Spend a year abroad
If you take a Year Abroad course, you'll spend your third year studying biomedical science at another top university in a country such as the USA, Canada, New Zealand, Australia, Singapore or Hong Kong. You'll have the freedom to study biomedical science-related classes at your host university as well as an opportunity to take other courses, and experience life in another part of the world. You'll also pay reduced fees for the year you're abroad.
Your place at another university isn't guaranteed – it's your responsibility to secure one but we'll do everything we can to help.
One of the best things about studying abroad was that I got to choose to do any module I wanted. For me, this meant only choosing to study the aspects of Biomedical Science I'm actually interested in, so I did lots of modules about human disease and immunology. 

Thomas Burgess

BSc Biomedical Science with a Year Abroad
---
Integrated masters
Our four-year integrated masters courses (MBiomedSci) are designed for students who want to pursue a career in industrial or academic research, with the majority of the fourth year devoted to a major research project. All of our courses are available as a three-year BSc degree, or a four-year MBiomedSci degree. The first three years of your course will have the same structure as the BSc, with the fourth year designed to equip you with the advanced laboratory skills you'll need for a successful and rewarding career in science.
Example research projects include:
The immunological reaction to a cochlear stem cell transplant;
Epithelial cell plasticity in development and tumour progression;
Developing CRISPRi technology in zebrafish;
Establishment of an in vitro model for cystic fibrosis using organ on chip technology.
In addition to my work in the laboratory, in my final year I completed modules in Ethics, Law and Public Awareness of Science and Critical Analysis of Science providing an in depth understanding of the principles important for the publication of scientific research.

Bethany James

MBiomedSci Biomedical Science
---
Your career
Our graduates go on to make a difference in all sorts of ways. Many of them use their scientific skills and specialist knowledge to work in biomedical research, biotechnology or the pharmaceutical industry for large organisations such as GSK and Pfizer. Some do a PhD, or go on to study medicine, dentistry or veterinary science.
With a general understanding of contemporary biology, our graduates are also successful in areas as diverse as journalism, medical sales, the software sector, management and administration; some have even set-up their own businesses. Whatever path they choose, we know that 96% of our graduates are in work or further study within six months of finishing their degree (Destination of Leavers from Higher Education, 2016/17).
I am now working as an Epidemiology Scientist sitting across the NHS Blood and Transplant Unit and Public Health England. My role focuses on infectious diseases transmitted via blood transfusions and tissue/organ transplants and involves: managing surveillance, writing reports, and feeding into government policy on the topic.

Joe Flannagan

BSc Biomedical Science
---
Our courses
The content of our courses is reviewed annually to make sure it is up-to-date and relevant. Individual modules are occasionally updated or withdrawn. This is in response to discoveries through our world-leading research, funding changes, professional accreditation requirements, student or employer feedback, outcomes of reviews, and variations in staff or student numbers. In the event of any change we'll consult and inform students in good time and take reasonable steps to minimise disruption. 
Clearing and Adjustment
We have places available on some courses for additional high achieving students through Clearing and Adjustment.