SDG17: Partnerships For The Goals
Our pioneering and innovative research and the sharing of resources is making a real-world impact on some of the greatest challenges facing humanity. Our commitment to strengthening partnerships with other institutions, bodies and businesses is one of our central focuses.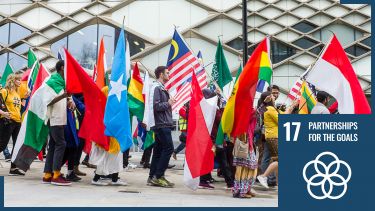 On
Key facts for how we are achieving SDG17
The University is a registered observer of the UN's Framework Convention on Climate Change (UNFCCC)
Our researchers and PhD students attend the Conference of the Parties (COP) every year
Working with global partners in world-leading research
A founding member of Worldwide Universities Network (WUN)
---
Partnerships and memberships
COP 
The UN's COP brings together countries from around the world for global climate summits. experts and scientists gather to share research and knowledge to highlight the climate emergency, for world leaders to agree upon strategies and policies to mitigate countries' greenhouse gas emissions. 
In 2021, PhD students from the University attended COP26 held in Glasgow, to share our expertise and knowledge with global leaders.
Worldwide Universities Network (WUN)
The University is one of the founding members of the Worldwide Universities Network, a leading global higher education and research network of 25 universities across six continents. WUN harnesses this diversity in assembling and supporting unusually talented teams of collaborators to tackle major research problems in fields where comparative analysis matters.
The Association of Commonwealth Universities
The Association of Commonwealth Universities (ACU) represents more than 500 universities from 50 commonwealth countries, with a network of over 10 million students and 1 million academic and professional staff. With a wealth of expertise, innovation and resources, the ACU has a collective commitment to tackling global challenges and ultimately achieving the UN's SDG's through higher education.
Race to zero
We're part of the Race To Zero campaign; a UN-backed global initiative to rally leadership and support from businesses, cities, regions, investors for a healthy, resilient, zero carbon recovery that prevents future threats, creates decent jobs, and unlocks inclusive, sustainable growth.
---
University of Sheffield providing help to Ukraine
The University of Sheffield has twinned with Igor Sikorsky Kyiv Polytechnic Institute (KPI), Kyiv, to help staff and students affected by the war in Ukraine. Recently the University of Sheffield donated £20,000 to KPI which will help rebuild air raid shelters on their University campus to keep their staff and students safe whilst still studying. Sheffield are also donating key IT and laboratory equipment, including high performance computers which are essential for continuous research and teaching.
Sheffield researchers receive grant to help emergency Covid-19 care in low income countries
Funding has been granted to the University's PRIEST Study team to develop clinical risk-stratification tools for hospitals in low and middle income countries (such as Brazil, Uganda, Rwanda and South Africa) from becoming overwhelmed during the COVID-19 pandemic. The grant has been given by the International COVID-19 Data Alliance (ICODA) and the Grand Challenges initiative as part of ten global projects that will accelerate knowledge of COVID-19 through data science. 
Our sustainability strategy
We have set the principles and direction for our sustainability strategy