You are viewing this course for 2023-24 entry. 2024-25 entry is also available.
Key details
A Levels

AAB


Other entry requirements
UCAS code

L391

3 years

/

Full-time

September start
Optional placement year
Study abroad
Course description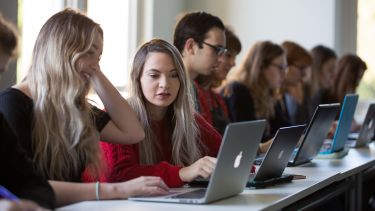 What happens to the information we share on social media? How do apps, platforms and devices change our social world?
These are some of the issues that you will address on the BA Digital Media and Society. It is unique in offering you the opportunity to develop a broad understanding of the relationship between digital media and society. You will also learn how to make digital media products (such as websites and animations) that focus on the needs of the user and to use innovative digital methods to research digital media in society.
You'll study the human consequences of digital media developments, the ways in which social factors shape these developments and the various domains in which digital media are developed, used and have an impact.
There is an opportunity to undertake a work placement in the final year of the course.
Modules
A selection of modules are available each year - some examples are below. There may be changes before you start your course. From May of the year of entry, formal programme regulations will be available in our Programme Regulations Finder.
Choose a year to see modules for a level of study:
Title: Digital Media and Society BA course structure
UCAS code: L391
Years: 2022, 2023
First year
Core modules:
Introduction to Social Research

Students will be introduced to theoretical, methodological and practical issues in conducting empirical social research and become equipped with some of the basic skills necessary to undertake qualitative and quantitative projects, from project planning through to writing up research findings. Students will also be given the opportunity to explore different areas of social research in small groups through class presentations and debates

10 credits

Data Visualisation

This module consists of three key elements. The first is principles of good graphic design, combined with how figures can be used to lie and mislead. The second is learning how to make a wide range of graphs, maps, and figures, for a wide range of different audiences, using the latest and most powerful software. The third is interpreting visual representations of data, whether from other sources or by students on the module themselves, and using them to answer substantive research questions. Fundamentally, this is a hands-on module that allows students to make and understand data visualisations.

10 credits

Introduction to Digital Methods Research

This unit introduces students to methods for carrying out research, sometimes referred to digital methods. It provides hands-on practical opportunities to try out in practice. Digital methods are techniques for researching digital cultures and content. Students will explore online surveys and interviews, or virtual ethnography. They will use new methods devised especially for researching digital content like: social media content, likes and shares; blog posts and comments; hyperlinks; search engine results. Students on this module will learn about the tools, techniques and processes of digital methods, and they will be introduced to the ethical questions that they raise.


20 credits

Digital Media & Society@UoS

This 'zero credit module is designed to support students as they progress though Level 1 of their Digital Media and Society degree at the University of Sheffield. It offers professional and peer support to students as they experience the world of the university for the first time, and provides them with the individual guidance necessary to ensure they navigate this Faculty-wide programme in order to meet their own specific needs and interests. In doing so, the module helps to create a solid foundation and a distinct community of learning that will help to sustain them throughout the course of their degree at Sheffield.

Digital Media and Society

Students taking this core module will be introduced to key concepts, issues, and debates about the production, use and distribution of digital media and information in society, including how these developments relate to social inequalities. They will work together to develop their own ideas for how to tackle some of the pressing challenges facing the development of inclusive digital societies. As part of learning about these topics, students¿ will also be taught how to use web technologies to produce and publish their own digital content, and will apply basic website design and implementation skills to present their coursework.

40 credits
Optional modules include:
The Sociology of Everyday Life

This module aims to introduce students to basic sociological concepts, such as 'the sociological imagination', 'social interaction', 'social identity', 'deviance' and 'globalisation' and illustrate how these can be applied to everyday life. Drawing on the work of key thinkers in sociology, a range of everyday life situations, such as mobile phone use, shopping and travel will be used as exemplary cases

10 credits

The Sociological Imagination Seminar

Drawing upon the lectures in the accompanying module (SCS100), students will use the seminars to explore a range of everyday life situations - such as mobile phone use, shopping, and travel - from a sociological perspective. Emphasis will be placed on students reflexively exploring their own experience, on the one hand, and gathering exemplary material from print and digital media. Students will be required to do exercises on specific topics.

10 credits

Understanding Inequality

The aim of this unit is to explore a key concern of sociology to explain how and why material and symbolic rewards are distributed unequally. It will consider the unequal distribution of wealth, privilege and power and, in doing so, will question common-sense understandings of various inequalities in society. It will focus on various social divisions including the 'big three' of social class, gender and race, as well as sexuality, age, religion and disability. Major themes will be explored with a predominantly British- and policy-related focus, although global divisions and inequalities will also be included for consideration.

10 credits

Social Divisions Seminar

The aim of this unit is to explore a key concern of sociology to explain how and why material and symbolic rewards are distributed unequally. The unit will focus on how social constraints and opportunities arise from social divisions and will explore how various social divisions interact to produce unequal outcomes. It will evaluate critically sociological research that provides evidence of structured inequality in society. A key aim of the unit is to provide students with a sociological framework to assess critically how social divisions operate in their own lives through the constraints and opportunities they encounter.

10 credits

Introducing Criminology

Crime is a major social problem in virtually all societies. In this module, sociological understandings of crime are discussed, often with reference to their implications for policy. The module will introduce you to major research about crime in contemporary Britain and help you to understand the contribution of sociology to its analysis. This module will be of value to anyone thinking about a career in the criminal justice services, journalism, public service, the voluntary sector and anyone interested in understanding the significance of crime in contemporary British society

10 credits

Introduction to Media and Communication in Society

This module examines the relationship between media and society. It examines the nature of influence and persuasion, representation, ownership, and identity in contemporary media environments.

10 credits

Analysing News

This module will focus on how to analyse contemporary news outputs. Students will be introduced to a selection of methods such as content analysis, framing analysis and discourse analysis, which will allow them to analyse news outputs and focus on looking at current issues as they arise. Examples of recent studies will be read and discussed and teaching staff may also talk through how they conducted their own studies. The module will enable students to use basic research methods by starting with the news and topics rather than `dry' methodologies, as well as considering the ethics of journalism and the codes used in an attempt to regulate the industry.

20 credits

Making Sense of Education: Facts, Fiction and Data

Politics, practices and media discourses related to Education, frequently invoke 'evidence' or statistical reasoning in an attempt to persuade. These approaches can be deliberately misused or accidentally misleading. This module will equip you with the knowledge you need to become a discerning data user and critic through a mix of active learning, seminars and computer workshops. You will develop practical skills to support your engagement with 'evidence' throughout your studies, explore a range of issues in qualitative and quantitative research design, and create a foundation for your future development as a critical researcher.

20 credits

Reporting Institutions

This module aims to help students understand how the world works - how the levers of power operate in international, national and local politics and how they can use this information and understanding to hold those in power to account on behalf of readers, viewers and listeners.

20 credits

The Digital University

What is it like to be a University of Sheffield student, without ever setting foot on campus? What can learners in Mumbai, Adelaide, Capetown, and Shanghai learn from each other? And what new possibilities and challenges are digital technologies opening up for higher education? These questions, and more, will be explored in this module about online, distance, and blended learning: all forms of digital learning where students can be based anywhere with an internet connection. An experience of digital learning is part of the module, and participants will both take an active role in and learn from this experience.

20 credits

Gender, Sexuality and Society

This unit intends to address the following questions regarding gender and sexuality and their interaction with society: What do we mean by gender and sexuality? How do we do gender and sexuality? How do we see gender and sexuality? How do we control gender and sexuality?

10 credits

Classical Sociological Theory

The aim of this module is to introduce foundational theories in sociology. The lectures will describe the ideas of leading theorists Durkheim, Marx, Du Bois and Weber with reference to the social context in which they lived and wrote. Lectures will analyze the primary texts of sociological throught with reference to the social contexts in which they emerged. This will include a look at the concerns of the first generation of sociological thinkers, their understanding of changes in European societies at the time, and the way in which their ideas inform an understanding of issues and problems in the contemporary world.

10 credits

Exploring Classical Social Thought Seminars

The purpose of this seminar module is to provide a medium for students to discuss, evaluate, assess, and engage foundational theories in sociology. The seminar topics will seek to relate major sociological theories to (historical) events of concern to the theorists themselves, and events of interest to contemporary students of social affairs. The discussions will emphasise ideas and concepts in key sociological writings and their contribution to shaping sociological enquiry.

10 credits

Lies, Damned Lies and Statistics

Whether you're a journalist writing stories for the public, or a social research analyst working in government, you need to be able to understand, use and present data. This 10 credit module aims to demystify data and encourage critical thinking on statistics; often wrongly used, and sometimes in very misleading ways. The module will equip you with the knowledge and skills you'll need to become a discerning data user, through engaging teaching, active learning and examples from the news media. The module is comprised of a mix of lectures and computer workshops and is assessed through a multiple choice exam.

10 credits

Analysing News

This module will focus on how to analyse contemporary news outputs. Students will be introduced to a selection of methods such as content analysis, framing analysis and discourse analysis, which will allow them to analyse news outputs and focus on looking at current issues as they arise. Examples of recent studies will be read and discussed and teaching staff may also talk through how they conducted their own studies. The module will enable students to use basic research methods by starting with the news and topics rather than `dry' methodologies, as well as considering the ethics of journalism and the codes used in an attempt to regulate the industry.

20 credits

Education, Power and Society: Introduction to the Sociology of Education

This module explores the relationship between educational institutions/cultures/systems and social inequalities. We focus on class, gender, ethnicity and disability and look at the ways in which education systems serve to tackle or reproduce patterns of inequality and relations of power. The module also evaluates different policy frameworks and goals. For example, whether the focus of education policy should be placed on nurturing active citizenship (and what this would look like) or whether the main priority should be to serve the needs of the economy (and how this might be achieved).

20 credits

Social and Historical Constructions of Childhood

In this module students will explore how childhood has been portrayed across different societies and at different times, and will examine how childhoods are shaped and influenced by the societies in which children live, learn and are cared for. Through a series of lectures, group work and individual study tasks, students will think about the ways in which childhood has changed over time and how different views and perspectives on childhood create different expectations of children. Through the study of historical and social constructions of childhood, students will develop a fuller understanding of how ways of working with children can be shaped by external influences.

20 credits

History and Culture in China

This module explores what it means to study China at university level, and considers how 'area studies' research on China fits within disciplines such as history and cultural studies. We will consider how histories and cultural understandings of China are built with the following in mind: how researchers use primary evidence such as texts, documents and/or images to understand social change; and how to navigate key debates in a field and evaluate competing arguments. You will finish this module with a deeper understanding of our core topic and the disciplinary approaches that frame it, and a foundation in critical research and writing skills that you can apply and develop in further study.

We will work on a combination of new and established research to explore one core topic: In 2022-2023 we will explore the history of twentieth-century Shanghai as seen from the grassroots.

20 credits

Self and Society

This course introduces students to central questions in political philosophy: Do we need a state, and if so, must we obey its laws? When, why and how may states punish citizen for failing to obey the law? What is freedom, and when are we free? Is equality a moral value, and if so, what are its implications for how governments ought to act? What is justice, and how does it relate to freedom, equality, and punishment? Should states be organised democratically, and what does it mean to live in a democracy? The course encourages students to think carefully and clearly about the relationship they have, as citizens, to each other and the state, and to develop their analytical and critical skills in the process. Readings will include influential, historical and contemporary discussions of the state, equality, freedom, justice, and democracy.

20 credits

Reason and Argument

Arguments are everywhere - in our newspapers, on our television screens and radios, in books and academic papers, on blogs and other websites. We argue with our friends, families, teachers and taxi drivers. These arguments are often important; they help us to decide what to do, what to believe, whom to vote for, what car to buy, what career path to follow, or where we should attend university (and what we should study). The ability to recognise, evaluate and produce arguments is therefore immeasurably valuable in every aspect of life.

This course will teach you how to recognise an argument, how to understand it, how to evaluate and criticise it, and how to produce your own. Students in this module will learn how to extract an argument from a complex text, how to uncover hidden assumptions, and how to recognise and critique bad reasoning

10 credits

Philosophy of Science

Science plays an important role in modern society. We trust science on a day to day basis as we navigate our worlds. What is about science that makes it so trustworthy? Why is science a good guide for understanding the world? The aim of this half-module is to introduce some of the philosophical issues that arise in science and through reflecting on science. Most of the questions considered concern the epistemology of scientific knowledge and methodology: what are scientific theories, what counts as evidence for these theories, what is the relationship between observation and theory, is there a scientific method, what distinguishes science from other ways of understanding the world, and how does the social structure of science help or hinder science in studying the world. This module aims to introduce these questions as philosophical issues in their own right and within in the context of the history of the philosophy of science.

10 credits

Philosophy of Sex

Sex is one of the most basic human motivators, of fundamental importance in many people's lives, and a topic of enormous moral, religious, and political contention. No surprise, then, that it turns out to be of great philosophical interest. We will discuss moral issues related to sex' asking when we might be right to judge a particular sex act to be morally problematic; and what political significance (if any) sex has. We will also discuss metaphysical issues, such as the surprisingly difficult questions of what exactly sex is and what a sexual orientation is. Throughout our study, we will draw both on philosophical sources and on up-to-date contemporary information.

10 credits

LGBTQ (Lesbian, Gay, Bisexual, Trans* and Queer) Studies

This module introduces students to study of genders and sexualities, and LGBTQ scholarship, both historical and contemporary. It examines genders and sexualities in society, culture, media, and their academic study, as well as contemporary issues of inequality affecting sexual minorities in different global contexts. The module is team taught by experts in different departments at the University of Sheffield, who will introduce students to a wide range of theoretical and methodological perspectives, such as philosophy, history, social sciences, psychology, evolutionary biology, education, cultural studies, and critical study of religion. The module is assessed by a coursework portfolio, where students answer a number of short questions on different topics in the syllabus.

10 credits

Information and Communication Skills

The skills needed to be able to find, evaluate, summarise and critically evaluate information are all vital to success in an undergraduate degree programme, and are also key transferable skills. This module provides basic knowledge of a range of methods for information-gathering and forms of communication. The teaching is delivered through a mix of lectures, tutorials and seminars, with students expected to take more responsibility for their own learning as the module progresses. Lectures provide basic knowledge on method for information gathering and forms of communication, whilst seminars, tutorials and a range of exercises are used to develop these skills

10 credits

Child Psychology

This module explores the relationship between psychological theory and educational policy and practice, considering some of the ways in which Education and Local Authority services have been influenced by ideas about children developed in psychological research. Some of the core concepts of Psychology are introduced such as cognitive psychology (intelligence, language and learning), behaviourism (including modification techniques), social and emotional development (including family and attachment, trauma) as well as the study of individual differences (with reference to psychopathologies such as autism, attention deficit/hyperactivity disorder).

20 credits

Climate Action

Humans are altering the climate, with significant impacts on livelihoods, wellbeing, equality, and the environment across the globe.  While international organisations and governments are crucial in mitigating and adapting to these threats, individual and small group collective action are also essential in creatively exploring how the necessary changes can be realistically and equitably implemented.

 

This module uses the community linked to the University as a Living Lab.  Focusing on one aspect of daily life in which there is potential for more mitigation or better adaptation, you will identify and plan an investigation or intervention (a 'project') to take a step towards more or better climate action.  You will need to justify your choices by elaborating what you would consider success, how you would deliver it, as well as assessing the impact of its wider implementation.

10 credits

Popular Music Studies

This module provides an introduction to the academic study of popular music. You will explore the various definitions of 'popular music' in relation to their socio-cultural context, and investigate some of the major issues and debates of popular music studies.

Lecture materials and in-class tasks will engage with approaches to the analysis of popular music and media, issues of representation, and the relationship between popular musicians and their audiences. Assessments involve critical engagement with the themes of the module in relation to a popular music artist or piece of your choosing.

10 credits

Philosophy of Religion

This course will pose and try to answer philosophical questions about religion. These include questions about the nature of religion. For instance does being religious necessarily involve believing in the existence of a God or Gods? And is religious faith compatible with adherence to the scientific method? Other questions that the course will cover include questions about the theistic notion of God. Does the idea of an all-powerful being make sense? Is an all-knowing God compatible with human freedom? And is an all-powerful, all-knowing and perfectly good creator of the universe compatible with the existence of evil? Further questions concern God and morality. Is it true that if there is no God, then there is no right and wrong? The course will examine philosophical arguments for the existence of God, and question whether these arguments are sound.

10 credits

Elementary Logic

The course will provide students with knowledge of the fundamental parts of formal logic. It will also teach them a range of associated formal techniques with which they can then analyse and assess arguments. In particular, they will learn the languages of propositional and first-order logic, and they will learn how to use those languages in providing formal representations of everyday claims. They will also learn how to use truth-tables and truth-trees.

10 credits

History of Ethics

How should we live? What is the right thing to do? This module offers a critical introduction to the history of western ethical thought, examining some of the key ideas of Plato, Aristotle, Hume, Kant, Wollstonecraft, Douglass, Bentham, Mill, Taylor Mill, Nietzsche, Rawls and Gilligan. It provides a textual introduction to some of the main types of ethical theory: the ethics of flourishing and virtue; rights-based approaches; utilitarianism; contractualism. We explore the close interconnections between ethics and other branches of philosophy (e.g. metaphysics, epistemology, aesthetics), as well as the connections between ethics and other disciplines (e.g. psychology; anthropology).

10 credits

Mind, Brain and Personal Identity

What is it to have a mind? Is your mind a physical thing, such as your brain? Or is it a non-physical soul? Do human beings have free will; the ability to freely choose their own actions and, if so, how? What makes you the same person you were when you were a young child? Do non-human animals have minds? Could computers or robots have artificially created minds? If animals or computers had minds would they have souls? Could they have free will? This course examines these issues and some historical and contemporary attempts to understand them.

20 credits

Death

This module is mainly about death itself . What is death? What happens to us when we die? Could there be an afterlife? Would it be a good thing if there were? What is it about death that we dislike so much, or that makes it bad? Is it rational, or even possible to fear death? What is the right attitude towards our own death? Do we have moral duties towards the dead? The course will clarify these questions and attempt to answer them. Readings will be taken from both historical and contemporary sources.

10 credits
Second year
Core modules:
Advancing with Digital Methods

This unit builds on pre-requisite Level 1 units, Introduction to Digital Methods and Digital Methods in Practice, to advance students understanding of new methods for carrying out digital research. It introduces students to advanced techniques for doing digital research. As well as learning how to use advanced tools, techniques and processes, students on this module will evaluate them, the context of their emergence and sometimes rapid decline. They will develop an understanding of how digital methods are used to create particular kinds of knowledge. In this way, the module addresses questions of epistemology, information politics and ethics.

20 credits

Digital Media and Social Change

This module examines two key aspects of the relationship between digital media and social change. Firstly, it analyzes the large-scale social, economic, and political changes created by the Internet: including the new forms of participation that have been created as audiences become producers, as well as the new forms of surveillance and inequalities that are entangled with these developments. The second strand of Digital Media and Social Change examines purposeful activist uses of digital media to create social change, examining how new possibilities for participatory communication have been exploited by activists to contest inequalities: from influential social movements such as #BlackLivesMatter to environmental influencers on Youtube and Instagram. Students will be introduced to a range of core theoretical frameworks in order to understand, analyze, and evaluate the complex relationships between digital media and social change. In the process, they will have the opportuntity to develop critical skills in discussing and unpacking contemporary scholarship: offering vital scaffolding for final year dissertations.

20 credits

Digital Storytelling

The use of digital media to enhance the effectiveness of a narrative is common in the fields of business, entertainment, cultural heritage, education and journalism. The module provides an introduction to the area of digital storytelling including key concepts and technologies involved in creating/using digital content and how to use digital media to tell a story. Students will be taught practical skills such as how to create and use digital media such as images, videos, and sounds, and how to design and create complex multimedia applications using Adobe Animate CC (an industry recognised platform, using HTML and CSS).

20 credits

Social Research Design and Methods

This unit introduces students to key theories, principles and practices in social research. It provides students with theoretical understandings and the practical skills required to design and develop a small-to-medium scale research project.

20 credits
Optional modules include:
Data Driven Storytelling

Data-driven approaches to reporting are gaining in popularity and importance in today's world. Established media institutions, such as The New York Times in the US or The Guardian and Press Association in the UK (and many more around the world) already have units that specialise in data journalism. Thus, it becomes essential for the next generation of journalists to be data-literate and to appreciate how data can be verified and used not only to find stories but to tell stories. This module is designed to make you confident and comfortable in working with data and, furthermore, to expand your journalistic toolkit for data-driven, analytic and investigative journalism.

20 credits

Doing Quantitative Sociological Research

This dynamic inquiry-based module will provide students with practical experience of conducting quantitative sociological research that has real-life application to the social world. Using the latest UK datasets provided by the Office for National Statistics, the module will develop students' experience of the realities of planning and conducting quantitative research, and allow them to develop their ability to communicate their findings in appropriate formats. There will be several hands-on workshops where students can develop and practice their skills in using SPSS.

20 credits

Media Law for Journalists

This module provides for those wishing to be journalists, or studying journalism, essential knowledge of media law applying in England and Wales, and of regulatory codes which UK journalists should comply with. This law includes that of defamation, privacy and contempt of court, and other law governing court reporting. The codes seek to uphold journalistic standards generally, including protection of people's privacy and of the identities of sources promised confidentiality. The module also demonstrates that UK journalists can assert `human rights' which in law and the codes uphold freedom of expression, including publication of material `in the public interest'.

20 credits

Men, Feminism and Gender relations

This unit provides a critical examination of the growing body of sociological and other literature concerned with men and masculinities. It will locate this growth of interest within the context of the feminist movement and subsequent writings/critiques of men and patriarchy. Significantly, the unit will connect to wider scholarship on gender relations, with topics and case studies including: men in sport, men and media, men and health/ well-being, men and feminism, as well as men and sexualities. Methodological and epistemological issues involved in the study of men and masculinities will also form part of this module.

20 credits

Sociological Theory and Analysis

The aim of this module is to build on and develop students' understanding of Sociological theory, exploring its relevance to key themes and issues in contemporary society. The course will begin with an exploration of the work of modern social theorists such as Talcott Parsons and will conclude with a focus on contemporary theorists such as Donna Haraway. In order to foster student understanding of social theory, its aims and purposes, each theorists work will be applied to substantive issues in modern and contemporary society such as family formation, urbanisation, politics, and globalization. Overall, the module aims to provide students with a critical understanding of the importance and use of modern and contemporary social theory.

20 credits

Sociology of Media and Consumer Culture

This module examines the relationship between media and consumer culture. It explores debates of audience research, influence, marketing, and advertising. Students will develop an understanding of media, consumer culture, and their wider impacts on society.

20 credits

Understanding 'Race' and Migration

The module explores the meaning of race in various social and political contexts. It examines how ideas about race help to shape and determine social and political relations and includes considering the part played by ideas about race in forming notions of self and other at the micro and macro levels. It also explores the role of race as a major source of social divisions and aims to show the significance of racism to the reproduction of structural inequalities. Themes explored include theories of racism, multiculturalism, Muslims, racialised identities, immigration, education and criminal justice.

20 credits

Children and Digital Cultures

Digital technology has transformed the lives of many, impacting on culture and society. Many young people have quickly seen ways of extending and deepening social networks through their uses of technology, and immersed themselves in Virtual Worlds, Facebook etc and enjoyed browsing on shopping sites. This module examines new technologies and associated social practices impacting on children's lives, considering the nature of new digital practices and how these affect identity, society and culture. Educational implications of new technologies is a developing field of research and students will engage critically with debates within the field alongside examining websites and new practices.

20 credits

The Sociology of Crime

Crime, and processes of criminalisation, are major features of all societies. Since the 19th Century, sociologists have developed a range of criminological theories to explain 'criminality'. This module will review the historical development of a range of theoretical approaches to the study of crime; consider how sociologists have studied the primary institutions of social control such as the police and prisons; and examine the contribution of the sociology of crime to issues of contemporary significance

20 credits

Sociology of Family: Continuity and Change

Using a sociological and anthropological perspective this unit seeks to problematise the concept of 'family' as a natural and universal phenomenon. Rather, it underscores the need to explore the notion of the family as a social and historical construction and will achieve that by examining the diversity of family life in countries around the world. While acknowledging the impact of social change on different family constructions, it will also seek to show how some family structures remain the same, creating a situation where one society can have multiple family structures. In particular, it will focus on the role of the state in constructing the family and highlight the impact these different constructions of family life (and the changes they have undergone) have on particular individuals such as women, children and the elderly.

20 credits

Crime, Justice and Social Policy

This unit examines the variety of responses to crime that encompass the use of both crime policy and social policy. Crime policy responses encompass the use of the role of the police, courts and prisons. Alongside this is the social policy approach which includes health, housing, education, employment, youth and family as a means of crime reduction. The module seeks to demonstrate the criticism of 'traditional' crime policy-based responses to crime and the way in which social policy has emerged as an alternative way to tackle the so-called 'crime problem'. The module includes a consideration of theories of crimes which make competing arguments for the use of crime or social policy as a response; the role of criminologists in policy making; and the criminalisation of social policy as an unintended outcome.

20 credits

Social Problems: Policy and Practice

This team taught unit adopts a 'sociological approach to social policy'. Drawing on current examples and comparative references, it explores social and ideological constructions of social problems and the role of the state and other agencies in responses to them. It explores key concepts and themes in social policy and practice such as inequality, justice and fairness; individual versus collective responsibility; and welfare versus social control. It focuses on major contemporary issues, including welfare and work; housing and homelessness; and community participation. The unit aims to equip students with the necessary critical perspective and skills to understand and explore social problems.

20 credits

Chinese Business and Management

The objective of this module is to provide students an understanding of China's economic reform and open door policies, and the new free market orientation. While module content is academic rather than practical, this unit is designed to acquaint students with Chinese business environment and practice, and to inform them of issues and problems encountered by international businesses operating in China or doing business with the Chinese. Emphasis is on the Chinese business culture, the state-owned enterprise reform, development of the private sector and management issues of Chinese family firms, foreign direct investment and operating foreign businesses in China, human resource management, Chinese consumer behaviour, and the financial markets. An understanding of these topics is highly relevant to companies targeting the China market and essential background for graduates seeking a career in Far Eastern Business. Students are thus encouraged to develop business-related skills.

20 credits

Environment and Development of the Japanese Islands

This module takes geographical, ecological, socio-cultural and political-economic perspectives in charting the emergence of Japan as the world's first non-Western developed country. Beginning with Japan's geological formation in pre-history and ending with a speculative enquiry into the state of Japan in 2100, the module assesses the human and ecological consequences of Japan's development within the country's Asian, Pacific, and global contexts.

20 credits

Sustainable Development and Global Justice

Development in the Global South is a major issue of international concern in the 21st century. This module explores contemporary development issues and examines the contribution that geographers, and geographical thought, can make towards understanding inequality, poverty and socio-economic change. Definitions of 'development', 'poverty' and 'the poor' shift and are invested with political meaning which reflect specific geographies and ways of seeing the world: students develop critical understandings of such terminology and the power dynamics implicit within them. This module addresses diverse theories, paradigms and contemporary critiques of development, and explores some of the central issues affecting processes of development. Case examples are drawn from Latin America, Africa and South-East Asia.

20 credits

Theory of Knowledge

The aim of the course is to provide an introduction to philosophical issues surrounding the knowledge. We will be concerned with the nature and extent of knowledge. How must a believer be related to the world in order to know that something is the case? Can knowledge be analysed in terms of more basic notions? Must our beliefs be structured in a certain way if they are to be knowledge? In considering these questions we will look at various sceptical arguments that suggest that the extent of knowledge is much less than we suppose. And we will look at the various faculties of knowledge: perception, memory, introspection, and testimony.

20 credits

Feminism

Feminists have famously claimed that the personal is political. This module takes up various topics with that methodological idea in mind: the family, cultural critique, language. We examine feminist methodologies - how these topics might be addressed by a feminism that is inclusive of all women - and also turn attention to social structures within which personal choices are made - capitalism, and climate crisis .

20 credits

Ethics: Theoretical and Practical

There are some things we morally ought to do, ways we ought to live. Those of us who are not moral sceptics will agree so far. Indeed, we may even agree extensively about what we ought to do or how we ought to live. But why? Ethicists don't just ask what we ought to do. They also try to work out, as systematically as possible, what explains the demands, obligations and requirements that stem from morality. That is what this module will explore. Is morality all about promoting the well-being of humans and other creatures? Does it stem from the requirements of rationality? Is it aimed at achieving the distinctive kinds of excellence that creatures like us can attain?

30 credits

Urban Analytics

This module will serve as an introduction to quantitative and spatial analytical methods, with a specific focus on understanding, interpreting and presenting secondary data in urban contexts. It will expose students to a variety of substantive issues surrounding the use of data in practice and enhance their understanding of methods used in real world policy settings. Students will access and use a range of different datasets, covering demographics, property, and land use and will analyse them using both spatial and aspatial methods. They will be required to demonstrate competence in accessing, analysing and presenting such data using both aspatial and spatial methods in order to gain a deeper understanding of key issues facing urban settings.

20 credits

East Asian Cinema

We will examine key film directors, cinematic movements and industry developments since 1945 from Japan, South Korea, Taiwan, Hong Kong and Mainland China. This module will introduce you to some of the key cinematic theoretical frameworks such as national and global cinemas, gender, spectatorship and will examine the ways in which selected East Asian films and directors interact with the history and culture of their respective nations. This module is designed to encourage students to critically examine both the text (the films themselves) and the context (the national environment) that surrounds any film work.

20 credits

Contemporary Chinese Society and Culture

This module introduces students to different ways of thinking about Chinese society and culture. In particular, we focus on sociological, anthropological and geographical approaches to contemporary Chinese society and culture, showing why and how China is important to current theoretical debates in these disciplines.

20 credits

Population and Environment in China

This module examines the interdependent relationship between population and environment in China. These are vitally important questions, in China and globally, that have attracted research by scholars of contemporary China, and in the wider academic disciplines of human geography and development studies. Through your work in lectures and seminars, you will gain a deep understanding of China's population and environment and its relation to social and economic change and to local and national institutions; and you will develop transferable skills of research, writing and critical analysis.

20 credits

Ethics

How should we live? How should we conduct ourselves? What duties do we owe t9 other people? Are there certain things we should never do in any circumstances? If so what things are they? Do questions like the foregoing have determinate, correct answers? If so can we know what they are? If so, how? These questions and questions like them are the subject matter of ethics. We will be studying and thinking about such questions by engaging with classical and/or contemporary texts.

20 credits
Third year
Core modules:
Dissertation in Digital Media and Society

This unit enables students to undertake an in-depth study on a topic of their own choice, which relates to digital media and society, and is guided by one-to-one academic supervision. It aims to enable students to develop and demonstrate skills in the planning, definition and management of a substantial piece of enquiry on digital media and society. The dissertation may take the form of a theoretical literature-based analysis, an empirical exploration, either through primary or secondary research, or it may incorporate elements of digital media production. The focus and methods are agreed with the unit leader in advance of the unit, to ensure that students have been trained in the use of relevant methods.

40 credits
Optional modules include:
Digital Advocacy

This module will examine how digital media are used to facilitate and promote the campaigns of contemporary advocacy groups and Non Governmental Organisations (NGOs). Theoretical perspectives such as connective action and the clicktivist critique of online activism are introduced in order to explore the effectiveness of online campaigns. Students will also consider the criteria by which such campaigns can be considered successful, drawing on a range of case studies, for example the Occupy Wall Street movement and the so-called 'Arab Spring in North Africa and the Middle East in 2011.

20 credits

Digital Health

This module looks at the social implications of digital technologies in health, considering what these mean for our experiences of health and illness as patients and as citizens, for the work of health care professionals, and for the provision of health care. The module will consider a range of contemporary areas such as self-tracking and gamifying health, telemedicine and care at a distance, health information on the net, electronic patient records, illness death and dying on the web, and health activism and online patient groups. Drawing across these, the module will consider questions about changing representations and cultures of health and illness, whether we can all be medical experts now, who has responsibility for health, how we relate to health care professionals, the commodification of health data and the relative benefits for state and industry.

20 credits

Digital Identities

This module explores how gender, age, race, class and other identities are being reimagined in what various commentators have called a 'social media age. It provides students with an understanding of social media platforms roles in peoples identity negotiations, examining users social media identities in different global contexts, and paying close attention to the intersections between different identities. It reviews debates about identity formations from the earliest digital media moments and considers contemporary concerns, such as: anonymity and agency; selfies and sexting; censorship, resistance and collective identities; social media fandoms; masculinity and gaming.

20 credits

Digital Marketing: Culture, Consumption, Control

This module examines the sociology of digital marketing. It situates the emergence of data-driven marketing within a broader social history of marketing practices and discourses. Students will learn to critically understand the social implications and power dynamics of digital marketing and their impacts on everyday media environments.

20 credits

Digital Media Work Placement

This unit provides students with the opportunity to undertake work experience, develop enterprise and employability skills, and apply their understanding of digital media/society in a chosen workplace. The module requires students to undertake the equivalent of four weeks work experience at a company or organisation which engages with digital media. Through this students will experience the practical demands of a working environment, and they will be required to evaluate their experience. Students experiences will vary depending on the projects in which they are involved and the companies/organisations in which they work. On the module, students will enhance their understanding of the inter-connection between Digital Media, the skills they have developed and their application in the wider world.

20 credits

Education@Sheffield

In Education@Sheffield students are invited to explore and evaluate the rich and diverse research taking place within the School of Education. Through a series of seminars presented by active researchers, students are encouraged to critically engage with research - and the researchers themselves - in the fields of educational and childhood studies. The Education@Sheffield module enables students to acquire a critical understanding of various themes, settings and methodologies which shape contemporary educational research.

20 credits

Free Speech and Censorship

Free Speech and Censorship critically explores the historical and contemporary status of freedom of speech and expression and the limits and constraints on this liberty. The module covers topics as varied as the philosophies of free speech; the history and significance of free speech; the legal framework for the protection of free speech in Europe and the US; the limits of free speech and press freedom; debates about harm and offence. Students taking this module should be interested in examining these debates as they apply to contemporary media, legal and political systems. Assessment is via academic coursework on a topic selected by the student and approved by the module leader.

20 credits

Gender, Feminism and the Media

This module critically examines the media through a feminist and gendered perspective. It considers how women, 'femininity' and women's issues are constructed in the media across a variety of cultural contexts. It introduces theories and approaches with which to analyse a variety of media including newspapers, magazines, and social media. Students will comparatively analyse traditional and social media from a feminist, intersectional, and postcolonial perspective. They will consider the role of the media in both perpetuating, but also challenging, normative ideas about gender. The module draws on a variety of case studies. Topics include LGBTQI+ identity, activism, and the body.

20 credits

Intimacy and Personal Relationships

The module explores approaches to theorising and studying intimacy and personal relationships. Beginning with the Individualisation thesis and its critics, the module will go on to explore recent moves towards conceptualising personal relationships in terms of embeddedness, relationality, intimacy and linked lives. Students will also explore a range of substantive topics within the field including memory, genealogy, material culture and home, marriage and sexuality, responsibility and care, and friendship.

20 credits

Organised Crime & Illicit Markets

The unit is an introduction to students to the growing field of organised crime studies. By focusing on an exploration of the primary literature concerning historical and contemporary developments in organised crime, students will be equipped to engage with sociological debates surrounding the development of this type of criminality, particularly its (alleged) increasingly transnational nature over the past two decades. In particular the unit will explore how governments and law enforcement agencies have tried to respond to this type of crime and will present a range of case studies specific to illicit marketplaces. The unit will also explore the role of the media and the influence of popular culture on the way organised crime is defined and understood.

20 credits

Perspectives on inequalities

This module is co-taught with local agency, community and family members. It asks students to think about the everyday experiences of inequality. It explores some of the core theoretical frameworks for interrogating inequality, and then explores everyday reality to apply the theories and concepts. The involvement of practitioners, community members and families means that the module is interactive and requires full attendance, in order to ensure a respectful experience for external contributors.

20 credits

Queer Theory and the Media

This module introduces queer theory and discusses the role of different media for how gender and sexuality are constructed, represented and expressed. We will trace activist and academic origins of the word 'queer' and explore queer (self-)representations in mainstream and alternative media such as newspapers, films, zines, blogs, social media and dating apps. We will also look into how those representations promote or challenge the binaries of male versus female, masculine versus feminine, and heterosexual versus homosexual as well as how they travel around the world and promote particular understandings of gender and sexuality transnationally.

20 credits

Whiteness, Power and Privilege

This unit explores the importance of studying whiteness in order to understand racism as a system of power relationships. It explains why the construction of whiteness has become a key focus in debates about race and ethnicity and examines critically some of the key themes to emerge in this field of study. This includes exploring the historical origins of 'white studies' and assessing representations of whiteness in literary and visual culture. It also includes exploring the racialised, classed and gendered boundaries of whiteness by examining, for example, the socially and politically constructed categories of 'white trash' and the 'chav'.

20 credits

Protest, Movements and Social Change

The unit is an introduction to the study of the ways in which protest and social movements drive social change. The unit will take an historical overview, tracing the development of theoretical and empirical approaches to the study of social movements, matched with historical and contemporary case studies of movements from around the world. By focusing on what function movements play in society, as well as how they have been studied, students will be equipped with the tools to both analyse movements, and engage with sociological debates surrounding larger questions of inequality, identity, democracy and social justice.

20 credits

Algorithms, AI and Society

Algorithmic systems, AI, machine learning and other data-driven technologies are transforming society. They are having wide-ranging effects, including some benefits, but they are far from straightforward. Their use results in harms as well as benefits, and algorithmic systems and AI feed into and are fed into by inequalities. This module critically interrogates claims that AI, automation and algorithms will simply lead to a better society. It explores the negative effects of related change and the ways in which algorithmic and AI systems are not experienced equally by all. It reviews theoretical literature on AI-in-society and on algorithmic culture, and focuses on high profile accounts of their social consequences, for example in education, welfare, social care, big tech and the media.

20 credits

Community, Music and Education

This module will engage you in the current debates and practices of music in education and community settings, from the formal classroom setting and instrumental studio, through the work done by community support groups, to more recreational musical practice in the community. Questions of music's place in the curriculum, the relationship between school and home music, and the challenges of providing a vibrant musical education for all people, will be addressed in lectures and discussions.

You will work in mentored groups to investigate and support community music-making or school-based music education in Sheffield, building your skills as a researcher, and learning about career options including teaching, delivering and managing music provision for young people and vulnerable adults. You will finish the module knowing more about music and its contribution to education and society, through your critical reflection on published research evidence, and through school and community fieldwork visits.

20 credits

Feminist and Queer Studies in Religion, Global Perspectives

This module applies feminism, queer studies and trans philosophy in analysis of genders and sexualities in religious traditions and cultures around the world. We will examine deities and goddesses, gendered language in religions, cisheteropatriarchy, and LGBTQIA life in e.g. Hinduism, Buddhism, Christianity, Judaism and Islam, as well as in Chinese, and Japanese cultures. We will discuss genders, rituals, spirituality, sexual practices, procreation, abstinence, and asexuality, reading a range of feminist, queer and trans philosophical works, and texts ranging from the Kama Sutra to Confucius and the Vatican documents, Scriptures, and empirical research. Assignments allow students in Philosophy, Humanities, and Social Sciences develop their expertise using their preferred methods and topics, on religions of their choice.

20 credits

Globalising Education

This module considers the extent to which education might be viewed as a global context with a shared meaning. Moving outwards from the dominant concepts, principles and practices which frame 'our own' national, or regional responses to education, the module explores other possible ways of understanding difference. By examining 'other ways of seeing difference', in unfamiliar contexts, students are able to examine the implications of globalisation for education and explore the opportunities and obstacles for the social justice agendas within a range of cultural settings.

20 credits

Sex Work: Rights, Regulation and Resistance

This module draws on a large and growing body of international scholarship to introduce students to the complexities and diverse realities of sex work. It will equip students with a sound understanding of a whole range of theories and concepts that help to make sense of the social, cultural, and legal dimensions of sex work. It will explore the various sex markets; gendered differences in the buying and selling of sex; violence, exploitation and trafficking; sex worker-led activism and resistance; and the regulatory models used across the globe to govern sex industries. In so doing, the module uses sex work as an entry point to consider key sociological and criminological debates concerning structure and agency, social justice, and race, gender, migration and class. 

20 credits
The content of our courses is reviewed annually to make sure it's up-to-date and relevant. Individual modules are occasionally updated or withdrawn. This is in response to discoveries through our world-leading research; funding changes; professional accreditation requirements; student or employer feedback; outcomes of reviews; and variations in staff or student numbers. In the event of any change we'll consult and inform students in good time and take reasonable steps to minimise disruption. We are no longer offering unrestricted module choice. If your course included unrestricted modules, your department will provide a list of modules from their own and other subject areas that you can choose from.
Learning and assessment
Learning
You'll learn through a mix of interactive lectures and seminars, with time for independent study. There is an opportunity to undertake a work placement in the final year of the course.
Our Digital Media and Society degree is unique in bringing together expertise from across Sheffield's Faculty of Social Sciences.
Digital media experts from the Department of Sociological Studies, the Information School, the Department of Journalism Studies and the School of Education all contribute to this innovative programme.

This means that you have the opportunity to study digital media developments in relation to a range of fields such as education, marketing and consumer society or journalism.
Assessment
You'll be assessed through a combination of exams and coursework. You'll also be assessed through practical tasks, where you will learn how to make digital media products (such as websites and animations) that focus on the needs of the user and to use innovative digital methods to research digital media in society.
Programme specification
This tells you the aims and learning outcomes of this course and how these will be achieved and assessed.
Entry requirements
Standard offer
The A Level entry requirements for this course are:
AAB
A Levels + additional qualifications ABB + B in the EPQ
International Baccalaureate 34
BTEC Extended Diploma DDD in a relevant subject. Public/Uniformed Services is not accepted
BTEC Diploma DD in a relevant subject + A at A Level. Public/Uniformed Services is not accepted as the BTEC subject
Scottish Highers AAAAB
Welsh Baccalaureate + 2 A Levels B + AA
Access to HE Diploma Award of Access to HE Diploma in a relevant subject, with 45 credits at Level 3, including 36 at Distinction and 9 at Merit
Access Sheffield offer
The A Level entry requirements for this course are:
ABB
A Levels + additional qualifications ABB + B in the EPQ
International Baccalaureate 33
BTEC Extended Diploma DDD in a relevant subject. Public/Uniformed Services is not accepted
BTEC Diploma DD in a relevant subject + B at A Level. Public/Uniformed Services is not accepted as the BTEC subject
Scottish Highers AAABB
Welsh Baccalaureate + 2 A Levels B + AB
Access to HE Diploma Award of Access to HE Diploma in a relevant subject, with 45 credits at Level 3, including 30 at Distinction and 15 at Merit
Department of Sociological Studies
Five reasons to study at the Department of Sociological Studies
Tackle contemporary challenges - our course is designed to engage with and discuss society's big challenges and our staff will bring their research expertise to your learning
Develop your own expertise - our wide range of optional modules means you can develop your own research interests, crafting your degree to match your interests
Comprehensive support - feel supported throughout your whole University journey and beyond, with a wide range of support available, including academic tutors and dedicated support services
Diverse and interactive teaching - our mix of teaching formats means you'll be engaged in a variety of ways throughout your course, helping you to learn in new and innovative ways
Be career confident - our diverse assessments ensure that you develop the key skills you will need for the world of work. You'll also have opportunities to build your work experience with placements and other employability opportunities
Our interdisciplinary approach brings sociologists, criminologists, social policy analysts, digital media scholars and social workers together under one roof.
Our staff are experts in their field and work with organisations in the UK and worldwide to address society's major challenges, and in doing so they bring fresh perspectives to your studies. They'll give you the advice and support you need to excel in your subject.
Department staff also play key roles in the Faculty of Social Science's Digital Society Network (DSN), an active group of researchers working on all aspects of digital-society relations. The DSN hosts events and activities to stimulate and support research in this area.
Our courses develop students who are socially aware, with strong analytical skills and a flair for approaching problems in new ways. You'll become skilled at research and bring your own insights to key issues that affect our lives. In your third year, specialist modules allow you to investigate current thinking on a wide range of topics. You'll learn about the latest research from subject experts and explore your ideas in workshop-style sessions.
Department of Sociological Studies students are based in the world-class Faculty of Social Sciences building. It features state of the art collaborative lecture theatres, study spaces and seminar rooms. Teaching may also be timetabled to take place within other departments or central teaching space.
All the University buildings are close together, so it's easy to get around. The University Sports Centre is just over the road and accommodation, the Information Commons library and the award-winning Students' Union are all within easy walking distance.
Department of Sociological Studies
Why choose Sheffield?
The University of Sheffield
  A top 100 university
QS World University Rankings 2023
  92 per cent of our research is rated as world-leading or internationally excellent
Research Excellence Framework 2021
  Top 50 in the most international universities rankings
Times Higher Education World University Rankings 2022
  No 1 Students' Union in the UK
Whatuni Student Choice Awards 2022, 2020, 2019, 2018, 2017
  A top 10 university targeted by employers
The Graduate Market in 2022, High Fliers report
Graduate careers
As a Digital Media and Society graduate you could find yourself working within digital media organisations, agencies or games companies, working in roles such as UX (User Experience Design), usability studies or user research.
Alternatively, you could choose a career in marketing, communications and PR, for example working as a digital media manager or social media account manager for a local or city council, in a museum or theatre, or working for a charitable organisation.
Department of Sociological Studies
Our graduates work in a range of sectors including broadcasting, the police service, teaching and social work. They are also employed in local government, the civil service, charity and campaign organisations and market research.
Some have carried out graduate training with national and international companies, and are employed around the world. Many go on to masters courses in sociology and social policy and other areas such as human resources.
You could pursue a career in marketing, communications and PR, or work in museums, theatres or charitable organisations.
Placements and study abroad
Fees and funding
Fees
Additional costs
The annual fee for your course includes a number of items in addition to your tuition. If an item or activity is classed as a compulsory element for your course, it will normally be included in your tuition fee. There are also other costs which you may need to consider.
Visit us
University open days
We host five open days each year, usually in June, July, September, October and November. You can talk to staff and students, tour the campus and see inside the accommodation.
Subject tasters
If you're considering your post-16 options, our interactive subject tasters are for you. There are a wide range of subjects to choose from and you can attend sessions online or on campus.
Offer holder days
If you've received an offer to study with us, we'll invite you to one of our offer holder days, which take place between February and April. These open days have a strong department focus and give you the chance to really explore student life here, even if you've visited us before.
Campus tours
Our weekly guided tours show you what Sheffield has to offer - both on campus and beyond. You can extend your visit with tours of our city, accommodation or sport facilities.
The awarding body for this course is the University of Sheffield.
Recognition of professional qualifications: from 1 January 2021, in order to have any UK professional qualifications recognised for work in an EU country across a number of regulated and other professions you need to apply to the host country for recognition. Read information from the UK government and the EU Regulated Professions Database.
Any supervisors and research areas listed are indicative and may change before the start of the course.