Dual and combined honours degrees
Dual honours and major/minor degrees allow you to study two subjects at once.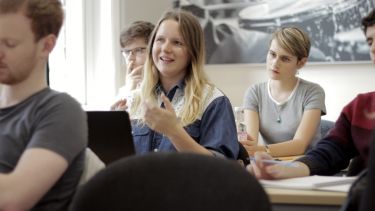 A dual honours degree has and in the courses title - Economics and Sociology for example. The split between the two subjects is roughly 50/50.
A major/minor degree has with in the course title. In this case there is more emphasis on the first named subject. The split between the two subjects is roughly 70/30.
These degrees are the same length as a single honours course but you'll choose fewer modules from the options available in each subject. The degree is just as valuable; the academic standard is just as high.
The breadth of scope in dual and major/minor degrees means that you'll need to develop good communication and organisational skills. These will help you whether you choose to enter the job market or continue your studies at the end of your course.
You could choose to study two contrasting subjects or study two subjects which complement each other. You also have the opportunity to study a subject that is completely new to you alongside one that is more familiar. Studying two subjects will allow you to explore ideas from alternative viewpoints, examine theories through a different lens or create solutions to issues using a combination of techniques from each subject area. 
Studying in two different departments means you will meet more students and experience a wider range of teaching styles and approaches. You'll also have support from an academic tutor in each department.
You'll be able to join student-run societies in either department. These are a great way to meet others and enjoy talks, guest lectures, trips and social activities.
Many departments offer extra-curricular activities where you can develop skills through various volunteering projects, placements or student-led activities.
---
I love that I get to study two subjects that I enjoy equally. I get to bring in knowledge that I learn in History to help my studies in politics and vice versa. I also get to benefit from the different knowledge that the academics in both of the departments have

Megan

BA History and Politics
---
You study the same number of credits, 120 each year, on any degree programmes whether it is a single, combined or dual honours degree. 
You'll need to take any compulsory or core modules for each subject and if you have additional credits you can choose from the range of optional modules for each subject. For each module you take there will be an assessment or assignment.
You can read more about module choice for any degree programme in the online prospectus. You can also check any specific entry requirements for both subject areas.
When you graduate you will have expertise in two different subject areas giving you a breadth of knowledge, a wide range of competencies and skills associated with each area.
Studying two subjects may also allow you to branch out into various roles rather than being confined to one specific career path.
You'll be able to show that you are able to manage your workload effectively whilst studying in two different departments. You'll also be able to demonstrate your organisational abilities and communication skills, and the ability to be flexible and adaptable on your CV and at interviews.
When you graduate you'll also have greater freedom of choice if you do decide to carry on your studies beyond degree level. You'll be able to choose between further study in either one of your original subject areas or conducting research on a topic that combines both.
2024-25 dual honours undergraduate course2023-24 dual honours undergraduate course
Explore the University
Discover why Sheffield is the right choice for you at one of our open days or events.