Order a PDF copy of our undergraduate prospectus
Enter your details and we'll send a PDF copy of the current edition of the University of Sheffield prospectus to your inbox.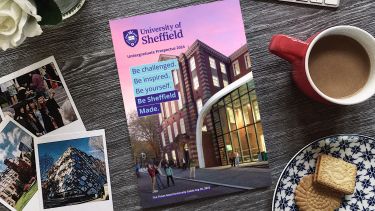 Prospectus PDF order form - undergraduate
We're responsible for our people and the wider world. That's why we're trying our hardest to print and deliver less. We're reducing our carbon footprint and minimising the impact on our planet.
However, if you have any accessibility problems with the PDF, please just reply to our email to let us know and we will post a copy to you instead.
The most up-to-date information can always be found on our website undergraduate course listings.
* Required field